Supreme Court Says Political Donors Can Spread Wealth Much More Widely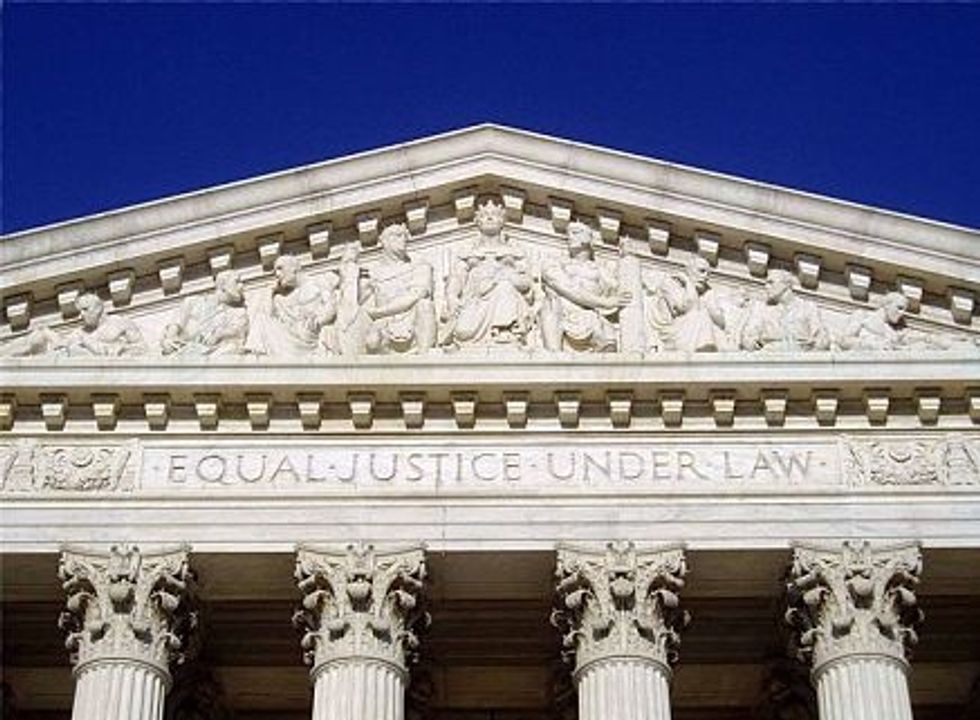 By Michael Doyle, McClatchy Washington Bureau
WASHINGTON — The Supreme Court on Wednesday further opened up the taps for political campaign contributions, with a bombshell ruling that removes long-standing limits on how much total money an individual can contribute to federal candidates.
In what amounted to a 5-4 decision, the court's conservatives declared that the aggregate contribution limits imposed four decades ago violated the First Amendment's free-speech protections. Though individual donations may still be limited, the ruling frees donors to spread their wealth across as many candidates as they can find.
That means a wealthy individual could start contributing more than $3.5 million to party committees and candidates over two years.
"They … intrude without justification on a citizen's ability to exercise the most fundamental First Amendment activities," Chief Justice John Roberts Jr. wrote of the aggregate contribution limits.
The decision erases the aggregate limit of $123,200 for a two-year election cycle.
Roberts' 40-page opinion, joined in full by three other conservative justices, continues the court's dismantling of congressional efforts to overhaul campaign financing. Its constitutional reasoning may leave the remaining campaign-finance restrictions at risk, and it prompted demonstrations in cities from Tampa, Fla., to Tacoma, Wash.
The court's four Democratic appointees dissented from the conservative majority's opinion.
"It understates the importance of protecting the political integrity of our governmental institutions," Justice Stephen Breyer wrote. "It creates a loophole that will allow a single individual to contribute millions of dollars to a political party or to a candidate's campaign."
The ruling in the case, called McCutcheon v. Federal Election Commission, was not unexpected, given prior court decisions, but it had been highly anticipated ever since oral argument was heard last October. Advocates from all sides were primed to respond quickly, and for most part predictably.
Republican National Committee Chairman Reince Priebus called the ruling an "important first step toward restoring the voice of candidates and party committees and a vindication for all those who support robust, transparent political discourse." The RNC raised $409 million during the 2012 election cycle.
Democratic Sen. Charles Schumer of New York, though himself an aggressive fundraiser, denounced the ruling as "another step on the road to ruination." Schumer has $11 million sitting in his campaign treasury.
Justices Antonin Scalia, Anthony Kennedy and Samuel Alito joined Roberts' opinion. Justice Clarence Thomas concurred, making for an effective 5-4 majority, though he wrote a separate, more purist, concurring opinion calling for the strict end of other campaign limits as well.
"This case represents yet another missed opportunity to right the course of our campaign finance jurisprudence by restoring a standard that is faithful to the First Amendment," Thomas wrote.
The decision Wednesday targets one part of a 1974 campaign finance law, enacted in the wake of the Watergate political scandal. Limits were placed on how much an individual or committee could give a particular candidate. Aggregate limits were also set, capping the total that a donor might contribute to all candidates and committees.
In a famously complex 1976 decision, called Buckley v. Valeo, the Supreme Court upheld much of the 1974 law and divined a difference between campaign donations and campaign spending. Spending by a candidate was deemed tantamount to political speech, and so received greater First Amendment protection. Campaign donations to the candidate were deemed potentially corrupting and hence subject to regulation.
The ruling Wednesday left intact the legal distinction between contributions and expenditures.
Of the $123,200 limit on individual donors in effect before Wednesday's ruling, up to $48,600 could be given to federal candidates and their campaign committees and up to $74,600 could go to political parties and to political committees that aren't connected to candidates. (State and local candidates are governed by local laws.)
Alabama businessman and Republican donor Shaun McCutcheon challenged the limits. During the 2011-12 election campaign, he donated a total of $33,088 to 16 federal candidates. He says he wanted to donate to an additional 12 candidates as well, but his intended donations would have exceeded the aggregate limit. He also says he wanted to boost his contributions to federal Republican committees, but again ran into the aggregate limit.
Federal candidates, parties and committees reported raising and spending more than $7 billion during 2011 and 2012, according to the Federal Election Commission. In the 2010 case known as Citizens United, the Roberts court expanded a limited case to rule broadly against limits on corporation and labor union spending.
"The government has a strong interest … in combating corruption and its appearance," Roberts wrote Monday. "We have, however, held that this interest must be limited to a specific kind of corruption — quid pro quo corruption — in order to ensure that the government's efforts do not have the effect of restricting the First Amendment right of citizens to choose who shall govern them."
Justices Sonia Sotomayor, Elena Kagan and Ruth Bader Ginsburg joined Breyer in dissent.
"Where enough money calls the tune, the general public will not be heard," Breyer wrote. "Insofar as corruption cuts the link between political thought and political action, a free marketplace of political ideas loses its point."
Lawmakers including Rep. Adam Schiff, D-Calif., have introduced extremely long-shot proposals to amend the Constitution in order to reverse the court's campaign finance rulings.
Photo: Matt H. Wade via Wikimedia Commons