Surging To 2nd Place, Fiorina Tries To Seize 'Important Moment' For Campaign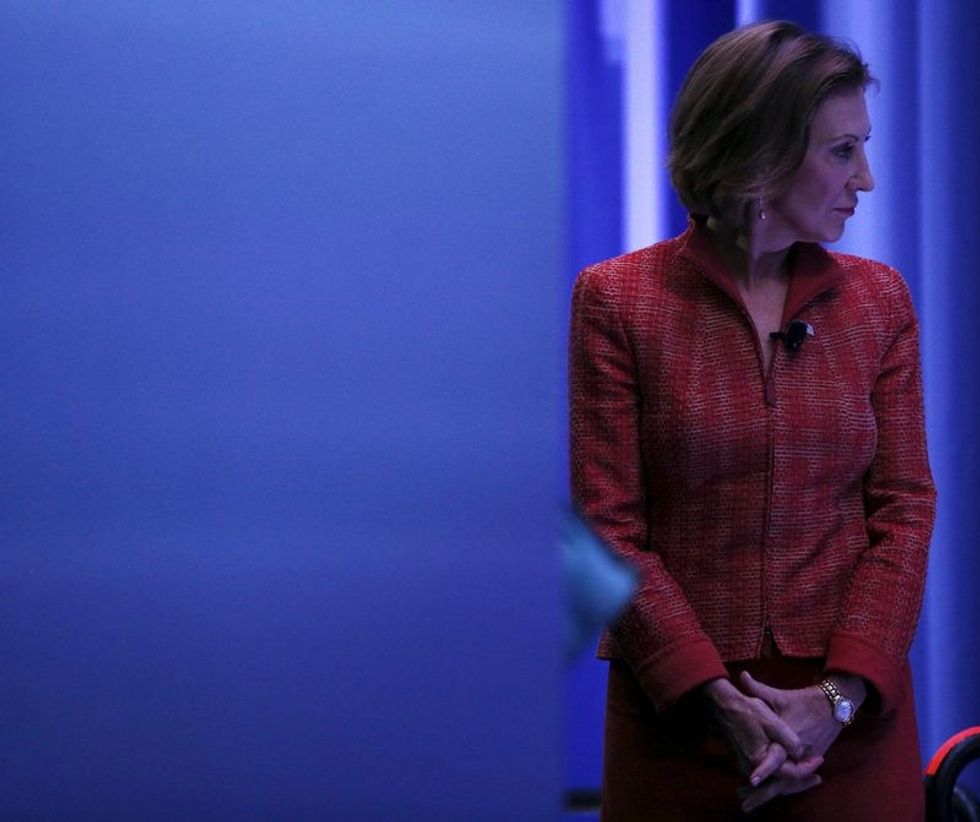 By Brian Bennett, Tribune Washington Bureau (TNS)
Carly Fiorina tried to extend her surge in the polls Sunday, portraying herself in a television interview as a tough negotiator and hard-nosed manager willing to winnow down government inefficiency and bureaucracy.
With one poll showing her in second place in the crowded field of Republican presidential candidates, Fiorina defended her record at Hewlett-Packard, doubled down on cutting federal funding to Planned Parenthood, and said she would be able to bring Democrats to the table on entitlements, cutting taxes and boosting border security.
An increased number of Republican voters, at least for now, have seized on Fiorina as an antidote to Donald Trump's bombastic style and headline-grabbing quips.
"It's obviously a very important moment, because now more people know who I am and we know, based on what's happened before this debate, that as people come to know me and they understand who I am and what I've done and most importantly, what I will do, they tend to support me," Fiorina said on "Fox News Sunday."
On Wednesday, Fiorina took on Trump's reported insults about her, clashed with him over their business records and spoke out strongly against Planned Parenthood's collection of fetal body parts for medical research. Twenty-three million people watched the GOP debate.
The leading GOP candidates remain those who have never held political office, reflecting frustration with career politicians among Republican voters.
Fiorina ranked second with 15 percent in a CNN/ORC poll, moving just ahead of Ben Carson. The poll showed Trump as the front-runner with 24 percent support, an 8 percent decrease from a poll one month earlier. Of Republicans who watched the debate, 52 percent identified Fiorina as the winner and 31 percent said Trump was the loser Wednesday night.
Questioned about 30,000 layoffs at Hewlett-Packard while she was running the troubled tech company, Fiorina described the rounds of job eliminations as culling a "big bloated bureaucracy that costs too much" and was becoming "inept."
"By the way," Fiorina said, "that's what we have in Washington, D.C."
As president, Fiorina said, she would not replace any of the 256,000 baby boomers projected to retire from federal service in the next "four or five" years.
When asked if she was aware that a European subsidiary of Hewlett-Packard had sold hundreds of millions of dollars of computers to Iran while she was chief executive, Fiorina said the company is a larger global enterprise than any one of the 50 U.S. states. With a company that large, Fiorina said, "it's impossible to ensure that nothing wrong ever happens."
Those sales to Iran were discovered three years after Fiorina left Hewlett-Packard, she said. The transactions were investigated by the U.S. Securities and Exchange Commission as possible violations of U.S. sanctions against Iran.
"In fact, the SEC investigation proved that neither I nor anyone else in management knew about it and the facts of the matter were the European subsidiary apparently was doing business with another company in the Middle East. That company was doing business with another company that was doing business with Iran. And when the company discovered this three years after I left, they cut off all ties with those companies," she said. "It shouldn't have happened, obviously."
Fiorina continued to go on offense against Planned Parenthood, saying congressional Republicans should shut down the government if annual funding for the organization moves forward next month. Some GOP strategists have advised against a shutdown, saying it could lead to a backlash from voters. Fiorina disagreed and welcomed a showdown.
"President Obama can explain to the American people why it is so important to him to continue to fund this organization that no one denies is engaged in this kind of barbarity," Fiorina said.
Planned Parenthood has come under renewed fire from Republicans following an undercover investigation by an advocacy organization into abortion clinics that pass fetal body parts to medical research labs.
Speaking on CBS's "Face the Nation," Democratic presidential front-runner Hillary Rodham Clinton said she plans to roll out a proposal for controlling the cost of prescription drugs, a problem not addressed in President Barack Obama's health care law.
"We have a lot of positives. But there are issues that need to be addressed," Clinton said. "I'm going to address them this week, starting with how we're going to try to control the cost of skyrocketing prescription drugs. It's something I hear about everywhere I go."
Clinton's lead in the Democratic primary has weakened in recent weeks as revelations continue to mount about her use of a private email server for official communications while secretary of state. "What I did was allowed – it was fully above board," she said. "I'm sorry that I made a choice that has raised all these questions," she said, repeating a previous explanation that she didn't want to use two email accounts. "I didn't make the best choice."
(c)2015 Tribune Co. Distributed by Tribune Content Agency, LLC.
Photo: U.S. Republican presidential candidate Carly Fiorina waits backstage while being introduced at the Education Summit in Londonderry, New Hampshire August 19, 2015. REUTERS/Brian Snyder