Survivors Return To Auschwitz As Leaders Warn Of Anti-Semitism
@AFP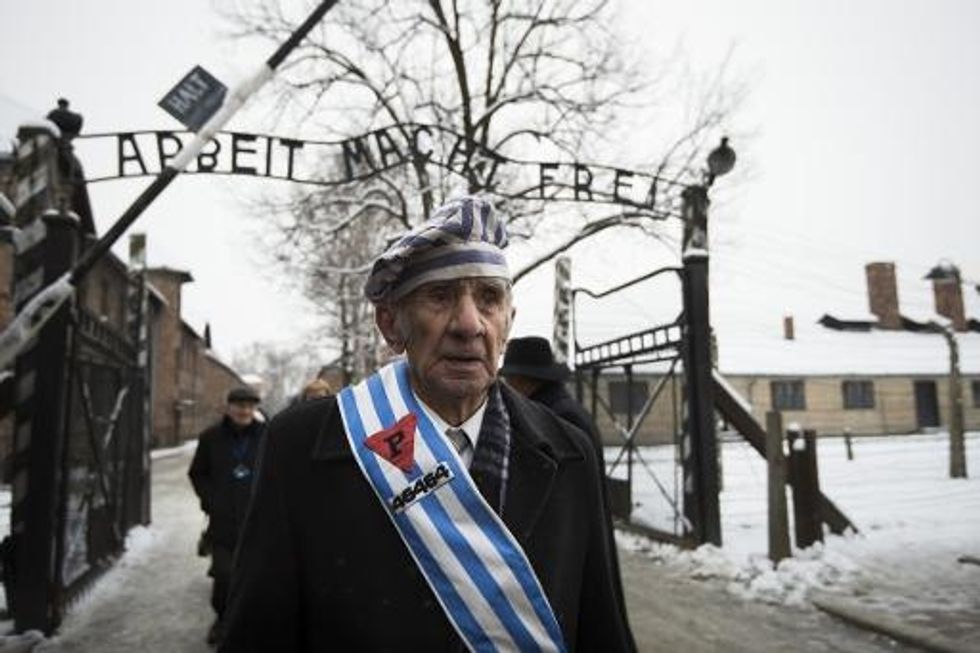 Oswiecim (Poland) (AFP) – Seventy years after the liberation of Auschwitz-Birkenau, ageing survivors gathered at the site synonymous with the Holocaust on Tuesday as world leaders sounded the alarm over a fresh wave of anti-Semitism.
French President Francois Hollande and his Czech counterpart echoed warnings by a leading Jewish organisation, German Chancellor Angela Merkel and Hollywood mogul Steven Spielberg over violence against Jews in modern-day Europe.
Telling French Jews that "France is your homeland," Hollande described as "unbearable" the rise in anti-Semitic attacks in France, underscored by the Islamist killings at a kosher supermarket in Paris earlier this month.
Anti-Semitic acts in France, home to Europe's largest Jewish population, doubled in 2014 to 851 from the previous year, France's main Jewish group CRIF said Tuesday.
The European Jewish Congress chief Moshe Kantor had warned that Europe is "close to" a new exodus of Jews, saying that "jihadism is very close to Nazism".
Merkel said it was a "disgrace" that Jews in Germany faced insults, threats and violence, as she joined survivors Monday in Berlin to observe 70 years since the Soviet Red Army liberated Auschwitz.
As he prepared to visit the camp, Spielberg, who won an Oscar for the Holocaust drama Schindler's List, condemned "the growing effort to banish Jews from Europe".
The director, who has also videotaped the testimony of 58,000 survivors, met with hundreds of them, mostly in their nineties, as they returned to Auschwitz for the liberation ceremonies on International Holocaust Remembrance Day.
Royals from Belgium and The Netherlands are expected to attend the event at Birkenau's somber snow-cloaked crematorium memorial.
Hollande, German President Joachim Gauck and Ukraine President Petro Poroshenko are to participate in the commemoration along with a dozen other leaders, but Russia, the United States and Israel have chosen to send lower-ranking representatives.
Also attending is Celina Biniaz, who was among the 1,200 Jews who escaped Auschwitz by being placed on Oskar Schindler's famous list.
Still elegant at 83, as a child she left the death camp to work in a nearby factory run by the German industrialist.
"I so wish they would settle that problem in the Middle East because I so believe that it has a definite impact on what's happening with anti-Semitism all over Europe," Biniaz, who came from California for the ceremonies, told AFP.
"The Muslims have been disenfranchised and their young have no hope for the future, so they are desperate and it sounds glamorous for them to join things like ISIS," she said, referring to the Islamic State group.
However, Czech President Milos Zeman struck a different note by calling for further military action against the jihadists to prevent a "super Holocaust" with hundreds of millions of victims.
For another survivor David Wisnia, his return to Auschwitz is bringing on nightmares and flashbacks for the first time.
"It's a lifetime ago really," the 88-year-old said.
"Last night sleeping… I had a horrible dream and woke up and looked out the window and sort of thought that I was back in Birkenau in cell block 14 where I started in 1942."
The grandson of the infamous Auschwitz commander Rudolf Hoess has also come.
"I can't forgive my father or my grandfather. I'm completely different," Rainer Hoess, who is devoted to fighting anti-Semitism, told reporters as he visited Auschwitz.
Roza Krzywolwocka-Laurow, 79, was sent to Auschwitz in 1944 as an eight-year-old Polish partisan.
"If I survived it was to warn against this ever happening again," she told AFP at the bullet-riddled "Wall of Death", where the Nazis shot thousands.
Part of Adolf Hitler's genocide plan against European Jews, dubbed the "Final Solution", Auschwitz-Birkenau operated in the occupied southern Polish town of Oswiecim between June 1940 and January 1945.
Of the more than 1.3 million people imprisoned there, some 1.1 million — mainly European Jews — perished, either in the gas chambers or by starvation or disease.
The Nazis killed six million of pre-war Europe's 11 million Jews.
Historical records show that by 1942, the Polish resistance provided Allied powers with eyewitness accounts of the Holocaust. Inexplicably, Washington and London failed to act.
"The debate as to why the Allies did not bomb the supply lines to Auschwitz remains unresolved," survivor Marcel Tuchman told AFP.
"Whether there was a sinister reason behind it or whether it was just tactical, in that they didn't want to divert their air force remains unclear," the 93-year-old New York-based professor of medicine said.
"A little bomb in the proper place would have really helped."
Photo: Survivors walk under the sign saying "Work makes you free" after paying tribute to fallen comrades at the former Auschwitz concentration camp in Oswiecim, Poland, on January 27, 2015 (AFP/Odd Andersen)