SwissLeaks Files Show HSBC 'Helped Clients Dodge Tax'
@AFP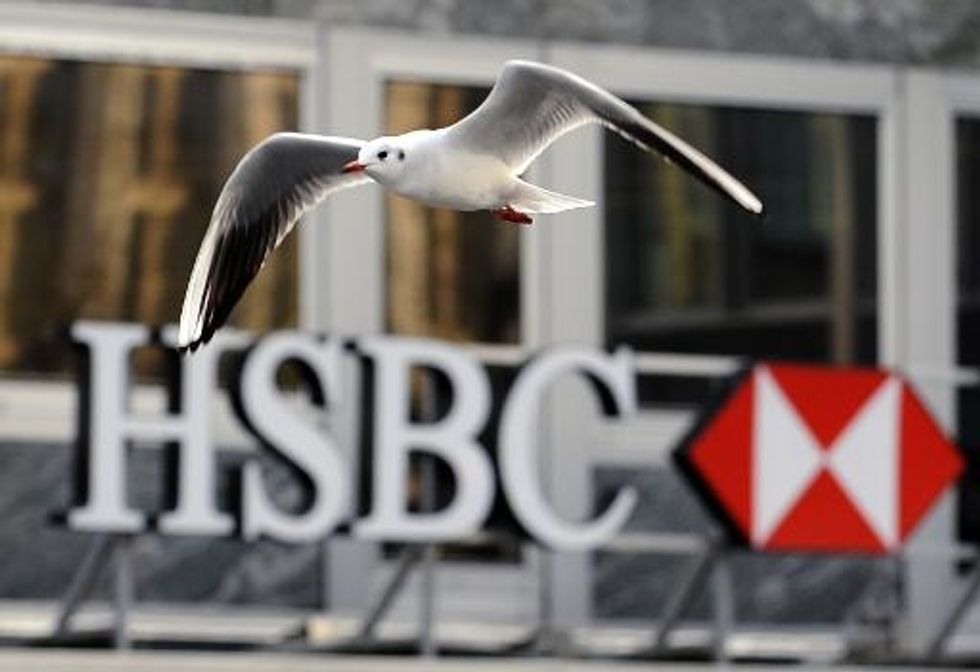 Geneva (AFP) – Banking giant HSBC faced damaging claims Monday that its Swiss division helped wealthy customers dodge millions of dollars in taxes after a "SwissLeaks" cache of secret files emerged online.
The documents published at the weekend claim the bank helped clients in more than 200 countries evade taxes on accounts containing $119 billion.
The huge cache of files, which were stolen by an IT worker in 2007 and passed to French authorities, has sparked criminal probes in several countries and attempts to claw back the cash.
The International Consortium of Investigative Journalists (ICIJ) obtained the files via French newspaper Le Monde, and shared them with more than 45 other media organisations worldwide.
The documents showed that HSBC opened Swiss accounts for international criminals, businessmen, politicians and celebrities, according to the ICIJ.
The revelations are likely to stoke calls for a crackdown on sophisticated tax avoidance by the wealthy and by multinational companies, a key political issue across Europe.
Tax avoidance is legal, but tax evasion is not.
"HSBC profited from doing business with arms dealers who channeled mortar bombs to child soldiers in Africa, bag men for Third World dictators, traffickers in blood diamonds and other international outlaws," ICIJ reported.
A range of current and former politicians from Russia, India and a range of African countries, as well as Saudi, Bahraini, Jordanian and Moroccan royalty, and the late Australian press magnate Kerry Packer were named in the files.
Following the bombshell disclosure, there were calls for a Swiss probe against the bank, which is already facing prosecution in France and Belgium.
"I am angry," former Swiss foreign minister Micheline Calmy-Rey told public broadcaster RTS, claiming the scandal had seriously damaged Switzerland's reputation.
HSBC shares sank 1.97 percent to 608.60 pence in early afternoon trading in London.
So far Switzerland has only launched an investigation against HSBC employee-turned-whistleblower Herve Falciani, who stole the files at the heart of the scandal.
The files were used by the French government to track down tax evaders and shared with other states in 2010, leading to a series of prosecutions.
British tax authorities said Monday they had brought in more than £135 million (181 million euros, $206 million) on the basis of the files.
HSBC's Swiss banking arm insisted it has since undergone a "radical transformation".
"HSBC's Swiss Private Bank began a radical transformation in 2008 to prevent its services from being used to evade taxes or launder money," Franco Morra, the head of HSBC's Swiss unit, told AFP in an email.
He said the bank had closed the accounts of clients "who did not meet our high standards" and had "strong compliance controls in place," adding that the disclosures were "a reminder that the old business model of Swiss private banking is no longer acceptable."
The Swiss Banking Association said the country's banks had worked hard in recent years to clean up shop and ensure conformity with tax laws.
If they don't follow the law "they have to take the consequences," the association said in a statement to AFP.
French Finance Minister Michel Sapin demanded Monday that no mercy be shown to the bank or its tax-cheating clients.
"We must be uncompromising with these fraudsters of the past, we must be uncompromising with those who helped them with their fraud and even sometimes organised it for them," Sapin told AFP on the sidelines of a G20 finance minister meeting in Istanbul.
Notes in the leaked files indicate HSBC workers were aware of clients' intentions to keep money hidden from national authorities.
Of one Danish account holder collecting cash bundles of kroner, an employee wrote: "All contacts through one of her three daughters living in London. Account holder living in Denmark, is critical as it is a criminal act having an account abroad non declared."
The files provide details on over 100,000 HSBC clients, including people targeted by U.S. sanctions, such as Turkish businessman Selim Alguadis and Gennady Timchenko, an associate of Russian President Vladimir Putin.
Inclusion on the list does not automatically imply wrongdoing.
Alguadis told the ICIJ it was prudent to keep savings offshore, while a spokesman for Timchenko said he was fully compliant with tax matters.
Other individuals named on the list include Rami Makhlouf, cousin of Syrian President Bashar al-Assad, designer Diane von Furstenberg, who told the ICIJ the accounts were inherited from her parents, and model Elle Macpherson, whose lawyers told the ICIJ she was fully in compliance with UK tax law.
Motorcycle racer Valentino Rossi, listed as having $23.9 million in two accounts, said he had regularised his tax situation with Italian authorities.
Photo: A cache of leaked secret bank files from 2005 to 2007 showed that HSBC provided accounts to international criminals, corrupt businessmen, politicians and celebrities (AFP/Fabrice Coffrini)