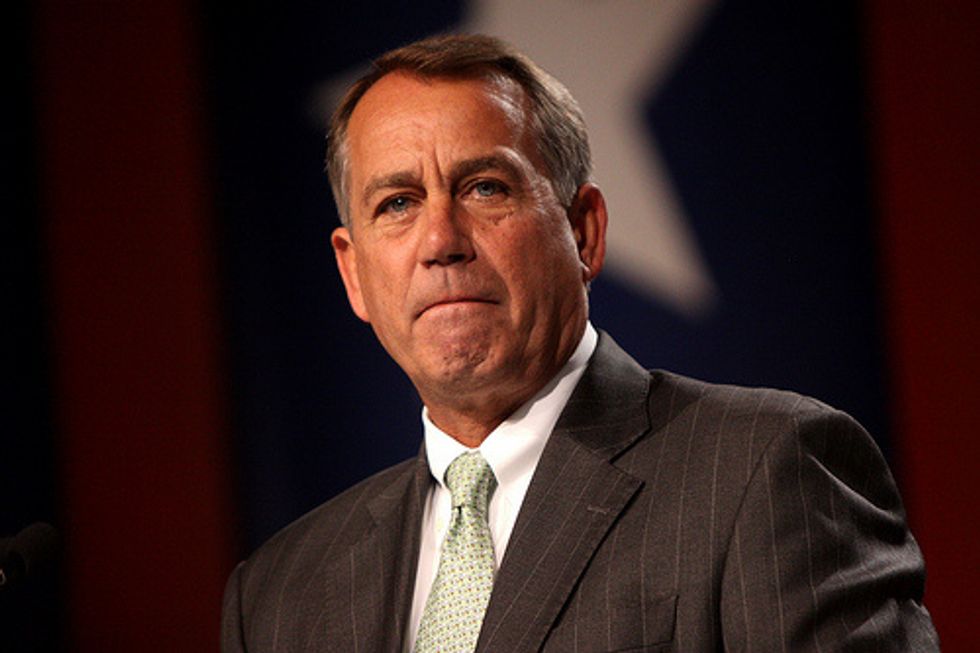 I have sympathy (not much, but some) for John Boehner.
When it comes to the Affordable Care Act, the Republican House Speaker is nearly always between a rock and a hard place.
On one hand, he and the GOP leadership must stand against President Barack Obama's health care law, because the longer it remains on the books, the more likely those who receive its benefits are going to support Democrats, not Republicans.
On the other hand, if someday the Republicans repeal the law, after having returned to the White House with congressional majorities, they will be forced to devise an alternative — an impossibility given the reactionary impulses of today's GOP.
In the former scenario, Republicans lose.
In the latter scenario, they lose.
So Boehner must thread the needle while hoping his credibility as a GOP leader isn't badly tarnished, even as rank-and-file Republicans discover through their experience that Obamacare isn't actually a harbinger of North Korean-style totalitarianism.
Of course, that's easier said than done. Boehner reiterated the Republican position on health care on the May 3 broadcast of Meet the Press, saying that Obamacare wasn't working.
"Obamacare made it harder for employers to hire people," he said. "You can ask any employer in America, ask them whether Obamacare has made it harder for them to hire employees, and they'll tell you yes."
When asked why none of the Republican Party's dire predictions about health care came true, Boehner responded: "You know why there's more people insured? Because a lot more people are on Medicaid." He continued, "Giving people Medicaid insurance is almost like giving them nothing, because you can't find a doctor that will see Medicaid patients. So where do they end up? The same place they used to end up: the emergency room."
Events later in the week suggested, however, that something wasn't right about Boehner's claims. On Wednesday, the largest independent study of its kind was released. It found that nearly 17 million Americans are now covered under the Affordable Care Act.
Some lost coverage (about 6 million), according to the RAND Corporation study, but many more found coverage, with a net gain of 16.9 million. The evidence also contravenes those who say Obamacare encumbers hiring. For one thing, the largest gains (nearly 10 million) were made in employer-run insurance plans. For another, some 80 percent of the working population under the age of 65 saw no change at all in their health care coverage.
That wasn't the only reason to look askance at Boehner's claims. Last Friday's monthly jobs report showed the unemployment rate had dropped to 5.4 percent, the lowest it's been since May 2008, before Obama won the presidency. Even wages, which have not typically kept pace with inflation, rose by 2.2 percent in the past year.
So something's wrong with the picture Boehner is painting. If most employers are offering insurance, and if the job market is expanding, why is Boehner saying that the Affordable Care Act has led to less insurance coverage and more unemployment?
GOP leaders appear to know they have a credibility problem. They are shifting their stance against Obamacare from quantity to quality. According to a report in The Hill published after Boehner's appearance on Meet the Press, the Republicans now concede that Obamacare has covered more Americans but argue that the coverage is inferior. Hence, Boehner's comment about Medicaid: Doctors don't take Medicaid, and having it is like having nothing.
Such a shift raises its own question of credibility. Why would a Republican Party that equates tyranny with the presence of government in the lives of individuals be worried about the government's role in providing quality health care to individuals?
Some might judge this as hypocrisy and thus dismiss the new Republican position as entirely unworthy of scrutiny. There's merit to that, as Washington wallows in hypocrisy. But hypocrisy can prevent us from seeing what's really going on. In this case, I wonder if Boehner and the leadership are worried about holding their ranks, as the temptation to defect grows from within.
Over time, the Affordable Care Act will penetrate deeper into the population. The millions of Americans who will benefit from the law will have an incentive to maintain the status quo. They'll likely support the Democratic Party as long as the Republicans demand repeal of the law. So, as of now, a vote for a Republican, from the point of someone covered by the Affordable Care Act, is a self-destructive vote. And among those millions are conservatives.
Some might argue that in saying things about Obamacare that just aren't true, Boehner risks alienating conservatives that make up the base of the Republican Party. Why would they trust the House Speaker if he is so consistently wrong? There's something to that, but a likelier explanation for the GOP's continued, and shifting, stance against the health care law is that opposition, no matter how contorted, is the best way to keep the conservatives in line.
Given time, more conservatives are going to benefit from the law. And the more they do, they more they will vote their self-interests. And that's why I have (a little) sympathy for John Boehner.
John Stoehr (@johnastoehr) is managing editor of The Washington Spectator. Follow him on Twitter and Medium.
Photo: Gage Skidmore via Flickr. Video: NBC News.