In Syria, Bombardment Of Aleppo Brings 'A Feeling Of Paralysis'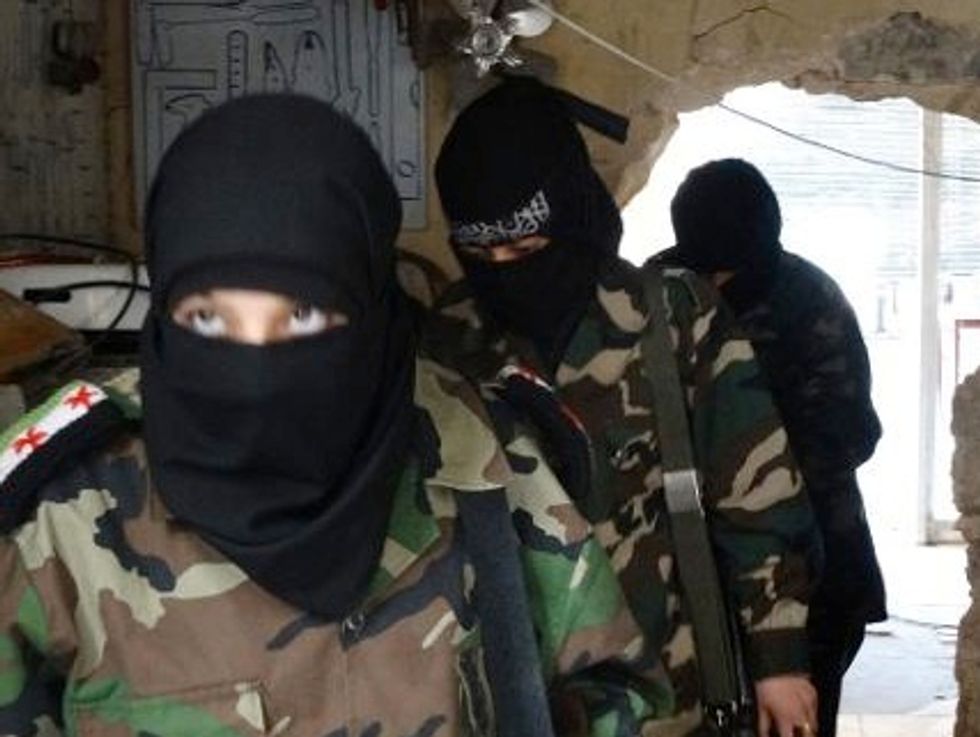 By Raja Abdulrahim, Los Angeles Times
When Omar Naasir wants a restful night's sleep in Aleppo, he says, he stays as close as possible to the front line of the ongoing clashes between Syrian rebel and government forces.
Farther back in his rebel-controlled neighborhood, Naasir says, the risk of death greatly increases because of the barrel bombs and other explosives raining down daily amid the government's bombardment campaign.
"Between us and the regime army is sometimes less than 100 meters, so they don't drop barrel bombs there so they don't strike their positions," he said via Skype, referring to the deadly oil drums filled with TNT.
"With barrel bombs, there is a feeling of paralysis that is indescribable," said the former peace activist turned rebel.
Even when airstrikes intensified on Aleppo's opposition-held neighborhoods in late December, many residents vowed not to be driven from their homes. But as the attacks continued and in the last two weeks increased to sometimes 30 barrel bombs a day, most civilians fled, opposition activists say.
About 10 percent to 30 percent of the population remains in the city's rebel-held areas, they say. Most are fighters, activists and aid workers.
"Very, very few people are left," said Naasir, a member of the Ansar al-Haq rebel group.
Since Jan. 1, activists say, an estimated 800 to 2,000 people have been killed by barrel bombs alone. The pro-opposition Syrian Observatory for Human Rights reported Thursday that more than 400 people had died in February, including 109 children.
Now major portions of the northern Syrian city, long a bustling commercial hub and home to millions, are deserted. Residents have fled to government-held neighborhoods, the suburbs or Turkey.
Those interviewed said they could no longer cope with the government bombing, coupled with internal clashes between rebel forces such as the Free Syrian Army and fighters with the extremist Islamic State of Iraq and Syria, which until recently was affiliated with al-Qaida.
For weeks, they said, barrel bombs have struck homes, schools and mosques.
On Wednesday, at least 38 civilians were killed, according to activist groups. In a video recorded just after the strike, civil defense members and fellow residents pulled the dead and wounded from a partially collapsed building. They called out for blankets to carry the mangled remains. The gore has become a daily ritual for those unable or unwilling to leave.
"We carry the wounded and then we continue what we were doing," said Naasir, who was sleeping when a bomb recently fell about 50 feet from his building. He said he helped retrieve those killed and wounded in the early morning attack and then went back to bed.
The bombardment has continued this week as a second round of peace talks began in Switzerland, but it has not been a topic of the negotiations aimed at ending the conflict, which began in March 2011.
In a statement last week, U.S. Secretary of State John F. Kerry condemned the barrel bombings and said that with the attacks, "the Assad regime reminds the world of its true colors."
"Each and every barrel bomb … launched against innocent Syrians underscores the barbarity of a regime that has turned its country into a super-magnet for terror," Kerry said. "Given this horrific legacy, the Syrian people would never accept as legitimate a government including Assad."
Riyad Hussein, an activist with the Aleppo Media Center, said some neighborhoods were now empty.
"You know like in the movies when you see these areas that are just piles of rock and dust and are desolate?" he said via Skype. "That's what parts of the city look like."
On the worst day, 130 bombs fell and more than 200 people were killed, Hussein said. But, like many activists, he said he had no plans to leave.
On Monday, government officials closed the only crossing linking the rebel and government-controlled sides of the city. Some residents have been waiting in the streets there for days, hoping the crossing will reopen soon, said Batoul, who works with an orphan aid group. She asked that only part of her name be used to protect her safety and that of her relatives.
Before the closure, residents of the rebel-held areas flowed into government-held neighborhoods, filling schools and public parks despite freezing temperatures at night, one resident said.
Batoul, who has relatives on the government side, said those who had gone there have been denied help and the opportunity to rent apartments.
Batoul lives in Salahudeen, a rebel-held neighborhood near the front line, which makes it one of the safer opposition districts. Civilians unable to flee have moved there or nearby, she said. Single-family apartments now hold multiple families.
"The warplane barely leaves the sky above us before it is back again dropping bombs," Batoul said.
More than 20,000 Syrians have already fled to Turkey this year, and in recent days 500 to 2,000 a day have been arriving daily at official crossings, said Melissa Fleming, a spokeswoman in the Office of the United Nations High Commissioner for Refugees.
In Turkey, now host to an estimated 700,000 refugees, the influx has strained resources. Syrians along the border said very few people without passports were being allowed across the border now, instead left stranded at the crossing or in makeshift camps on the Syria side.
Those who do get into Turkey don't necessarily fare better. The bus station at Kilis, a Turkish border town, is full of Syrians unable to find anywhere else to sleep, said Bashir Saleh, a spokesman with the rebel al-Tawheed Brigade.
"This is the worst humanitarian situation since the beginning of the uprising," he said.
AFP Photo/Karam al-Masri