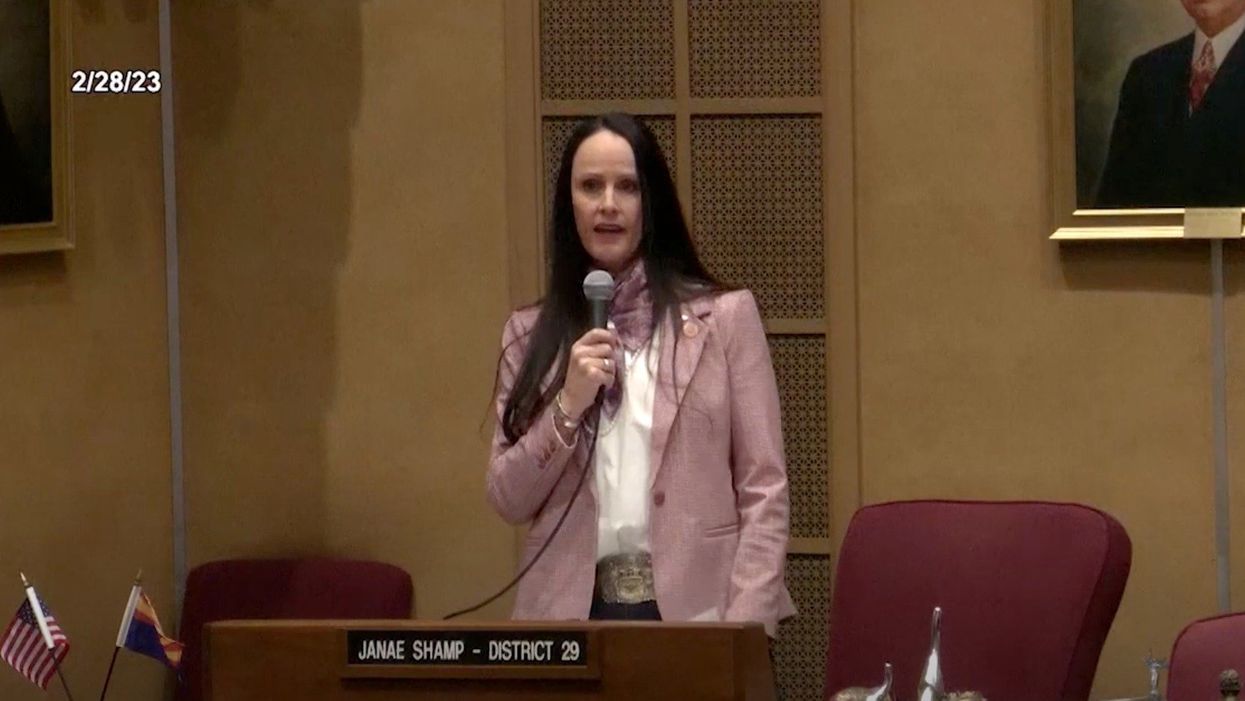 Arizona state Sen. Janae Shamp has promoted antisemitic influencers on her Facebook page. Her sources include a neo-Nazi who previously said he wants a picture of Adolf Hitler in "every classroom"; a Gab user who urged readers to "Fight the Jews on Every Single Issue"; a QAnon influencer who dreamed of the day that Jewish people would be "gone"; and a neo-Nazi radio host who served a prison sentence for issuing violent threats.
In addition to her repeated promotion of antisemites, Shamp has also forwarded QAnon propaganda dozens of times, which Media Matters reported on earlier this week. QAnon itself is steeped in antisemitism. Shamp has not responded to reporters' questions for comment about her QAnon activity, but she has taken down some of her posts.
Shamp has also compared people who oppose the COVID-19 vaccine to victims of the Holocaust. In one instance, Shamp shared an image of the Jewish badge with the word "unvaccinated" written over it.
She also posted an image comparing the treatment of the unvaccinated to laws targeting Jewish people in Nazi Germany.
Shamp's sharing of bigoted accounts is part of a larger pattern of Republicans who have promoted antisemitic media figures and outlets. Those officials include fellow Arizona politicians Rep. Paul Gosar and state Sen. Wendy Rogers. Both of them, along with former President Donald Trump, endorsed Shamp's campaign.
The following are numerous examples of Shamp promoting the accounts of antisemites.
Shamp Promoted Neo-Nazi Blair Cottrell's Anti-Soros Post
Shamp shared an anti-George Soros post that was credited as "Via Gab - @RealBlairCottrell." (The writing was originally posted on a QAnon-themed Telegram account.) Blair Cottrell is a pro-violence neo-Nazi who has written of Hitler: "There should be a picture of this man in every classroom and every school, and his book should be issued to every student annually." He has also said, "The Jews are as small physically as they are degenerate in character," and claimed that Jewish people "infiltrate and subvert entire generations of other nations in a bid for world power."
The Gab account Shamp directed people to includes Cottrell praising Hitler and his National Socialist German Workers' Party (also known as the Nazi Party). He wrote: "The reason nobody will recreate National Socialism any time soon is because the NSDAP was built from the ground up by a decorated war veteran and thousands of high-stock, stoic German soldiers, frustrated and forced into political action by Germany's terrible conditions following her defeat in the First World War. … Personally, I don't even feel like I have the right to call myself a National Socialist. I work hard and am in good condition, however I don't live morally enough yet."
Gab itself is a haven for antisemites, neo-Nazis, and white nationalists. It is run by Andrew Torba, who has repeatedly made antisemitic remarks.
Shamp Promoted The Website Of Neo-Nazi Hal Turner
Shamp shared a COVID-19 conspiracy theory article on the website of white supremacist radio host Hal Turner. The Southern Poverty Law Center wrote:
On his radio show, Turner has ranted about "bull-dyke lesbians," "savage Negro beasts," "f------," and even joked about a "portable n----- lyncher" machine. He has a nasty history of threatening political enemies, saying that they deserve to be killed and posting their addresses online. That practice caught up to him in August 2010, when he was convicted of threatening to assault and murder three federal judges.
The SPLC also documented Turner's history of antisemitism. Publications including The New York Times and NPR have described him as a neo-Nazi.
Shamp Cited InevitableET, Antisemitic QAnon Influencer
Shamp shared election denial content credited to QAnon influencer InevitableET. Vice News wrote that InevitableET (real name Craig Longley) is "a leading and hugely antisemitic voice in the Q community." The publication reported that he has imagined "the day Trump would leave the White House, suggesting that all Jews would be 'gone,' using the antisemitic three brackets 'echo' symbol to identify Jewish people. … He has taken part in the 'Blue the Jew' movement, where anti-Semites Photoshop images of Jewish people blue, a technique developed on fringe websites to use visual clues to disseminate hateful antisemitic messages while avoiding triggering mainstream platforms' hate speech rules." Vice added that Longley promoted the virulently antisemitic text The Protocols of the Elders of Zion.
Shamp Shared Clinton Conspiracy Tweet From "Groyper"
Shamp shared a tweet from a now-suspended Twitter account named "wxgroyper" that pushed the conspiracy theory that Alabama reporter Christopher Sign's death was related to the Clintons. The Institute for Strategic Dialogue defines groypers as "a loose network of white nationalist activists and internet trolls who gravitate around several key online influencers. Their goal is to push and normalize white nationalist ideas within mainstream conservatism." Holocaust denier and antisemite Nick Fuentes is a leader of the groyper movement, which pushes antisemitism.
Shamp Promoted Antisemitic QAnon Influencer Jordan Sather
Shamp shared a quote from QAnon influencer Jordan Sather, who has a history of antisemitism. He has written: "What is the real virus plaguing our world?" He then wrote the echo symbol that's been used by antisemites to symbolize Jewish people: "(((Them)))."
Shamp Promoted Gab Account Of Antisemite Wyatt, Austere Deplorable
Shamp shared a conspiracy theory post from the obscure and virulently antisemitic Gab account Wyatt, Austere Deplorable. That account, which also supports QAnon, had previously posted antisemitic remarks:
"Are we, as Gentiles - Satan's Creation, going to sit back and allow this to happen? Or are We going to Fight the Jews on Every Single Issue and put a END to their plan for world domination? I REFUSE TO BE A SLAVE!!" [Link]
"The little jew started all this and now they are trying to sit back and watch the people devour themselves. This is a classic method of the jews. This is the same thing they did in WW2 and in all other historical times, such as the Roman Empire." [Link]
"The jews are very good when it comes to causing wars, frail and afraid when its to carry them. So what do they have to do, is cause Gentiles and other States to fight for them. The jewish oligarchy is pushing Gentile Soldiers to actually do what the jews don't want to do." [Link]
Reprinted with permission from Media Matters.