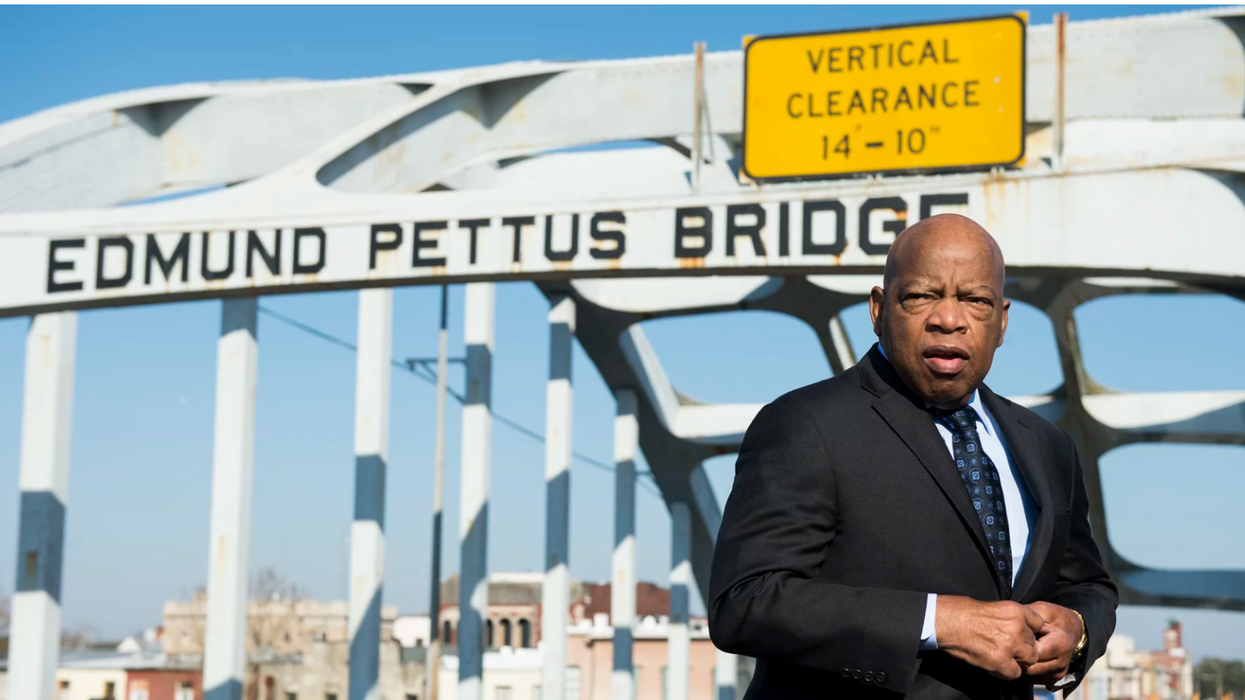 March 7, 1965, is a day to remember.
That was never a problem for 90-year-old Ora Bell Shannon of Selma, Ala., then a young mother who ran with her children from the Edmund Pettus Bridge, or for Betty Boynton, who could see the tear gas rising and baton-wielding state troopers beating peaceful marchers.
Civil rights activists — among them Amelia Boynton, Betty Boynton's mother-in-law, and a young John Lewis — put their bodies on the line to create the headlines and the international shock that forced action from Washington. In truth, the Voting Rights Act of 1965 simply put teeth into the enforcement of the 15th Amendment to the Constitution, ignored by state and local governments intent on blocking African Americans from the ballot box.
Back then, it was about the right to vote, and in 2022, it is still about the right to vote, reinforced by the hard-won Voting Rights Act of 1965 but increasingly under attack by state laws placing obstacles in the way of those least able to overcome them.
As many, including Vice President Kamala Harris , traveled to Selma last Sunday to commemorate what has become known as "Bloody Sunday," the landscape has changed in a country where many have lost the ability to be shocked or to find common cause with citizens different from themselves.
It is a world where, as Senate Democrats hold their annual issues conference at Howard University in Washington, elevating the excellence of that institution, students seeking an education at historically Black colleges and universities face bomb threats.
It's easy to forget that in the not-that-distant past, the annual ceremony in Selma, including a symbolic march across the bridge named for a Confederate general and Ku Klux Klan leader, had been bipartisan. In 2015 , a chastened Kevin McCarthy , then House majority leader, attended the 50th anniversary of the historic march in Selma after initial reports that no GOP congressional leaders would be there.
Now, bills to strengthen the 1965 legislation, after the Supreme Court in 2013 invalidated provisions that required states with a history of discrimination to "pre-clear" changes in their laws, have gone nowhere, primarily because of obstruction by Republicans and refusal by lawmakers in both parties to change filibuster rules.
Sen. Mike Lee , Republican from Utah, said the "For the People Act" to expand voting rights was "as if written in hell by the devil himself." A voting bill named for the late Lewis, a former colleague known and supposedly admired by many of those voting "no" in Congress, has gained little traction.
The language of yesterday, phrases that excused poll taxes and literacy tests — states' rights, federal meddling — is making a comeback, and because America has not learned, it is repeating mistakes that had bloody consequences.
On Sunday, speakers tried to connect then and now, with Harris, at the bridge, saying: "We again, however, find ourselves caught in between — between injustice and justice, between disappointment and determination — still in a fight to form 'a more perfect union.' And nowhere is that more clear than when it comes to the ongoing fight to secure the freedom to vote."
Harris, the first woman, first Black American and first Asian American to occupy the office and a Howard grad, represents the dream of many Americans, and the nightmare of those who still don't believe their eyes and the vote that lifted her up.Former President George W. Bush and former first lady Laura Bush attended that year and stood with President Barack Obama and first lady Michelle Obama in a scene of unity that has become rare.
In 2006, as president, Bush signed the extension of the Voting Rights Act, after it passed in the Senate by a 98-0 vote. Republican Sen. Lindsey Graham , who supported it, said that while his fellow South Carolinians had "come a long way," they, "like every other part of this country, still have a long way to go."
Yes, that Lindsey Graham .
Those who would limit rather than expand the vote cry for freedom abroad, as war rages in Ukraine, but seem not to trust their fellow citizens with something so precious. Would that controlling faction of the Republican Party choose authoritarianism over democracy if their guy, the former president who won't go away, were in charge?
Betty Boynton sees parallels. "I wouldn't think in 2022 we would have to do all over again what we did in 1965," she said Sunday.
Margaret Huang , president and CEO of the Southern Poverty Law Center, who, with staffers, joined Sunday's march, said in a statement that "there are many people in the political arena who are worried about retaining power, and I think they see the country is changing. They see communities of color turning out [to vote] in new and exciting ways, as well as young people, so their instinctive response is to shut it down to protect their political future."
A law being considered in the Alabama legislature would give police broad power to determine when a protest becomes a riot and to punish those who step over the line that law enforcement draws — in the state where images of law enforcement run amok stain its history.
Would those images pass muster in today's history classes, being purged of any reality that causes discomfort to white parents, eager to erase rather than understand, empathize and do better?
Harris recalled seeing Lewis, the last time she was in Selma, on that bridge: "For his whole life, and especially that day, John Lewis was the embodiment of strength and resilience, the epitome of dignity, grace and perseverance.
"As he stood here that day, you could see the body that carried him across this bridge all those years ago had become fragile, but the spirit that carried him was as strong as ever."
Republicans who stayed away might have learned something, if they had spent last weekend in Selma, Alabama, something about resilience that can't be erased — or forgotten.
Mary C. Curtis has worked at The New York Times , The Baltimore Sun , The Charlotte Observer , as national correspondent for Politics Daily , and is a senior facilitator with The OpEd Project. Follow her on Twitter @mcurtisnc3 .
Reprinted with permission from Roll Call