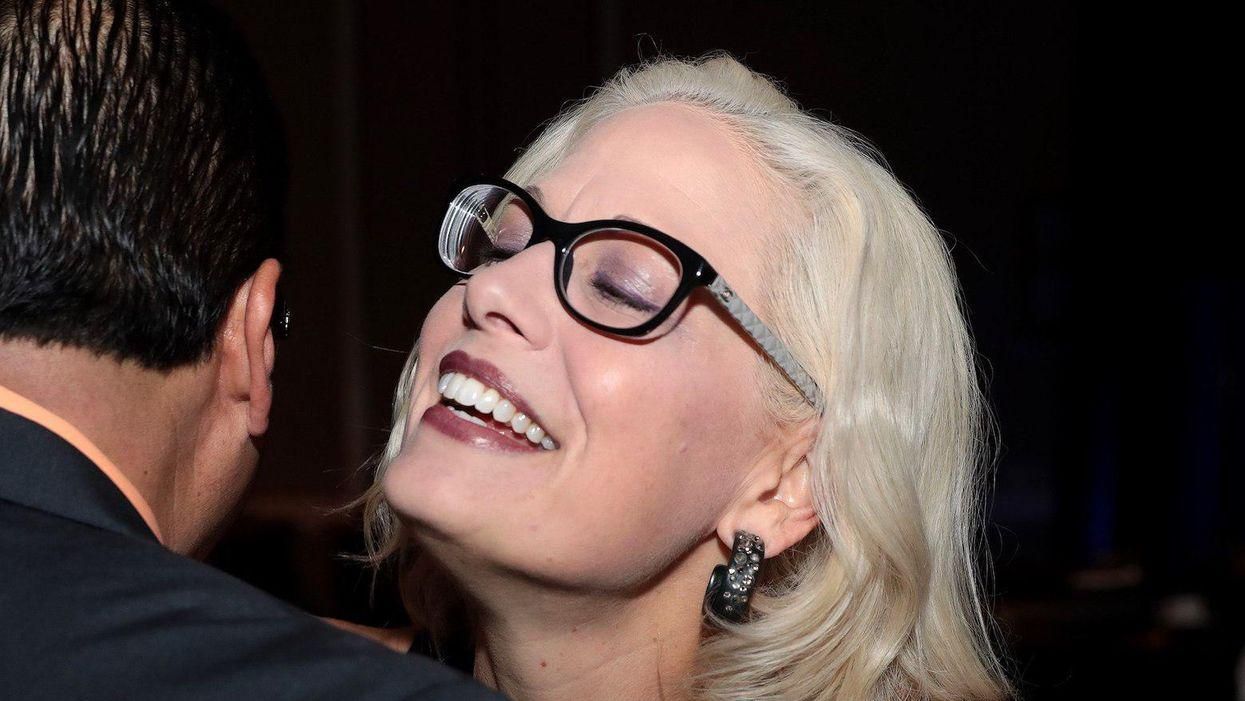 Reprinted with permission from Alternet
Frustrated by some of her more conservative positions, progressive activists have been threatening to primary Sen. Kyrsten Sinema of Arizona in 2024 — when the centrist Democrat will be up for reelection. And according to a new poll from Data for Progress , Democrats in Arizona would favor some of Sinema's possible primary opponents.
The poll was conducted October 8-10 and surveyed 467 "likely Democratic primary voters," according to Data for Progress. But there is a caveat: Arizona has an open primary system. So non-Democratic voters would have the option to vote in that Democratic primary in 2024, which is important because even though many progressive Democrats have been highly critical of Sinema, the senator has her share of defenders among independents and Never Trump conservatives. In fact, the Senate seat that she took over in January 2019 formerly belonged to Republican Sen. Jeff Flake, a right-wing Trump critic who endorsed Joe Biden in 2020.
Reporting on the poll, Ryan O'Donnell, Gustavo Sanchez, and Brian Burton of Data for Progress explain, "For Sen. Kyrsten Sinema, her next hurdle is going to be her 2024 primary election, where she is going to have to convince Democratic primary voters in Arizona that she deserves to keep her job. Activists who are disappointed with her obstructionism and reluctance to support President Biden's popular agenda are already organizing to draft other high-profile Arizona politicians, like Rep. Ruben Gallego, to run against her in 2024…. We find that Sen. Sinema faces a steep uphill battle to defend her record and convince voters she should stay — as negative sentiment towards her continues to grow."
Data for Progress found that Sinema enjoys only 25 percent approval among Democratic primary voters compared to 85 percent for Mark Kelly, Arizona's other Democratic U.S. senator, and President Joe Biden.
In addition to Rep. Ruben Gallego, Democrats who are being mentioned as possible primary challengers for Sinema in 2024 include Phoenix Mayor Kate Gallego (to whom Rep. Gallego was once married), Tucson Mayor Regina Romero, and Rep. Greg Stanton. Data for Progress found that in a 2024 Democratic primary, Rep. Gallego could defeat Sinema.
The report explained:
There are many qualified Democrats in Arizona who would represent the state more effectively than Sinema, and the visual between their support of these lesser-known potential candidates and their support for Sen. Sinema is striking. There's a caveat to this, however: while most potential candidates we tested against Sen. Sinema did well, in a hypothetical primary election challenge it would be key for progressives to consolidate behind a single challenger in order to have the best chance of defeating Sinema. At present, the only path Sinema has to win this primary appears to be by too many candidates running and splitting the vote, thus allowing her to sneak by with her clear ceiling of Democratic primary voters.
That being said, even if multiple progressive primary challengers ran, Data for Progress finds in a hypothetical that Sinema still polls behind Rep. Ruben Gallego — a clear warning sign for the Sinema campaign.
If Rep. Gallego did defeat Sinema in a primary, the question would become: How electable would he be against a Republican candidate in a statewide race in Arizona — which was once a deep red state but has evolved into a swing state? For many years, Arizona was synonymous with the right-wing politics of Sen. Barry Goldwater and Sen. John McCain (who was a self-described "Goldwater Republican"). But Arizona now has two Democratic U.S. senators, and Biden won the state in 2020.
Sinema has been on friendly terms with the late Sen. McCain's daughter, conservative activist Meghan McCain, who has praised her relatively conservative voting record. Another Sinema defender on the right is Marcus Dell'Artino , an Arizona-based political strategist who worked for Sen. McCain and has jokingly called Sinema the biggest threat to the Arizona GOP. Dell'Artino, recently interviewed by Politico , argued that Sinema is being smart politically by playing to the center — an assertion that many Democrats would disagree with.
The strategist told Politico , "Is she her own boss? Yeah, because she does her homework, and has a long-term vision. She's seen the inner workings of the state Democratic Party, and she sees, for her, she probably has a better way or a smarter strategy — which, clearly, has worked."