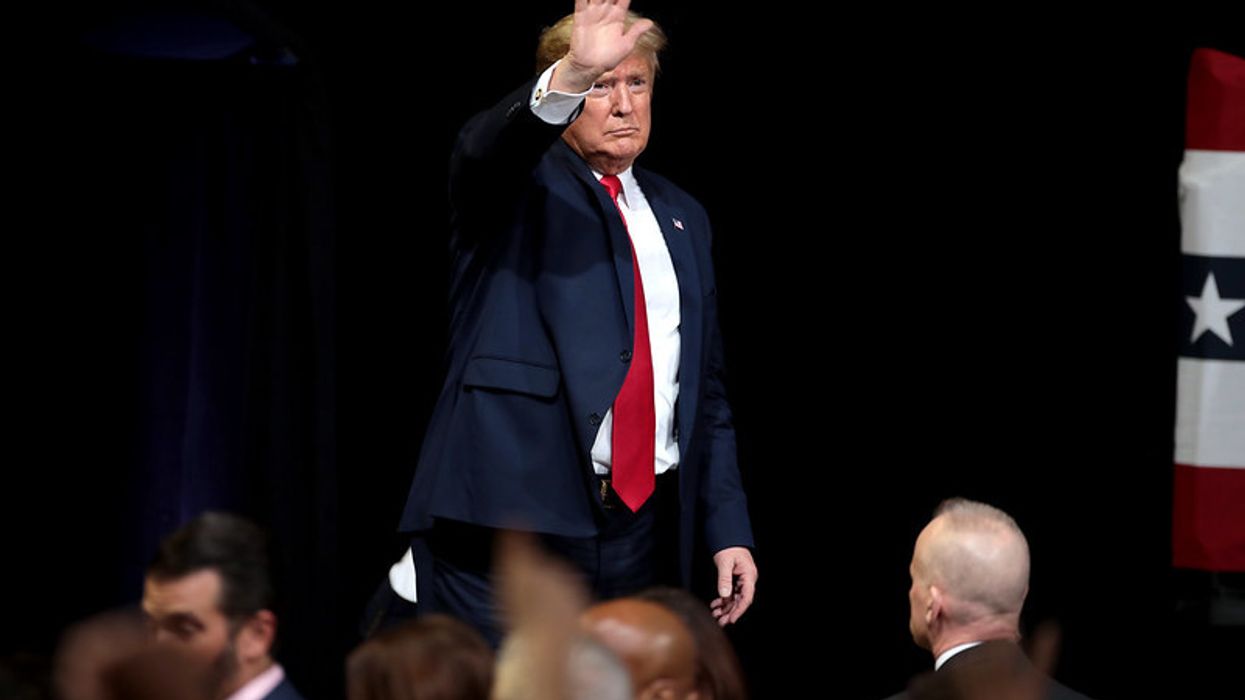 On Tuesday, a jury of his peers found Donald Trump liable for sexual abuse and awarded E. Jean Carroll $5 million for physical and verbal attacks, along with the smears he made against her after she spoke up. This is the "grab 'em by the pussy" Trump we all knew about in 2016. It's the same Trump who put every House and Senate member in physical danger when he unleashed a violent mob on the Capitol on January 6. And the Republicans he endangered just can't quit him.
After the historic verdict was announced, Florida Sen. Marco Rubio (R-FL) slammed the jury. "The jury's a joke. The whole case is a joke," he told reporters. "If someone accuses me of raping them and I didn't do it, and you're innocent, of course you're going to say something about it … it was a joke."
This is the same guy who blasted Trump as "a man who in rallies has told his supporters to basically beat up the people who are in the crowd and he'll pay their legal fees, someone who has encouraged people in the audience to rough up anyone who stands up and says something he doesn't like" after losing to Trump in the 2016 primary. But sure, that guy wouldn't assault a woman in a department store dressing room.
Then there's the walking GOP zeitgeist who is Sen. Tommy Tuberville, from Alabama. "It makes me want to vote for him twice." Which is an okay thing to do, if you're a Republican. "They're going to do anything they can to keep him from winning. It ain't gonna work ... people are gonna see through the lines; a New York jury, he had no chance."
Hating on New York is their theme. "I don't know the facts," the other Florida Man, Sen. Rick Scott (R-FL), said before assuming that of course Trump didn't do it. "It's a New York jury, too," he added. Trump caddy Sen. Lindsey Graham of South Carolina added: "When it comes to Donald Trump, the New York legal system is off the rails."
No Republican said they wouldn't support Trump in 2024. Even the ones who don't like him. Utah Sen. Mitt Romney wouldn't say it directly. "I hope the jury of the American people reach the same conclusion: we need a different nominee to be the nominee for president," Romney said. "He is in no position to be the president of the United States."
There was a lot of that passive voice among the Republicans who don't want to be associated with Trump but are too scared to say so. "I would have a difficult time" voting for him, Sen. Mike Rounds of South Dakota said. Louisiana Sen. Bill Cassidy said the whole thing "creates concern." (There was no immediate word on Maine Sen. Susan Collins' level of concern.)
"People who love him will still support him and people who don't, won't," Sen. John Cornyn of Texas told reporters, adding it's "too early to tell" what it will mean for 2024. (That's a dodge.)
Speaker Kevin McCarthy and Minority Leader Mitch McConnell dodged the question too, using the excuse of having been too busy with their debt ceiling meeting with President Joe Biden to have any opinion. They will undoubtedly remain too busy. So much for leadership.
Even former South Carolina Gov. Nikki Haley, a 2024 contender for the presidential nomination against Trump, says she sees "no need" to respond to the verdict against Trump. "That's something for Trump to respond to," she told Hugh Hewitt. "I think the focus has to be not to be distracted. That's why we've got to leave the baggage and the negativity behind … it's not my case. It's his case."
Trump wasn't wrong back in 2016: "I could stand in the middle of Fifth Avenue and shoot somebody, and I wouldn't lose any voters, OK?" he told a group of supporters. He wouldn't lose the support of Republicans in Congress, either. "It's, like, incredible." That's true, too. Not in a good way.
Reprinted with permission from Daily Kos.