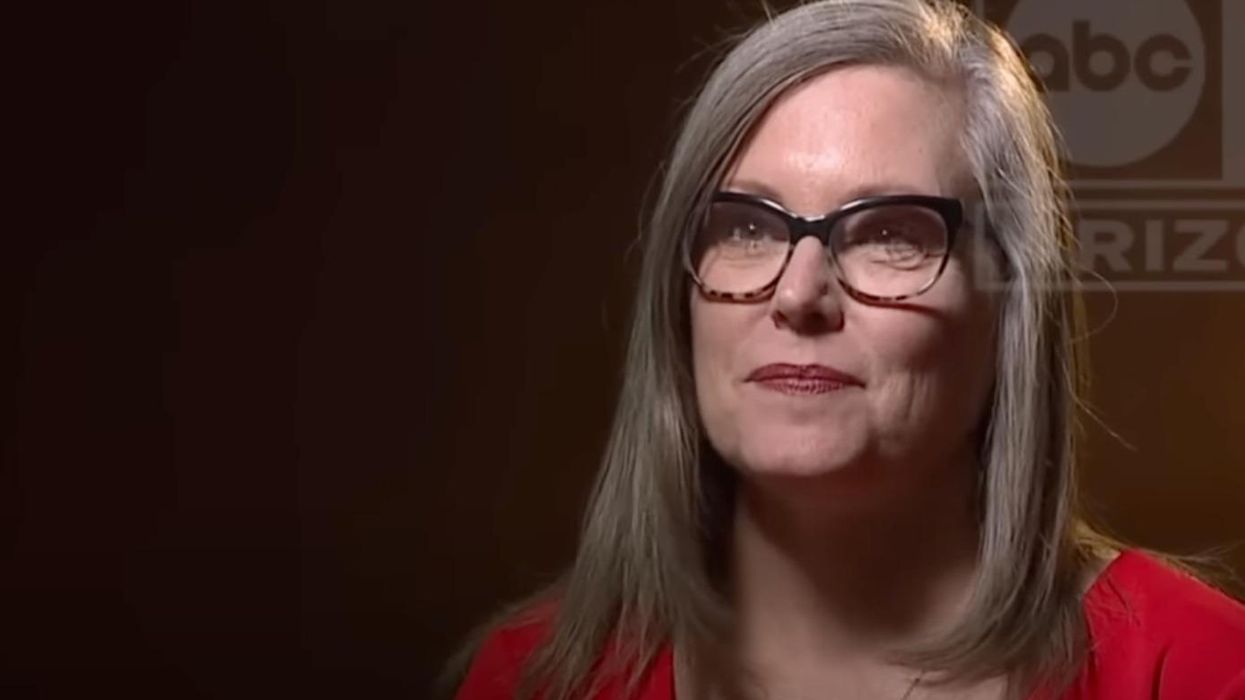 Republican Kari Lake, who recently identified "as a proud election-denying deplorable" and joked that her pronouns were "I/Won," may be heading for a fresh round of court sanctions after losing a last-gasp bid to overturn her defeat in November's Arizona gubernatorial election.
Democratic Governor-elect Katie Hobbs and Maricopa County, Arizona's largest city, demanded the sanctions against Lake in a filing Monday, barely two days after an Arizona court tossed out the Republican nominee's latest election-subverting lawsuit, aptly branded "a hodgepodge of allegations" by the New York Times.
Just days before Lake launched her last-ditch attempt to salvage her electoral loss, a U.S. district judge sanctioned her legal team for filing an "entirely frivolous" lawsuit in April — demanding the use of paper ballots and banning the use of voting machines — based on false charges of election fraud.
Lake, a loud election denier prominent in the MAGA community and backed by former President Donald Trump, shot to far-right stardom for peddling such unfounded allegations — of course, without evidence — in the 2020 and 2022 elections.
"Enough really is enough," read the Maricopa County court filing. "It is past time to end unfounded attacks on elections and unwarranted accusations against elections officials. This matter was brought without any legitimate justification, let alone a substantial one."
Lake, as the court papers noted, "publicly stated that she would accept the results of the gubernatorial election only if she were the winning candidate," referencing Lake's October interview with CNN, during which she refused to commit to accepting a loss in the midterms.
The statement continued: "But she has not simply failed to publicly acknowledge the election results. Instead, she filed a groundless, seventy-page election contest lawsuit against the Governor-Elect, the Secretary of State, and Maricopa County and several of its elected officials and employees (but no other county or its employees), thereby dragging them and this Court into this frivolous pursuit."
The county's motion — officially joined by Hobbs, per NBC News — asked that Lake hand over $25,050 in attorney fees to Hobbs and the populous jurisdiction, noting that the courts "should not be used to harass political opponents and sow completely unfounded doubts about the integrity of elections."
According to Reuters, Hobbs submitted a separate motion asking the Arizona Superior Court to award her $600,000 in legal fees.
In a response Monday, Lake's legal team decried the sanction requests as an effort to punish the Republican for bringing forth "legitimate" electoral allegations.
"Plaintiff's claims were neither legally groundless nor were they brought in bad faith or for purposes of harassment as is required under Arizona law to justify sanctions," Lake's response stated.


However, around the same time as the response, Lake accused Maricopa County Superior Court Judge Peter Thompson, who will rule on the sanctions filings, of soliciting ghostwriting services to draft his ruling that denied her election subversion gambit, screenshots posted to Twitter by Lake's critics allege.
\u201cA few days ago I asked what conspiracy theory Kari Lake would offer for why she lost her election contest lawsuit. It is more insane than even I predicted.\u201d

— Marc E. Elias (@Marc E. Elias) 1672064849
[Tweet]