Calling For Violence, Lake's Conspiracy Weirdos Crash Maricopa County Meeting (VIDEO)
@justinhorowitz_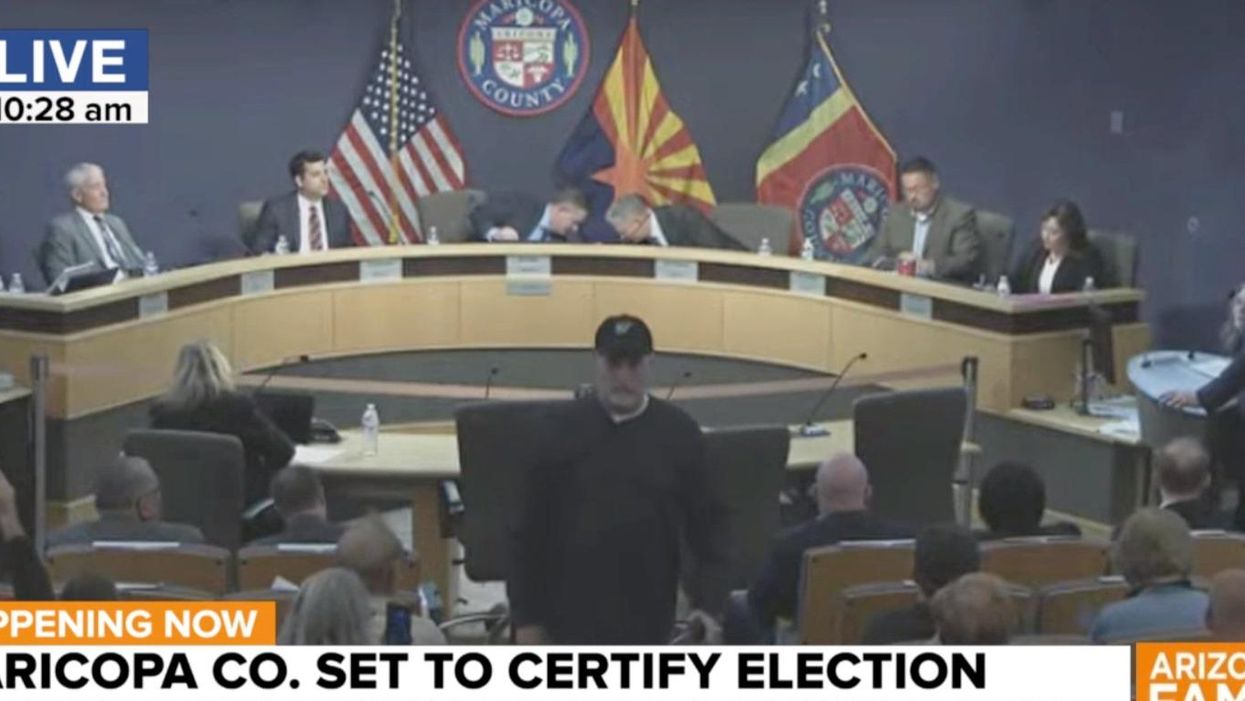 Youtube Screenshot
The Maricopa County Board of Supervisors met on November 28 to certify the canvass of the 2022 primary election results. Conspiracy theorists and extremists appeared at the public meeting to push election conspiracy theories and far-right talking points in protest of Maricopa County's certification.

Arizona has been a hotbed of conspiracy theories and right-wing extremism leading up to and following the losses of several far-right candidates in the state's 2022 midterm elections. Now, right-wing conspiracy theorists are protesting the certification of election results in Arizona's largest county.
Colorado right-wing podcaster and election denialist Joe Oltmann gave a public comment at the Maricopa Board of Supervisors meeting. Oltmann has previously called for his political opponents to be hanged and suggested that armed protestors should flood the streets of Arizona over the 2022 certification.
Opening his comments, Oltmann described himself as "the chief election denier." He then falsely claimed that Dominion voting machines can be used to "cheat" and suggested that American people are being gaslighted into believing in "gender fluidity."
Arizona election denial gubernatorial candidate Kari Lake has been reposting public comments protesting the certification on her Instagram account.
Cochise County, another Arizona county, voted today to delay the certification of the election results, "and miss the state's legal deadline of Monday, despite finding no legitimate problems with the local counts." Arizona's secretary of state reportedly plans to file legal action against the county.
At least one speaker took her disdain for Maricopa's certification to a whole new level, calling for a "violent revolution" and suggesting that election officials in the county could face "the death penalty" for "treason."
Lake and secretary of state candidate Mark Finchem are both leaders in the right-wing movement to push voter fraud narratives in elections where republicans lose. Their losses have motivated conspiracy theorists, extremists, and media figures to object to the certification of the election, echoing pre-January 6 rhetoric that led to the deadly insurrection at the U.S. Capitol in 2021.

Reprinted with permission from Media Matters.