Trump And Imitators Again Attack Arizona Election, Exaggerate Glitches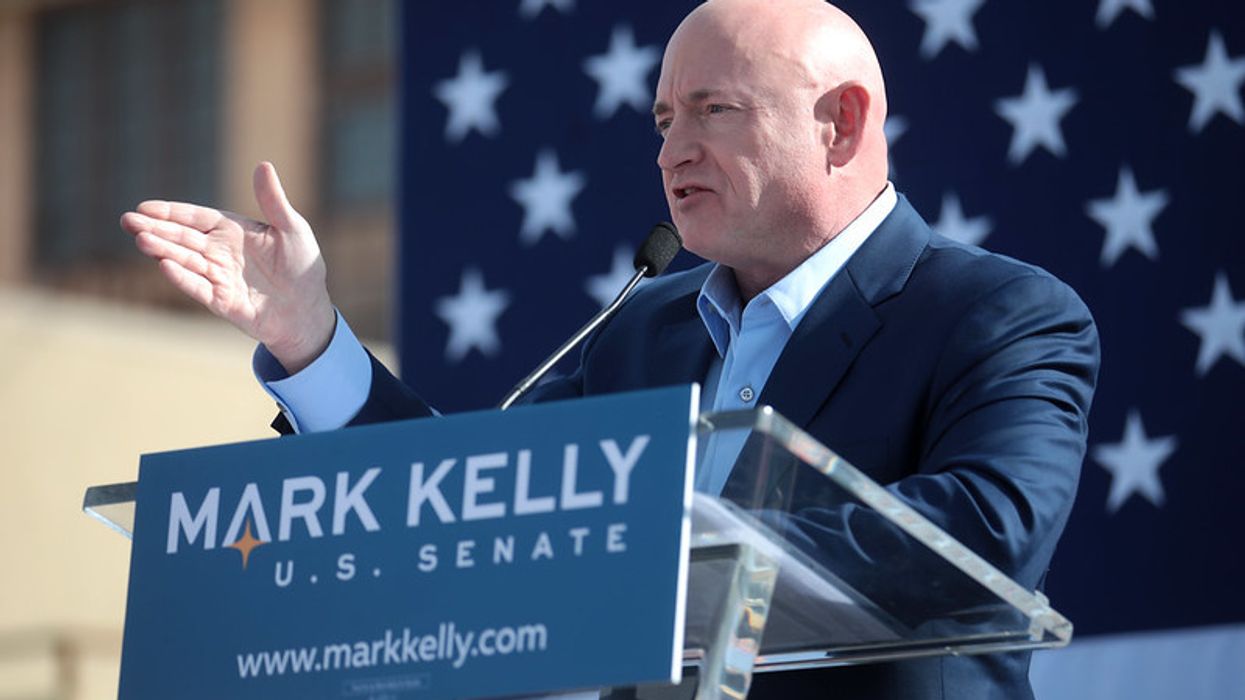 Like sharks at a feeding frenzy, Arizona's Trump Republican candidates, rightwing broadcasters, and even the ex-president himself, jumped on malfunctioning ballot scanners in one-fifth of Maricopa County's 223 voting centers early on Tuesday to attack the election's legitimacy.
Kari Lake, Arizona's Republican gubernatorial candidate, tweeted "your provisional ballot… might not count" as people were voting.
Charlie Kirk, a right-wing radio host tweeted, "2 hour wait minimum… DON'T LET THEM DO 2020 AGAIN," which quickly sparked 40,000-plus social media messages, according to Election Integrity Partnership, an academic consortium that monitors online disinformation.
Neither Lake's claim about uncounted votes nor Kirk's claim about wait times were correct. But that didn't stop Donald Trump from jumping in.
"Reports are coming in from Arizona that the Voting Machines are not properly working in predominantly Republican/Conservative areas," Trump posted on Truth Social shortly before 11 AM local time. "Can this possibly be true when a vast majority of Republicans waited for today to Vote? Here we go again? The people will not stand for it!!!"
By early evening, Trump again singled out Maricopa County, home to Phoenix and more than 60 percent of Arizona's voters.
"To the people of Arizona, in particular, because that's the one that's come up right now, stay on line. Don't leave," Trump said. "Already a lot of people have left. And it's very, very unfair what's going on. Maricopa County – don't leave. Stay there."
What happened with Maricopa County's paper ballot printers and scanners was not entirely clear – even after local Republican officials, who run Maricopa County and oversee its elections, posted a video reassuring voters that their ballots would count.
But what was clear was that the snafu, which inconvenienced some voters and likely was a due to set-up error, did not mean that its 2022 general election was being stolen in plain sight as Trump alluded.
The impulsiveness and ferocity of the Trump Republicans' reactions to a regrettable but fixable error reveals much about their tribal mindset and paranoia. To start, they were not attacking Democrats. They were going after Republicans previously deemed insufficiently loyal.
It did not matter that Maricopa County Recorder Stephen Richer, the senior election official, has repeatedly said that he voted for Trump in 2020. Richer and Maricopa County's Republican-majority Board of Supervisors have defended their 2020 election as accurate and legitimate, which is heretical in Trump circles.
Part of the county's defense was debunking every false claim made during 2021's post-election audit led by the Cyber Ninjas, a Florida cybersecurity firm hired by the Arizona Senate's Republican caucus. That review concluded that Joe Biden won but spent months casting doubt on the election, fueling the 2020 election denier narrative.
One day before Trump and the others pounced on Maricopa County's snafu, Arizona's election deniers suffered a stinging defeat in court. A rural county led by Trump Republicans who wanted to count this fall's votes by hand – instead of using a state-approved computer system – was ordered to use the computers. Their legal team, which argued in court last Friday, included the Cyber Ninja's lawyer, Brian Blehm.
In short, many Trump Republicans do not trust anything electronic in voting. They believe that counting ballots by hand is more precise. It's not, as many studies have shown, due to the tedium. Nonetheless, candidates such as Mark Finchem, a state representative who is the GOP nominee for Arizona secretary of state, has vowed to outlaw voting system computers as he has campaigned this fall.
"There's a pretty large contingent out there that wants to get rid of [voting] machines in total," said Benny White, a lawyer and longtime data analyst for the Arizona Republican Party who is disliked by Trump Republicans – because his analyses traced and explained Trump loss. "They're very ignorant [about the nuts and bolts of running elections]. But they're very vocal. That's what you are hearing."
In rapid succession, Cochise County's election administration rebellion was quashed. Maricopa County experienced voting system issues. And Trump Republicans reacted with outrage rather than perspective.
Nationwide, many states and counties experienced problems with their election systems on Tuesday, according to a briefing by the Lawyers' Committee for Civil Rights Under Law, which runs the 866-OUR-VOTE election protection hotline and logged several thousand phone calls from voters seeking assistance across the country.
But unlike the Trump Republicans, the Lawyers' Committee's state directors did not make accusations of an illegitimate election. They told voters what to do – which often involved being patient. In a few cases, their volunteer lawyers intervened on voter's behalf.
Ironically, that's what Maricopa County's Republican brass tried to do.
"We're trying to fix this problem as quickly as possible," said Bill Gates, Board of Supervisor chair, in a video posted online midday on Tuesday.
"And we also have a redundancy in place. If you can't put the ballot in a tabulator, then you can simply place it here," Gates continued. "This is a secure box where those ballots will be kept for later this evening where we'll bring them in here to central count to tabulate them."
Later Tuesday, the Republican National Committee went into court to seek to extend polling place hours. White said there was no doubt that some candidates would end up suing. Arizona counties must certify their election results in 20 days. Then candidates have 10 additional days to file challenges.
"The loser of one of these races will base an election contest on the improper printing of the ballots," White said. "You can file at any time, but you have to wait until you get some results in order to have some evidence and some grounds to present to the court."
Whether those suits will have any legal traction remains to be seen. But they will likely spark more propaganda that ignores facts – and reveals how little they know about the way voting systems actually work.[With votes still remaining to be counted, Mark Kelly is ahead in Arizona's U.S. Senate race and appears likely to win. Democrat Katie Hobbs maintains a smaller lead in the governor's race against election-denying Republican Kari Lake.)
Steven Rosenfeld is the editor and chief correspondent of Voting Booth, a project of the Independent Media Institute. He has reported for National Public Radio, Marketplace, and Christian Science Monitor Radio, as well as a wide range of progressive publications including Salon, AlterNet, The American Prospect, and many others.
This article was produced by Voting Booth, a project of the Independent Media Institute.