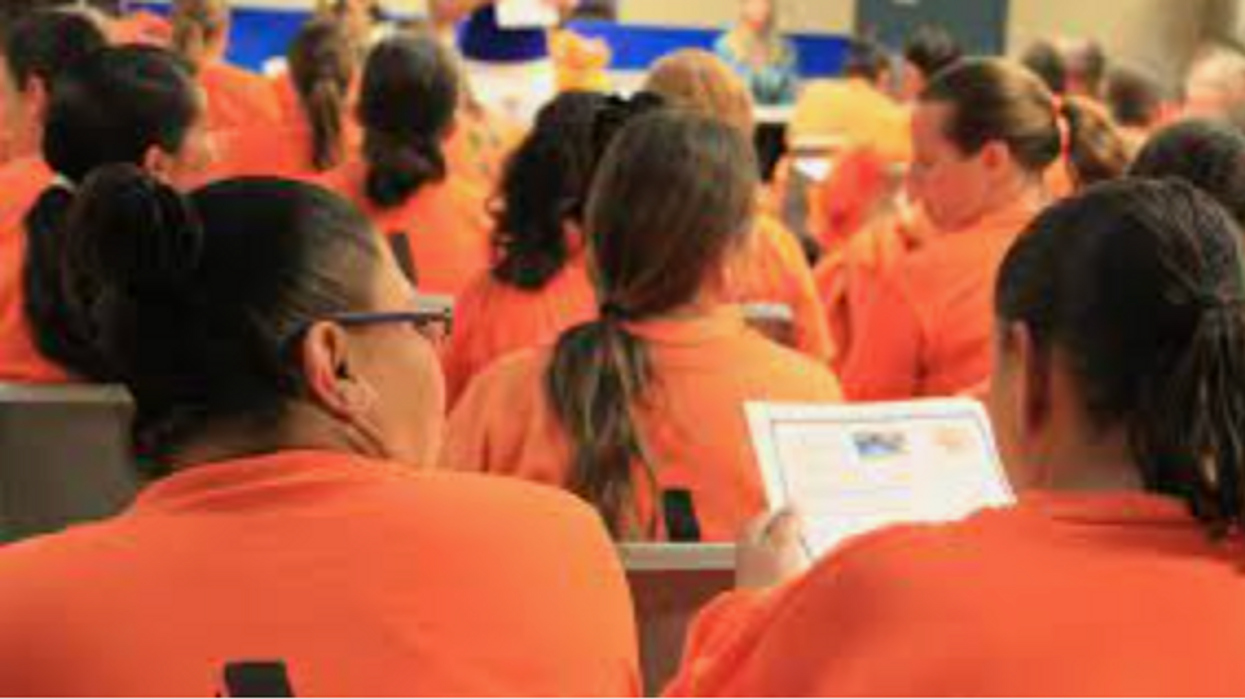 This is the second in a series of five articles on Pell Grant access for incarcerated students funded by a reporting fellowship from the Education Writers Association. Read the first, the third, the fourth and the fifth in the series.

The Higher Education Act allowed a certain freedom in administering the Second Chance Pell Experimental Sites Initiative Program because the endeavor was just that: experimental.
While the passage of the FAFSA Simplification Act makes accessing financial aid easier for low-income students in prisons and jails, it also removes the discretion enjoyed by the Department of Education and participating colleges since the Pell Grant demonstration started in 2016.
Certain revisions to the Higher Education Act (made by the FAFSA Simplification Act) and the regulations interpreting them represent a radical change in how prison education has worked in the past, namely the start and survival of new Prison Education Programs (PEPs) rest squarely on corrections departments, a development that gives many people working in prison education pause and may even defy Congressional intent in restoring prisoners' access to Pell grants.
The amended statute designates them as oversight entities for PEPs and requires them to make substantive appraisals of educational programs and arrive at a judgment if a PEP is acting in the "best interests of the students," two assessments that corrections departments may not have the capacity, expertise — or even desire — to do.
In order to make that "best interest determination" as the regulations call it, corrections departments are provided seven data points they may use. The basis of the best interest determination is somewhat of a departure from the goals of the Second Chance Pell programs.
Of the seven data points, only one mentions recidivism, the reduction of which was the primary aim of Second Chance Pell experiment. The remaining data points deal with labor outcomes and how many students continue their education and transfer their credits successfully upon release.
None of the suggested considerations in the statute are Student Academic Progress or SAP, the triune standard that combines cumulative grade point average (GPA), pace, and maximum timeframe that keeps student borrowers eligible for aid.
New PEPs will not have this data and it's unclear what criteria will be used for their assessment.
Corrections departments aren't accustomed to collecting this data; when a person exits custody, corrections cease to be a part of their lives. That person may live under supervised release like probation or parole, but those agencies are separate from corrections departments. Even data that they are supposed to maintain on current inmates isn't comprehensive and it may be misunderstood by people who work in prisons.
Ultimately, corrections departments will either request these numbers from the Internal Revenue Service — the one reliable source of post-incarceration employment and earnings comes from comparing reports supplied by corrections to the IRS to tax returns — or from the Department of Education, only to have to report it right back to the same department.
According to Jessica Neptune, national director of engagement of the Bard Prison Initiative, who has discussed the list with legislative aides who worked on the bill, Congress never intended the data points mentioned within to be translated into a process of mandated data collection by corrections departments who then turn it over to the Department of Education. Nevertheless, those data points have become very consequential; they may become the reason why a PEP rises or falls.
Regulations tried to mediate the central role that corrections departments will have. They state that any best interest determination must be turned over to an advisory committee of "diverse stakeholders" including currently and formerly incarcerated individuals, for feedback. But nothing guides the corrections department's treatment of the feedback. The process of creating that advisory committee wasn't as transparent as many hoped it would be; when the Department of Education called for nominations to the committee, many key stakeholders weren't even aware of it."I feel like instead of [making] the oversight entity solely being the Corrections Department, they should have made it a diverse group of stakeholders, but instead [the department of correction] is the oversight entity. And then [the department has] to reach out to a group of stakeholders that includes individuals who have been incarcerated, you know, maybe college presidents or other folks. That's my only critique there," said Terrell Blount, director of the Formerly Incarcerated College Graduates Network. Blount served on the
2021 Negotiated Rulemaking Prison Education Programs Subcommittee
that advised the Department of Education on writing the regulations.
Concentrating so much power in the hands of people who work for carceral systems could stymie the goals of the Pell Grant eligibility expansion. An unknown number of schools that are not used to providing correctional education will be applying for approval to start PEP's — it's a triad of approvers: state accrediting agencies (PEPs must be accredited as programs on their own), the correctional authority and the Department of Education. These fledgling programs may stumble in the first two years of initial approval and their inexperience may provide grounds for a corrections department to cancel them as a PEP.
This doesn't need to be a problem, though. Through Jobs for the Future, a national nonprofit that works on workplace and education issues, Ascendium Education Group launched a "Ready for Pell" initiative earlier this year. By supporting colleges and universities at all points of development, the Ready for Pell initiative is preparing new programs so that they don't flounder as they try to establish themselves.
"Some of our programs have been doing this work for 20 or 30 years but just haven't been part of leveraging Pell dollars. We leaned on some of those longer standing programs to help support some of the newer, much more emerging programs that are using Pell Grant reinstatement as a driver to launch new programs," said Dr. Rebecca C. Villarreal, senior director of the Center for Justice and Economic Advancement at Jobs for the Future.
But the Ready for Pell initiative works with 20 programs in 16 states, leaving a number of aspiring PEPs with little to no guidance. An assessment of Ready for Pell is slated to be released in the future.
Correctional authorities being in charge of determining the worthy PEPs may not only affect the entry and approval of new programs but also the tenor of classrooms themselves.
The integrity of prison programs that have, thus far, worked hard to build schools within a prison, both through the Second Chance Pell ESI or even before it, may be at stake. While the ban on incarcerated students receiving Pell Grants decimated higher education programs between 1994 and 2022, many colleges and universities continued education by financing the courses they taught inside themselves. They worked hard to vacate classrooms of prison culture to assure that they were like classrooms for unincarcerated students. At an October 18, 2021 meeting of the Department of Education's Office of Postsecondary Education's Prison Education Programs Subcommittee,
Management and Program Analyst Aaron Washington
said that the Department of Education created this approval process to protect the
quality of the classes inside
. The goal is not to create correctional educational opportunities but rather recreate the educational opportunities available outside prisons in a carceral space.
But if corrections officials have to justify student academic success rates and retention rates, then it may be harder to keep them out of the classrooms, or even the admissions process or curricula.
This isn't a theoretical problem. According to Dr. Erin S. Corbett, founder and executive director of the Second Chance Educational Alliance, Inc., the only education-based reentry program in Connecticut, corrections departments already restrict applicant pools.
Corrections departments also include behavior requirements, according to Corbett, like insisting that a student be discipline-free to enroll or continue. This presents a problem for students learning thanks to a Pell Grant; if they're removed from a Pell Grant-supported course mid-semester because of a low-level infraction, they can't get that Pell coverage back. And since Pell Grant eligibility is capped, the student would lose out on all the educational access the new statutes and regulations are supposed to provide.
Several requests for comment were directed to Department of Education officials and their press office; no responses were received before publication of this article.
While departments of correction had to be amenable to higher education programs during the Second Chance Pell program; it's difficult to make the case that wardens and commissioners are outright hostile to education.
But that attitude doesn't mean they will discharge their duties as determiners of best interests. For one, the Department of Education concedes in its response to comments on the proposed rules, as overseers, departments of corrections may need to invest money and time into these activities.
With the increasing
number of in-custody deaths
,
acts of sexual violence
and
other human rights violations,
prisons may not be in the best interest business. Equity concerns arise when corrections officials have the final say on educational programming. Because prisons are split into men's and women's facilities, there's a chance that gender disparities will develop. In Utah, the Department of Correction
doesn't offer female prisoners
the same educational opportunities as the male prisoners. The same happens in
Texas and Louisiana
prisons.
When more vocational classes are available to men than women, it reflects a choice made solely by the same officials who will decide if a PEP stays or goes in the future. At Second Chance Pell sites, women were overrepresented among college students, but departments of correction weren't calling the shots then. This new power is one of the reasons why the Ready for Pell emphasizes connecting with departments of correction and forging lasting bonds as part of preparing for the expanded Pell Grant eligibility.
"The first thing to do is make sure that you're building strong relationships with Department of Corrections and administrators in the particular facilities that you're hoping to work with," said Villareal.
The correction departments of the country's five biggest incarcerators — Texas, California, Florida, Georgia and Ohio, in order from largest to smallest — did not respond to requests for comment on how they would handle the new Pell Grant regulations or what their internal processes would look like.
As good as the intentions behind it were, the FAFSA Simplification Act and its regulations may bring bureaucracy, gratuitous costs and/or redundant reporting requirements that may harm the quality and availability of higher education in prison. Going forward, the most important quality in this renewed educational endeavor may not be the ability to connect or to partner, but rather flexibility and a willingness to be nimble in new situations.
Chandra Bozelko did time in a maximum-security facility in Connecticut. While inside she became the first incarcerated person with a regular byline in a publication outside of the facility. Her "Prison Diaries" column ran in The New Haven Independent, and she later established a blog under the same name that earned several professional awards. Her columns now appear regularly in The National Memo.