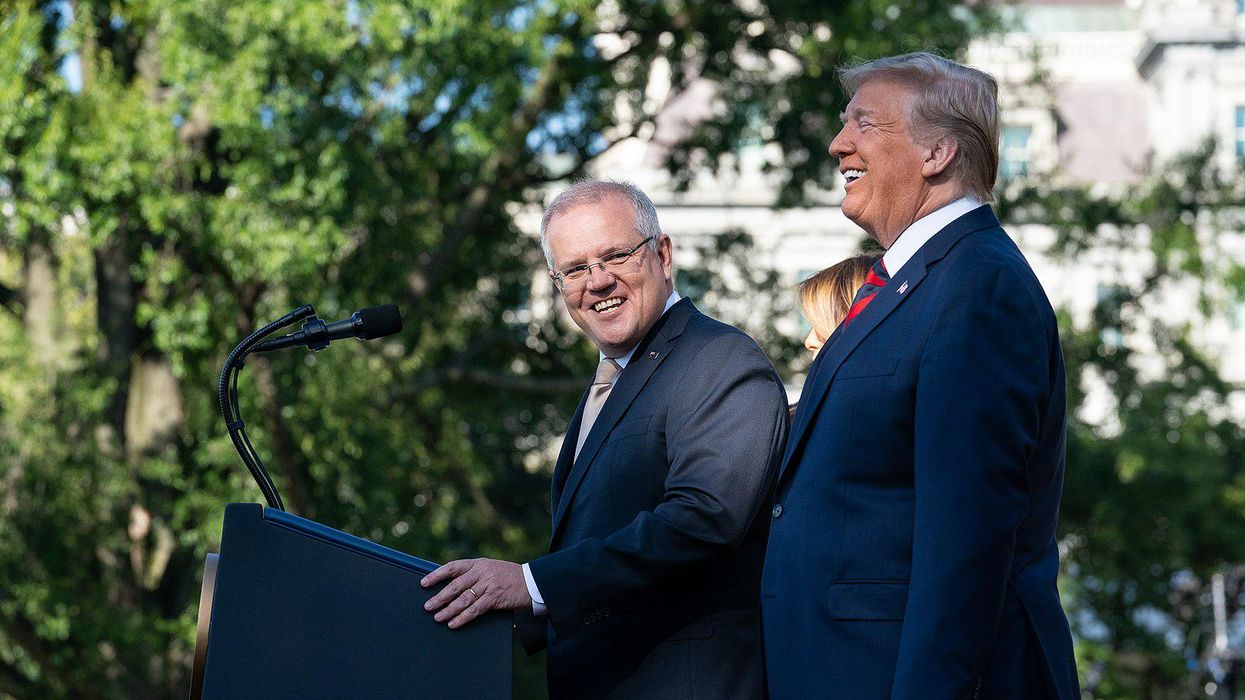 Reprinted with permission from Alternet
Australian Prime Minister Scott Morrison has never publicly claimed to be a QAnon supporter; in fact, he recently slammed the far-right conspiracy cult as "dangerous." But journalist David Gilbert, in an article published by Vice, examines the connection between Morrison and someone who is: Tim Stewart, described by Gilbert as "Australia's foremost QAnon booster."
Gilbert notes that Four Corners, a television series on the Australian Broadcasting Corporation, was recently planning to air a report that addressed Morrison's connection to Stewart — who, according to Gilbert, he has known for 30 years — but said it decided to hold off on airing it because of editorial concerns. At a news conference in Canberra last week, Australia's capitol city, Morrison was vehemently critical of Four Corners — saying that it was "really poor form" for the program to delve into allegations that he has some type of connection to QAnon.
Morrison told reporters, "I find it deeply offensive there would be any suggestion I would have any involvement or support for such a dangerous organization. I clearly do not. It is just also disappointing that 'Four Corners,' in their inquiries, would seek to cast this aspersion — not just against me, but (on) members of my own family."
Gilbert notes that Stewart, who has 20,000 followers on Twitter, was a "vocal" supporter of QAnon "from the very beginning."
"Morrison and Stewart have been friends for 30 years because their wives, Jenny Morrison and Lynelle Stewart, are best friends," Gilbert explains. "The pair were bridesmaids at each other's weddings, and today, Lynelle Stewart works for her friend in the prime minister's residence in Sydney, where she holds a government security clearance."
Members of the QAnon cult believe that the government of the United States has been infiltrated by an international ring of child sex traffickers, pedophiles, Satanists and cannibals and that Donald Trump was elected president in 2016 to lead the fight against the cabal. In the U.S., some far-right Republicans have openly endorsed QAnon, including Rep. Marjorie Taylor Greene of Georgia and Rep. Lauren Boebert of Colorado.
Morrison, meanwhile, has never openly endorsed QAnon in Australia — and he expressed outright contempt for them recently. But as Gilbert explains in his Vice article, some QAnon extremists thought Morrison was giving them a coded signal of approval during an October 22, 2018 speech before the Australian Parliament in which he "apologized" for child abuse on behalf of the government.
Morrison said, "The crimes of ritual sexual abuse happened in schools, churches, youth groups, scout troops, orphanages, foster homes, sporting clubs, group homes, charities, and in family homes as well." And Gilbert notes that Morrison's use of the word "ritual" caught the attention of QAnon supporter Joe M., who tweeted, "Do my ears deceive me? The new Prime Minister of Australia Scott Morrison must be a rider in #TheStorm."
"The storm" is one of the terms used by QAnon, whose members have often spoke of "ritual" abuse. But a spokesperson for Morrison told the website Crikey that the prime minister's use of that word had nothing to do with QAnon.

According to that spokesperson, "The term 'ritual' is one that the prime minister heard directly from the abuse survivors and the National Apology to Victims and Survivors of Child Sexual Abuse Reference Group he met with in the lead-up to the apology, and refers not just to the ritualized way or patterns in which so many crimes were committed, but also, to the frequency and repetition of them."
Morrison's supporters have maintained that his use of the word "ritual" during that 2018 speech is a non-story, and that the prime minister has nothing to do with QAnon. Nonetheless, Gilbert notes that the story has persisted.
Gilbert explains, "The link between Morrison and Stewart wasn't reported in the media until months later when the Guardian linked Morrison and Stewart…. The controversy has not gone away. And whether or not the 'Four Corners' episode was pulled or simply delayed due to editorial concerns…. it will be aired at some point, meaning Morrison will have a lot more questions to answer about his links to Stewart and to QAnon."