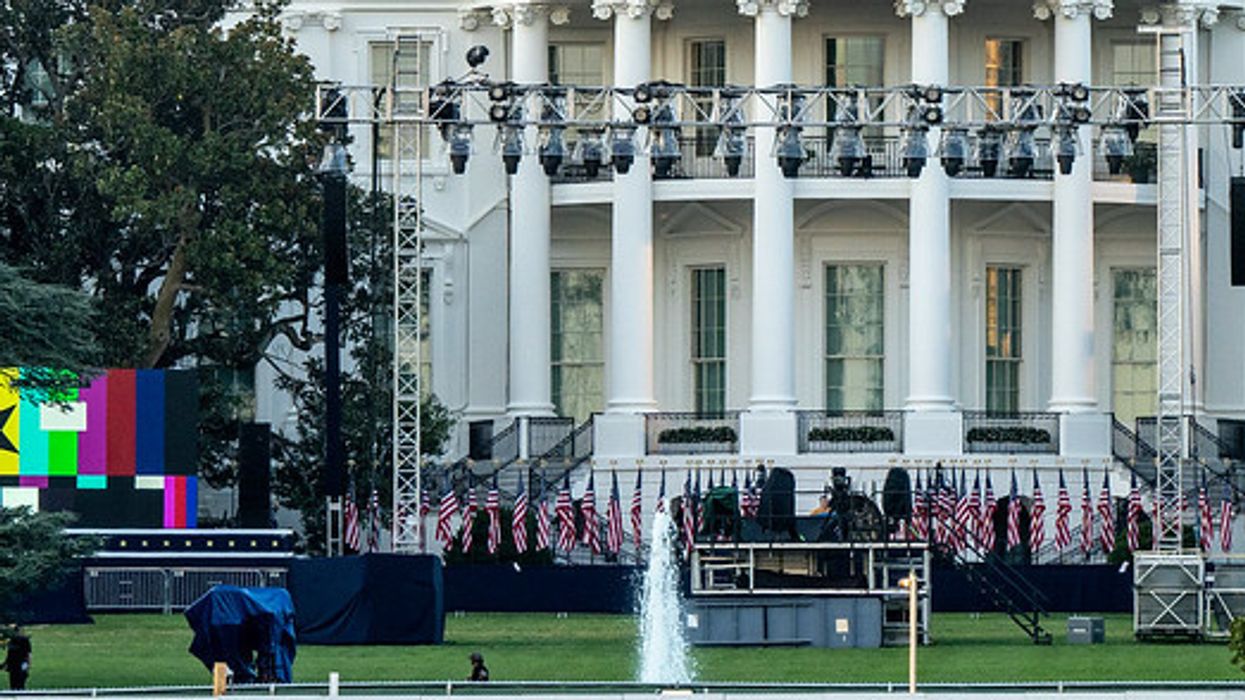 Reprinted with permission from Alternet
In a new piece for The Atlantic on Thursday night, reporter Peter Nicholas warned that the White House has significantly rolled back precautions to prevent the spread of coronavirus within its walls.
While he once had to face a health screening before entering the premises, he was able to enter on Thursday without any such precautions. He explained:
This afternoon, Secret Service agents checked to see if I was armed, but no one asked if I was ill. Upon reaching the entrance to the press-briefing room, I found the first indication that the nation is in the midst of a historic pandemic. A sign posted by the White House Correspondents' Association instructed journalists to wear a mask and "spend as little time here as possible." Beyond that, it was business as usual.
Tens of thousands of people are still being diagnosed with COVID-19 every day, and around 1,000 people are still dying daily from the disease.
Nicholas observed: "The most famous address in America now feels like a coronavirus breeding ground."
The Republican National Convention held its last night on Thursday at the White House, and organizers also threw caution to the wind. Though gathering outside would serve to reduce the risk of coronavirus spread, few other precautions were taken. Hundreds of chairs for the guests were crammed in close together. Many people were maskless.
Closer look 👀 https://t.co/ESZ4CrCpuv

— The Recount (@The Recount) 1598574455.0
Nicolas continued:
A memo to White House staff in May ordered employees to wear masks in the building except when sitting at their desks—a mandate that followed reports of two West Wing employees testing positive for the virus. When I passed by aides at their desks today, virtually none was wearing a mask. This may be fine in highly controlled environments—such as the NBA's "bubble," which has effectively kept the virus at bay. But when you're introducing outsiders into the mix, as was the case today, it's a far riskier proposition.
Trump is regularly tested for the virus, as are aides and reporters who are in his presence, but others like me can get perilously close to those who interact with the commander in chief. Some of the West Wing desks are spaced so closely together, and some of the offices are so cramped, that it's tough to see how people avoid exposure at all. In one small office today, two aides stood and spoke to each other without masks. Young aides sat at desks in an open bullpen-style space without masks. Walking through the hallways accessible to the press, I wore a mask, but I haven't been tested for COVID-19; had I removed my mask for some reason and coughed or sneezed, there was no hint of a mask patrol prepared to whisk me out the building. The vibe was shockingly lax.
Hopefully, the staff will get lucky and the outbreaks will subside before there's any significant spread of the virus in the White House. But it appears the people work for Trump really have taken his lax approach to the virus to heart; it's not mere political performance covering up informed fears. They really just don't think the virus is that serious.
Of course, many other people have taken this attitude before — the leadership of New York City, Florida, and Texas all come to mind. But the consequences caught up to them.