Dakota Access Pipeline: A Tale Of Two Pipes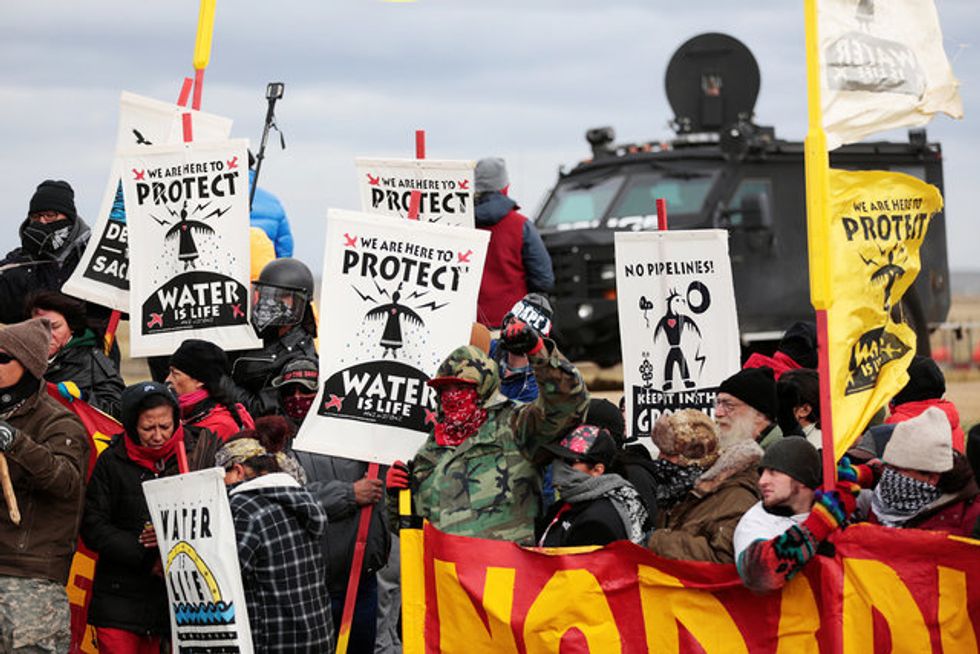 In bad movies (and bad history alike), the Native American ceremonial pipe figured prominently as symbol of defeat — typically in a cliched scene of subdued chieftains signing a treaty of surrender and passing around a "peace pipe" in a sorrowful gesture to seal the raw deal.
The reality is that the communal smoking of a ceremonial pipe, often filled with tobacco, is a centuries-old tradition rich in spiritual meaning for many Native people who see it as an eternal channel through which tribes seek metaphysical strength, courage and endurance. The ceremonial pipe both shapes and conveys Native people's living history, a story that's perpetually being written.
Indeed, a dramatic new chapter is unfolding this year in a volatile confrontation on a remote stretch of the Northern Plains in rural North Dakota. It's a "Battle of Two Pipes," pitting the cultural power symbolized by the Native American pipe against the bruising financial power of a giant pipeline, owned by Energy Transfer Partners.
In 2014, ETP, a Texas oil behemoth, went public with its scheme to build a massive oil pipeline from the fracking wells of the Bakken oil field in northwestern North Dakota. ETP's 30-inch-wide Dakota Access Pipeline would cut a 1,172-mile-long scar diagonally through the hearts of North Dakota, South Dakota, Iowa and Illinois.
If ETP's $3.8 billion line is completed, it would carry 570,000 barrels of oil a day through most of the four states' watersheds and wildlife habitats; it would transit hundreds of farms and ranches and make 200 river crossings. All the water and land in its path would be endangered, for one unpleasant fact about pipelines is that they regularly leak, sometimes rupture, and can blow up (an especially relevant concern with fracked Bakken oil, which is not only some of the dirtiest crude on the planet, but is also exceptionally flammable and "more prone to explosions than earlier thought," according to U.S. officials).
Kelcy Warren is the honcho of Energy Transfer Partners and its parent financial outfit, Energy Transfer Equity, a fossil fuel colossus that also owns Sunoco oil and Southern Union gas. Warren's company — with such an unkempt environmental record plus national notoriety for bulldozing over opposition from outraged landowners and communities-regularly gets state and federal regulatory authorities to clear the path for them. This is done the old-fashioned way: Warren, ranked by Forbes as the 86th richest American, pumps big bucks into the campaign coffers of key politicos, drawing from corporate funds as well as his personal $5.45 billion fortune.
Consider Warren's recent Texas play. For the last two years, ETP has laid siege to one of the Lone Star State's most spectacular and environmentally unique regions — the mountainous, desert ranch country of Big Bend, which includes historic sites and artifacts of Comanche, Mescalero, Chiso, and other indigenous cultures dating back more than 14,000 years. Despite adamant local protests, ETP is presently ripping the land with the 148-mile-long, 42-inch "Trans-Pecos Pipeline" that will export gas from West Texas to Mexico. "We feel like we've been invaded," said one member of the local citizens group, Defend Big Bend.
They have been — with the Obama administration's approval and the collusion of their own state officials, who blithely handed the sledgehammer of the state's power of eminent domain to the private corporation, letting it take people's land for its own profit. Why? Follow the money. Since 2013, CEO Warren has become Texas Gov. Greg Abbott's No. 4 donor by personally bestowing $700,000 on the governor's campaigns. Last November, Warren's coziness with Abbott came full circle when the governor awarded the pipeliner a seat on the prestigious Texas Parks and Wildlife Commission, ironically making Warren an environmental "steward" of state parks in the area he is presently despoiling.
And he plans on destroying more majestic American land, too, for Warren's contested DAPL would run just outside of the town of Cannon Ball, North Dakota, along the northern edge of the Standing Rock Reservation. Warren was so obtuse that he didn't realize (or care) that the tribe's deep connection to the area adjacent to Standing Rock doesn't stop at the reservations arbitrary boundaries — the DAPL project would gouge right through ancestral lands and burial grounds. Corporate routers likely assumed that the reservation's 8,500 mostly impoverished Lakota Sioux had no clout, so there was no need to get their permission, especially since the pipeline wouldn't actually be on tribal land. Bad assumption. Imagine a corporation running a pipeline through Arlington National Cemetery.
Not since Custer has an Anglo been as surprised as Kelcy Warren by a powerful force of Indians thwarting his ambition. You can learn more and donate to the tribes fight at standingrock.org and sacredstonecamp.org.
To find out more about Jim Hightower, and read features by other Creators Syndicate writers and cartoonists, visit the Creators Syndicate webpage at www.creators.com.
Dakota Access Pipeline protesters square off against police near the Standing Rock Reservation and the pipeline route outside the little town of Saint Anthony, North Dakota, U.S., October 5, 2016. REUTERS/Terray Sylvester