Taxpayers Spent $32K So Don Jr. Could Rake In $15 Million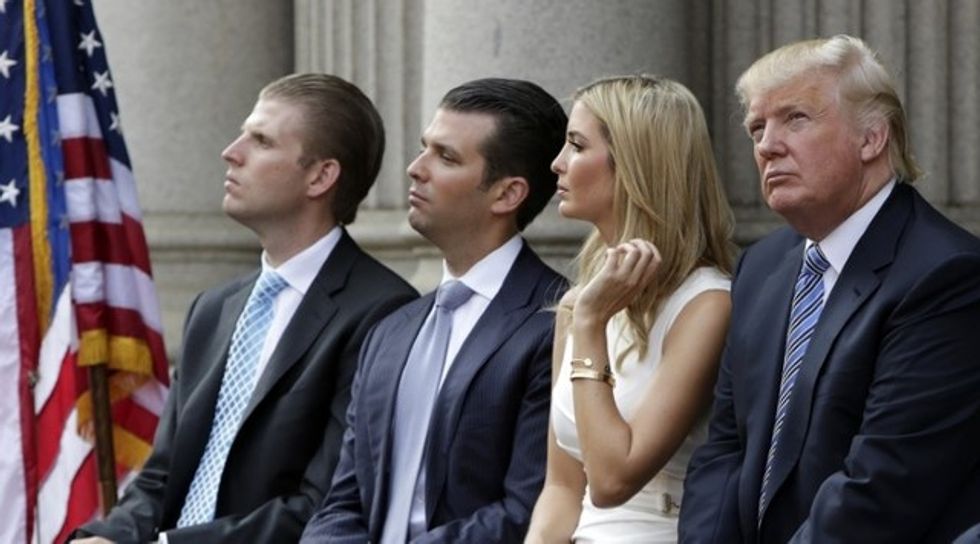 Reprinted with permission from Shareblue.
American taxpayers spent over $32,000 on a trip to India for Donald Trump Jr. so that he could promote his family's luxury real estate project — and take in $15 million in sales.
The Washington Post uncovered purchase orders made through the General Services Administration showing that the U.S. government paid $15,166 for rooms for "Don Jr Visit To Mumbai," $13,468 for rooms in the Indian city of Pune, and another bill for $3,501.
That $32,135 just covered hotel rooms for Trump Jr.'s security detail, and the full taxpayer expense for the trip isn't yet clear. The Post also found a $9,880 charge for a "VIP visit" to Kolkata, India, but the U.S. consulate would not identify if the VIP was Don Jr. or not.
Thanks to that taxpayer support, the younger Trump was able to make a splash in India, hauling in $15 million in sales for the Trump Towers project in the Delhi suburb of Gurgaon.
The massive sales appear to have been inspired by front-page ads in Indian newspapers offering prospective buyers the opportunity to "join Mr. Donald Trump Jr. for a conversation and dinner" if they paid $38,000 to reserve luxury units in the new Trump Towers.
Quentin L. Kopp, vice chairman of the San Francisco Ethics Commission, has filed suit to get the full details of the India trip, and alleges that the Secret Service is not complying with a related Freedom of Information Act request for details.
"There's been a wholesale use of taxpayer assets by the Trump family, led by the president of the United States," Kopp told reporters. "It's almost as if he's acting in the true form of a crook — to take taxpayer money and to use it for private business. I'm a taxpayer. I resent it."
The Trumps have long refused to follow traditional protocol to wall off their private business from official White House business.
Trump's sons, Don Jr. and Eric Trump, continue to run Trump's real estate business — including ventures like the Indian enterprise — while directly working with their father on his political efforts.
The Trumps have created a perfect storm where Trump can easily use the White House as a way to boost his businesses. And he has.
On a regular basis, foreign interests, businesses, and Trump's own Republican Party regularly book rooms in Trump's D.C. hotel at inflated rates while they interact with him in the White House.
Trump's sons have admitted that they freely discuss the finances of the business with their father despite his presidential office. Trump's also has a long history of unsavory and unethical business practices.
At the same time, congressional Republicans have refused to make any consequential moves that would reign in Trump's corruption.
The India trip is now emerging as yet another instance of the Trump family exploiting the presidency for personal profit.
Published with permission of The American Independent.