'Tea' Cools, And House Speaker Boehner Is Back To Making Deals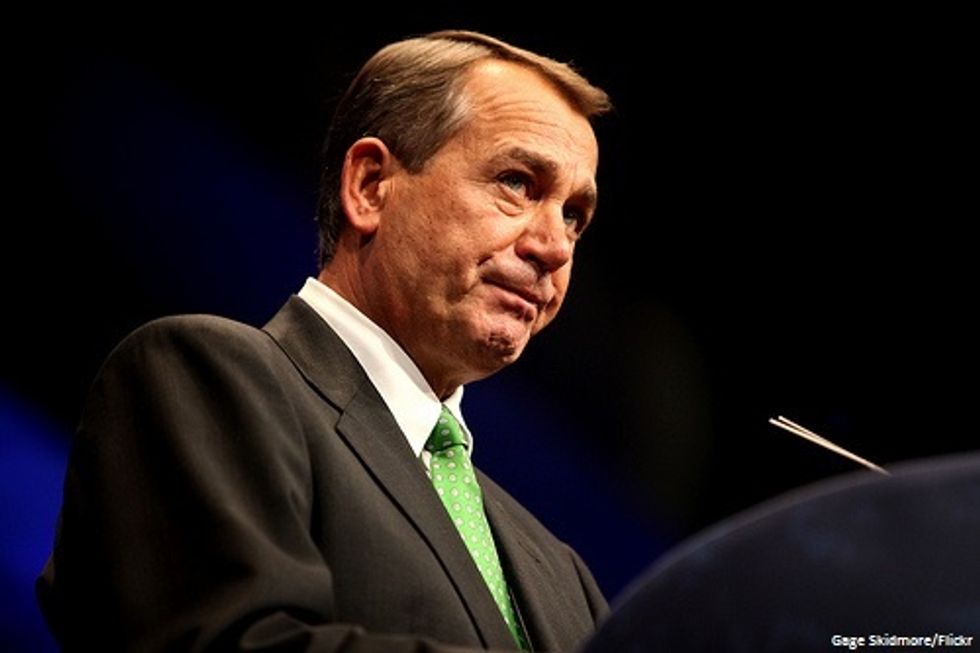 MCT NEWSFEATURES
By David Lightman
McClatchy Washington Bureau
(MCT)
WASHINGTON — House Speaker John Boehner is making deals again.
After three years of taking tough stands pushed by no-compromise tea party types — positions that ultimately led to last fall's partial government shutdown — he's returned to his roots as a conservative consensus-builder, and suddenly the House of Representatives is passing major bipartisan legislation.
He remains on fragile ground. The Republicans he leads in the House are still fractured over some of the day's biggest issues, notably immigration and federal spending. But he's returning to his roots as a dealmaker, and the result is a House that's moving toward compromise, and action.
Since December, Boehner has pushed through budget deals crafted with Democratic support. He's moved compromise legislation on farm policy. He's led the effort to write immigration principles that include a path to legal status for those who are already in the country illegally.
Whether the 64-year-old Ohio Republican, now in his fourth year as speaker, continues to build on his newfound stature as the great compromiser might determine how his party fares in Congress and in November's congressional elections. Also to be determined is how history regards Boehner.
"For years, he gave his caucus veto power over deals he could negotiate," said Darrell West, the director of governance studies at the Brookings Institution, a research group. "The result was that he couldn't cut any deals."
In his new role as compromiser, "It creates problems with his caucus," West said, "but it strengthens him as speaker."
Many conservatives aren't buying that. "He's still figuring out how to be speaker," said Dan Holler, a spokesman for Heritage Action for America. "Conservatives who gave Republicans the majority think he should be a speaker who pushes the most conservative causes that he can."
Boehner's emergence as a consensus-builder began during October's 16-day partial government shutdown. Hard-core conservatives pushed the strategy, their latest tactic in a yearslong war to dramatically cut federal spending.
Privately, Boehner wasn't comfortable with the confrontational tactics. He was long known as a dealmaker, someone who could argue the conservative cause but bend enough to get things passed. He was a familiar sight in the speaker's lobby in the back of the House chamber, smoking and schmoozing, and he helped write major education legislation a decade ago with the late Sen. Edward Kennedy, D-Mass.
In 2010, though, the tea party was ascendant, vowing to pare the size of government once and for all. The grass-roots movement was instrumental in electing 87 House Republican freshmen that year — and making Boehner the speaker. Claiming a mandate, tea party members pressed for budget battles rather than compromise. The shutdown was their ultimate weapon.
"He would talk about how dumb that strategy was. He thought it was a fool's errand, but he had an obligation as a leader to execute it," said former Rep. Steve LaTourette, R-Ohio, a Boehner friend who's now the president of the Republican Main Street Partnership, a moderate group.
The shutdown, ironically, helped Boehner.
Many conservatives appreciated his embrace of the strategy, not only because he embraced it publicly but also because it isolated and even discredited the hardest of the hard core, while establishment Republicans liked his private reluctance.
On Dec. 11, Boehner made his declaration of independence.
Hard-core conservative groups blasted a budget agreement negotiated by House Budget Committee Chairman Paul Ryan (R-WI), and Senate Budget Committee Chairman Patty Murray (D-WA)that averted another shutdown.
Boehner regarded Ryan as a virtual little brother; the two had long been friends. Ryan had gone out on limbs for the conservatives, including budget plans that took the politically risky step of revamping Medicare and Social Security. When the conservatives ripped Ryan, Boehner was furious.
"They're using our members and they're using the American people for their own goals. This is ridiculous," he said. "Listen, if you're for more deficit reduction, you're for this agreement."
The agreement passed with 169 Republican and 163 Democratic votes. But the right made it clear that it still wasn't satisfied; 62 Republicans voted no. A month later, 64 opposed a more detailed spending bill. Last week, 63 voted no on a farm bill that passed.
Meeting last week at a retreat in Cambridge, Md., Republican leaders worked to present a unified front. It wasn't easy, and there were signs that any consensus on the two most incendiary issues — immigration and debt — is shaky at best.
Conservatives were unhappy about the immigration principles. Boehner chose his words carefully as he described to colleagues what the statement meant.
"These standards are as far as we're willing to go," he said.
There was also turmoil over raising the debt limit. The government needs new authority from Congress to pay its bills, probably sometime this month. President Barack Obama wants to pass it with no conditions. Conservatives want some assurances that spending will be reduced or the Affordable Care Act will be trimmed.
Boehner doesn't want an ugly fight. "We know what the obstacles are that we face. But listen, we believe that the defaulting on our debt is the wrong bet," he said.
So far, Boehner — with the backing of Republican Party officials — wants to present easy-to-understand alternatives to Democratic ideas.
"If we're just seen as the opposition party … we miss a great opportunity to actually woo voters over to our side, because, frankly, we have really good alternatives," said Rep. Greg Walden of Oregon, the chairman of the National Republican Congressional Committee.
The wild card in this strategy is likely to be a string of congressional primaries this winter and spring. Tea party candidates are challenging incumbents in several states, and if the insurgents do well, their Capitol followers will be energized.
That threat, though, is for another day. For now, Brookings' West figured, "Boehner is thinking about his legacy. A speaker is judged by what he or she passes.
"He doesn't want to go down in history as a weak speaker."
Photo: Gage Skidmore via Flickr