Tea Party Crack-Up: The 5 Worst Reactions To Chris McDaniel's Loss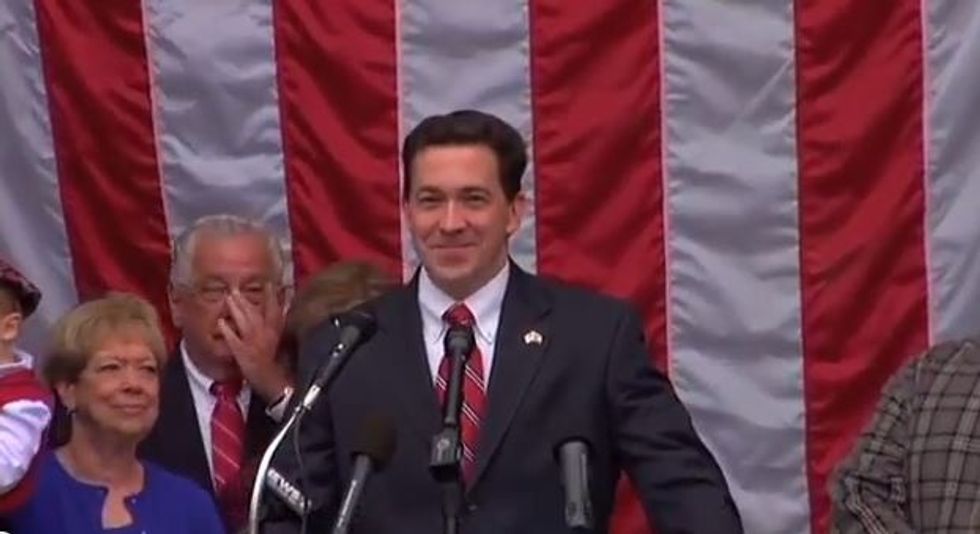 Senator Thad Cochran's come-from-behind victory in Mississippi's Republican Senate primary surprised many observers, but it inspired a different emotion in many supporters of the runner-up, state senator Chris McDaniel: Rage.
McDaniel's backers, most of whom proudly identify as Tea Party Republicans, were particularly infuriated by Cochran's unorthodox strategy. Mississippi's open primary system allowed any voter who did not participate in the June 3 Democratic primary to vote in Tuesday's runoff, so Cochran spent the campaign's home stretch reaching out to Democrats — specifically, African-Americans who have good reason to oppose McDaniel, an extreme right-winger with ties to white supremacists. It paid off, big time. But to McDaniel supporters, this amounted to stealing the election.
This left some Tea Partiers in the awkward position of arguing that, election law be damned, black Mississipians had no right to participate in choosing their representative in Washington. Here are five of the worst examples:
Chris McDaniel
The losing candidate himself set the tone for the right's outraged response, when he pointedly declined to concede the race in his defiant election night speech.
"There is something a bit strange…there is something a bit unusual about a Republican primary that's decided by liberal Democrats," McDaniel seethed.
"Today, the conservative movement took a backseat to liberal Democrats in Mississippi," he said. "If it can happen here, it can happen anywhere."
Why use a dogwhistle when you could sound an air-raid siren?
McDaniel's attitude — that by making his case to all Mississippians, instead of just right-wing Republicans, Cochran somehow cheated — would prove to be a common theme in the Tea Party's reponse to the surprising loss.
Rush Limbaugh
Rush Limbaugh, who's never stumbled across a race-related story that he couldn't exploit, was not exactly circumspect in his reaction to Cochran's win.
"I wonder what the campaign slogan was in Mississippi the last couple of days," Limbaugh mused on Monday. "Uncle Toms for Thad?"
"Insider Republicans in the Senate bought nine percentage points, eight or nine percentage points, from the black Uncle Tom voters in Mississippi," he added.
Ironically, back in 2008, Limbaugh urged Republicans to vote in Texas' Democratic presidential primary as a way to keep Hillary Clinton in the race, and keep the Democratic Party "at war with itself."
Sarah Palin
Tuesday wasn't a good night for Sarah Palin, the former vice-presidential candidate and current barely veiled scam artist. T.W. Shannon, the Okahoma Senate candidate whom she had hailed as living proof that Republicans had solved their diversity problem, was crushed by 20 points in an unexpected landslide. And things only got worse after McDaniel lost in Mississippi.
Last week, Palin shared her concerns about Cochran's plan to expand the electorate via her Facebook page.
"Ruh roh! In order to save an entrenched 42-year member of the good old boys club what kind of 'Scooby snacks' has 'DC' promised to Mississippi Democrats to intervene in the GOP runoff for U.S. Senate?" she asked. When the enticing treat of not having Chris McDaniel as their senator proved too much for Democrats to pass up, Palin was predictably displeased.
"If Republicans are going to act like Democrats, what's the use in getting all gung ho about getting other Republicans in there?" she pouted to Sean Hannity on Tuesday night.
The next day, she took to her Facebook again to voice her displeasure.
"When an election is questionable, with potential legal violations, politics MUST be put aside and the irregularities MUST be fully investigated. Regardless of party, we owe it to voters and to democracy within our Republic," Palin wrote.
Glenn Beck
To the surprise of absolutely no one, Glenn Beck was also not pleased with the way that Cochran's campaign outmaneuvered McDaniel's.
After comparing Cochran to the Emperor from Star Wars, and suggesting that "breathing in the oxygen of power" is the only thing that keeps him alive, Beck got to the heart of his point.
"America, the gig is up. It is really obvious now. They are doing nothing but playing a game holding on to their power," he said. "Pawns mean nothing. They can be eaten and taken, it doesn't matter…You can lose them all day long and you can still win the game. I got news for you gang: we've been played. We're pawns. Period. Period."
Amy Kremer
Amy Kremer, the former chair of the Tea Party Express and an outspoken McDaniel supporter, drew perhaps the grimmest conclusion from his loss: It literally killed the Republican Party.
If Cochran wins this #mssen race, the GOP is done. They teamed up with Dems to steal a race. Kiss the base goodbye.

— Amy Kremer (@AmyKremer) June 25, 2014
Assuming that the GOP still exists in November, Cochran is expected to easily defeat conservative Democrat Travis Childers in the general election.