The Tea Party Falls Flat: How Lindsey Graham Survived A Right-Wing Challenge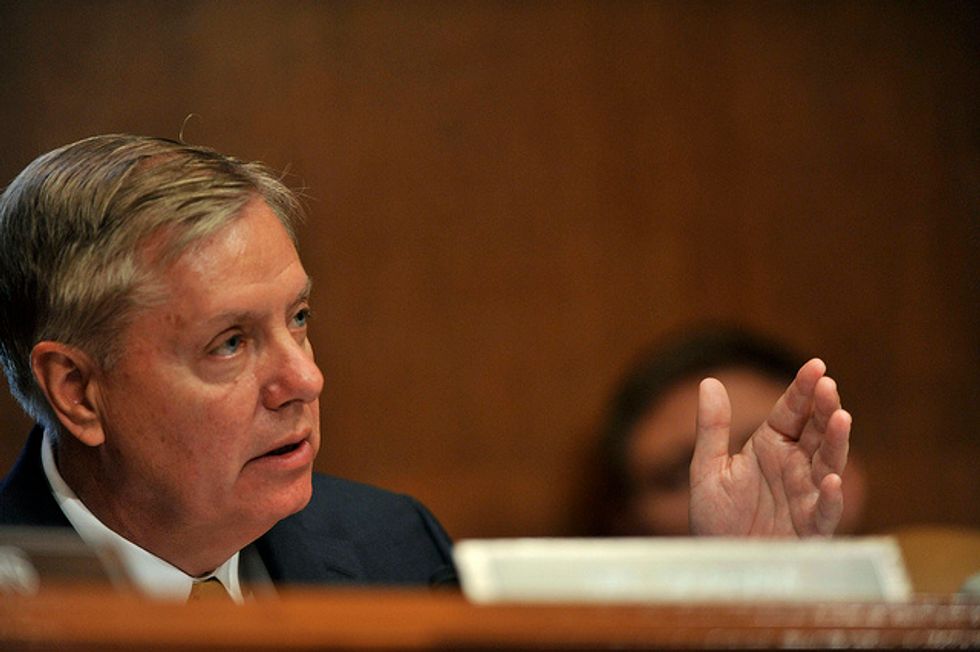 When South Carolinians head to the polls on Tuesday, it's very likely that the Tea Party's years-long effort to unseat Senator Lindsey Graham (R-SC) will end with a whimper.
Polls suggest that Graham is will crush his six primary challengers; according to The Huffington Post'spolling average of the race, the two-term incumbent is on track to clear the 50 percent threshold needed to avoid a June 24 runoff. Even if he does not, it's hard to imagine any of the other candidates making up a 40-point deficit in just two weeks.
Graham's impending victory may come as something of a surprise, considering that he has long been one of the Tea Party's top targets (indeed, he has been repeatedly censured by local party committees for being insuficiently conservative). But there are several reasons that the right's quest to replace the supposed RINO seems destined for failure.
First, no serious challenger ever emerged. Although Graham's opponents hoped to recruit a high-profile conservative such as Rep. Trey Gowdy or Rep. Mick Mulvaney into the race, the field of challengers ended up being led by state senator Lee Bright — a genuine extremist who has argued that welfare programs are "all sin," that IRS "Brown Shirts" are planning to enforce the Affordable Care Act with AR-15 rifles, and that South Carolinians may have to "use the Second Amendment" to fight a second Civil War, among many other controversial positions. The other challengers struggled with issues of their own; businesswoman Nancy Mace angered supporters of Governor Nikki Haley (R) through her professional partnership with blogger Will Folks (who accused Haley of having an extramarital affair), and businessman Richard Cash never expanded the scope of his campaign past social issues — his highest-profile moment came via an ad bragging about having been arrested 10 times in various anti-abortion protests.  Unlike in Mississippi or Kentucky, Tea Party supporters in South Carolina never found a single candidate around whom they could rally.
Graham also took great pains to protect his right flank throughout the campaign. Although he drew the ire of the right for co-sponsoring immigration reform legislation in 2013, he has generally stuck to the party line, voting with the majority of the Republican caucus 80 percent of the time. And he has provided plenty of red meat to placate his party's right wing, leading the GOP's heated criticism of the Obama administration's handling of the Benghazi attack, and even suggesting that he could bring articles of impeachment against the president.
Perhaps most significantly, Graham's fundraising blew his opponents out of the water. The incumbent raised more than $9 million for the race, while none of his challengers managed to raise even $1 million. That massive advantage allowed Graham to control the airwaves and out-organize his opponents on the ground, all but killing their hopes of engineering an upset win. The Tea Party groups that have spent years calling for Graham's ouster declined to put their money where their mouths are in the Republican primary, and as a result they will almost certainly have to live with another six-year term for the supposed moderate they love to hate.
Photo: Secretary of Defense via Flickr
Want more political analysis? Sign up for our daily email newsletter!