Tea Party Takes Another Stab At U.S. Senate Upset
@AFP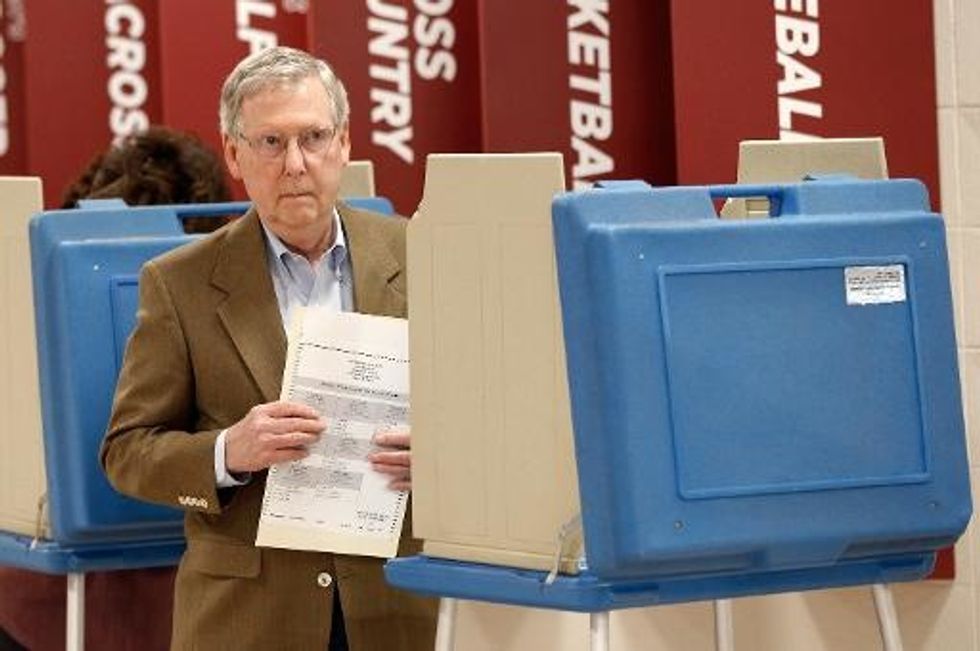 Washington (AFP) – Several U.S. states hold primary votes on Tuesday ahead of November's mid-term elections, with the Tea Party eyeing perhaps its best remaining chance to bounce an establishment Republican incumbent from the Senate.
The conservative movement that promotes small government and fewer taxes has had a relatively rough 2014 campaign season, mostly failing to oust mainstream Republicans including Senate Minority Leader Mitch McConnell.
Now it is pinning hopes on constitutional conservative and spending-slasher Chris McDaniel, a 42-year-old state senator from Mississippi pitting himself against the old guard in the form of the U.S. Senate's consummate Southern gentleman, six-term Republican Thad Cochran, 76.
Outside political groups have pumped millions into the race, which spiraled into a Mississippi mudfight when four McDaniel supporters were arrested after one sneaked into a nursing home to take pictures of Cochran's wife, who is being treated for dementia.
But McDaniel still remains in the running in impoverished and deeply polarized Mississippi, according to local polls. He has earned endorsements from national Republican figures like 2008 vice presidential nominee Sarah Palin.
McDaniel has seized on Cochran's old-school style of behind-the-scenes negotiating with opponents, a quality increasingly absent in a gridlocked chamber where a take-no-prisoners attitude has come to prevail.
McDaniel, who opposes earmarks, also took aim at Cochran's taste for political pork — the spending of federal dollars in his cash-strapped home state.
But Cochran said he believes there is still a place for his style of bridge-building in Washington.
"I think it pays to be able to work with people on both sides of the aisle," Cochran recently told the Hattiesburg American newspaper.
Cochran is an iconic figure in Washington; he was the first Mississippi Republican in the Senate in more than a century.
But earlier this year, when Cochran was painted as a permanent Capitol Hill fixture out of touch with constituents, he did little to negate that charge when he told reporters that the Tea Party is "something I don't really know a lot about."
McDaniel shot back: "Well, perhaps it's time for an introduction."
Seven other states also hold primaries Tuesday including California, where another septuagenarian lawmaker, the liberal House Democrat Mike Honda, faces a challenge from Ro Khanna, 37, in a tight Silicon Valley race.
Property lawyer Khanna is drawing on support from tech giants, reportedly including Facebook's Sheryl Sandberg and Yahoo chief executive Marissa Mayer.
The entire House of Representatives, currently held by Republicans, is up for grabs in November, and analysts expect the party will retain control.
But polls show the Democrat-led Senate could swing the Republicans' way, so the Senate races are among the most fiercely fought.
More than a third of the Senate seats (36 of 100) are in play, and at least seven Democrat-held seats are seen as being at risk.
Photo: Win Mcnamee via AFP