Ted Cruz Has A Surprising Weak Spot In The Money Race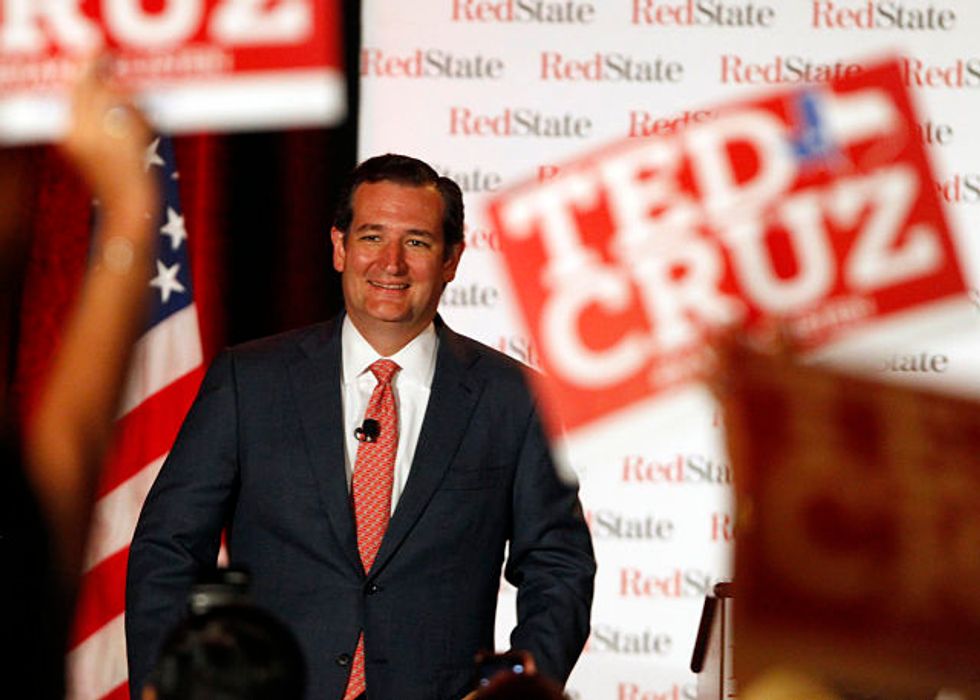 By Julie Bykowicz, Bloomberg News (TNS)
Texas Senator Ted Cruz, who said Monday he is running for president, must raise at least $30 million, his advisers say, to be competitive in a sprawling Republican primary field that will be financially dominated by former Florida Governor Jeb Bush. Cruz hopes to raise as much as $50 million, still half what Bush's team set as a goal for early 2015 but also potentially more than any other GOP contender.
How Cruz gets there will come down to balancing two kinds of donors, his advisers argue: those who can raise tens of thousands of dollars from friends and those who regularly chip in a few bucks via online donations.
Cruz is already showing strength with large donors, his advisers say, with a packed guest list for his kickoff fundraiser March 31 in Houston. Each of the 29 listed co-hosts has pledged to raise at least $50,000, giving him $1.5 million right out of the gate.
But a review of Cruz's campaign finances shows surprising weakness when it comes to small donors. Contributors giving Cruz less than $200 per election cycle made up just 16 percent of his funding base through the end of 2014, compared to Kentucky Senator Rand Paul's 43 percent, according to the Center for Responsive Politics. Paul is expected to announce his own presidential intentions on April 7.
Both senators were propelled to victory in the Senate by limited-government activists who identify with the Tea Party — Cruz in 2012 and Paul in 2010. The Texan spent $15 million to upset then-Lt. Governor David Dewhurst, a better-known and better-funded Republican.
Cruz did generate conservative enthusiasm, but he relied heavily on Washington-based Tea Party groups for money in that race; the Club for Growth and Senate Conservatives Fund were his biggest contributors. More importantly, they spent more than $7 million on their own to help Cruz's cause. Because much of his Tea Party support was indirect, he didn't amass the thick file of e-mail addresses for low-dollar donors that would help him now.
His advisers say he has been hard at work building out his grassroots fundraising apparatus. Through the Jobs, Growth & Freedom Fund, a leadership political action committee he opened after his election, he has lured and engaged those supporters. More than three-quarters of $153,000 it collected in January and February was in the form of small, unitemized contributions, Federal Election Commission reports show.
Cruz's September 2013 filibuster against President Barack Obama's health care law shows how the senator's firebrand persona has translated into campaign cash. He highlighted his 21-hour speech,a failed attempt to defund the law by way of killing a larger government funding bill, in dozens of fundraising appeals. As a result, his victory committee (which distributes money to both his Senate campaign and to his Jobs, Growth & Freedom Fund) saw a record infusion of cash in the three-month period that followed the filibuster — more than $1.3 million, FEC reports show.
Yet the episode also underscores why he might struggle with fundraising from traditional Republican Party donors, the kinds of people he'll count on to bundle big checks from friends. Many of them, like his Senate colleagues, saw the filibuster as an embarrassing fool's errand.
His advisers are optimistic they'll be able to shake enough of the bigger money trees, saying he compares favorably in that arena to Paul and to another grassroots fundraising star, Baltimore pediatric neurosurgeon-turned-conservative idol Ben Carson.
Now that he is officially in the race, Cruz will turn his attention to the business of financing his campaign. He'll be in Houston on March 31 for his first official presidential fundraising reception there, featuring country music singer Charlie Robison. There are 29 Texas couples and individuals listed as co-hosts. Among them: Dougal Cameron, a Houston real estate developer; Cary McNair, son of Houston Texans owner Bob McNair; Aaron Streett, a constitutional law attorney based in Houston; and Devinder Bhatia, a Houston heart surgeon.
Tickets cost $1,000 per person; the VIP reception is $2,700 (the maximum allowed under campaign finance law) and co-hosts commit to raising at least $50,000. The event shows that Cruz has a robust Texas donor base, despite the fact that he's one of four Republican presidential hopefuls with Lone Star ties. Chief among them is Bush, who grew up in Texas and whose brother used Austin to launch his own successful presidential bid.
Cruz also keeps dealing himself into the big-money game: He was on stage with Paul and Florida Senator Marco Rubio in January at apolitical donor summit held by billionaire energy executives Charles and David Koch. And he's one of several presidential hopefuls invited to Las Vegas in April to speak to the Republican Jewish Coalition, hosted by billionaire casino owner and Republican rainmaker Sheldon Adelson. Former Texas Governor Rick Perry, Ohio Senator Rob Portman, and Indiana Governor Mike Pence are also on the schedule.
Adelson's top political adviser said he likely won't back a Republican candidate until next year, though that will not stop Cruz and others from courting him now. He was the 2012 presidential cycle's top spender, investing more than $15 million in Newt Gingrich's failed bid before assisting Mitt Romney in the general election.
That kind of cash infusion is only possible through one source: SuperPACs, which can accept checks of unlimited size but cannot directly coordinate with the candidate it is assisting. There's already one that can help him: His roommate from Princeton, Atlanta businessman David Panton, formed Stand for Principle in November.
It had raised $160,000 through the end of the year, FEC reports show, mostly from Panton.
Photo: U.S. Senator Ted Cruz (R-TX), speaks at a RedState Gathering at the Renaissance Worthington Hotel in Fort Worth, Texas, on Friday, Aug. 8, 2014. Cruz announced his presidential bid Monday. (Richard W. Rodriguez/Fort Worth Star-Telegram/TNS)