Ted Cruz To Appear At Virginia Dinner With Ken Cuccinelli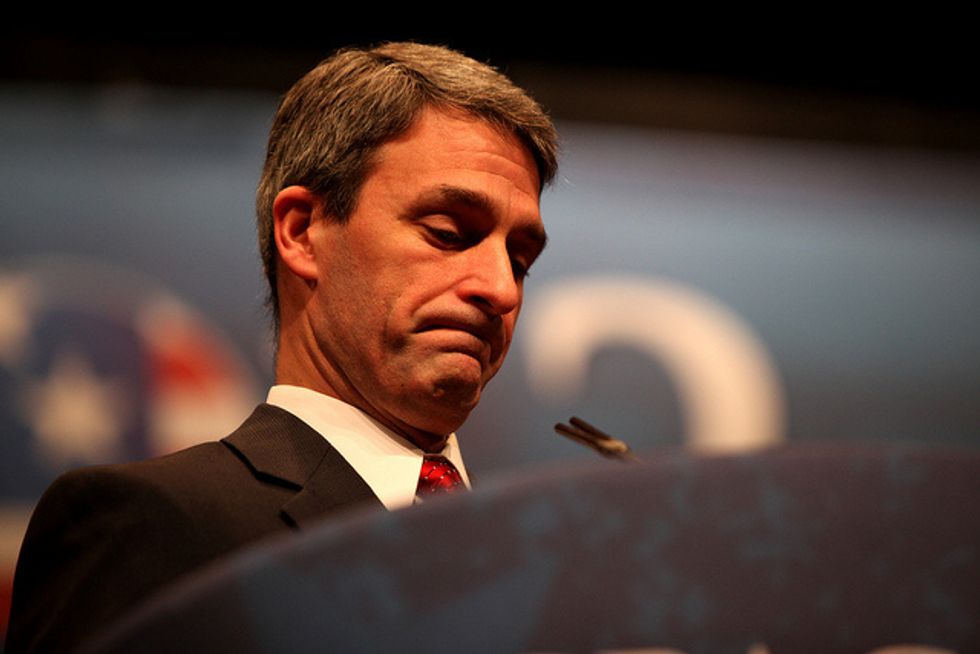 The Richmond-based "non-profit" and "non-partisan" Family Foundation will host two high-profile Republican politicians at its annual gala dinner Saturday night: Senator Ted Cruz (R-TX), and the Republican candidate for governor of Virginia, Ken Cuccinelli.
The Family Foundation is a group that seeks to "strengthen families in Virginia by applying founding principles and faith to policy and culture." The chairman of the group, David R. Barrett, was appointed a senior advisor to then governor-elect Bob McDonnell. After the Republican governor's election, Barrett was appointed by McDonnell to the board of directors of the Virginia Birth-Related Neurological Injury Compensation Program.
The dinner has not gone unnoticed by Terry McAuliffe, the Virginia Democratic candidate for governor. The McAuliffe campaign seized the moment in an effort to link Cuccinelli with the Texas senator, who played a large role in shutting down the federal government and furloughing federal workers. Virginia — northern Virignia especially — is a state with a high number of federal workers and contractors.
Governor McDonnell said the state government will know how harshly the shutdown will affect Virginia workers on Friday of this week, but the estimates are not encouraging. There are approximately 172,000 defense department employees in Virginia; McDonnell estimates a third of them will be subject to furlough. In southern Virginia, 3,600 workers were furloughed after the Navy shipyard was closed.
"Ken Cuccinelli has made it clear that he cares more about Ted Cruz and the Tea Party than he does about Virginia's economic well-being," said McAuliffe spokesperson Josh Schwerin. "With the majority of Virginia's congressional delegation and Bob McDonnell rejecting the continued use of shutdown as a bargaining chip and Republican senators turning on Ted Cruz, Ken Cuccinelli is standing alone in support of the architect of the shutdown."
The McAuliffe campaign further hammered Cuccinelli for his ties to Senator Cruz with the attack ad below.
The Cuccinelli campaign then downplayed the link between its candidate and Cruz.
"It's not a campaign event," said Richard T. Cullen, a spokesman for the campaign, told the Washington Times. "We work with Ted Cruz. We work with a lot of conservatives who are coming to the state and campaigning for Ken."
With the election just a month away, Cuccinelli can use any help he can get on the campaign trail. A Real Clear Politics poll average shows McAuliffe leading the Republican by 4.2 points.
Whether or not Cuccinelli's appearance with Senator Cruz tips the polls further in McAuliffe's favor still remains to be seen. But one thing is for sure: The McAuliffe campaign is betting that Virginians have a distaste for both Cruz and the government shutdown.
Gage Skidmore via Flickr.com