Ted Cruz Vs. 'The New York Times'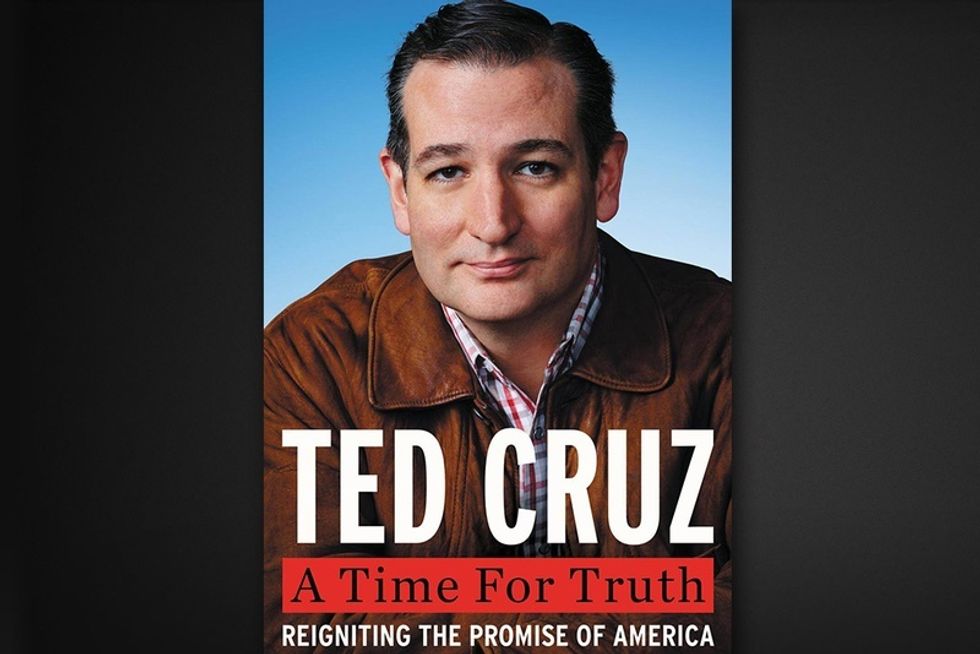 Republican presidential candidate Ted Cruz published a book on June 30.
It appeared on the Wall Street Journal's list of top sellers. And USA Today's. And Amazon's.
But not the New York Times list.
Politico reported that although Cruz's book, A Time for Truth, sold nearly 12,000 copies in its first week, according to Nielsen Bookscan hardcover numbers, it wouldn't appear on the list of current bestsellers — even though it outsold 18 of the top 20 titles on the list.
Cruz's publisher, HarperCollins, sent a letter to the Gray Lady to ask about the omission, Politico reported. The Times' response: "In the case of this book, the overwhelming preponderance of evidence was that sales were limited to strategic bulk purchases," wrote spokesperson Eileen Murphy in an email to Dylan Byers.
Strategic bulk purchases? Was Ted Cruz gaming the system?!
Not only did the Cruz campaign deny it, but so did HarperCollins and Amazon. Of course, conservative media jumped all over this, pointing to it as an example of the Times' liberal slant.
HarperCollins released a statement, saying that they "found no evidence of bulk orders or sales through any retailer or organization" and that the book appeared high on "other publishing industry bestseller lists," all of which "omit bulk orders books from their rankings."
Cruz's spokesperson was bluntly partisan:
The Times is presumably embarrassed by having their obvious partisan bias called out. But their response — alleging 'strategic bulk purchases' — is a blatant falsehood. The evidence is directly to the contrary. In leveling this false charge, the Times has tried to impugn the integrity of Senator Cruz and of his publisher HarperCollins.

We call on the Times, release your so-called 'evidence.' Demonstrate that your charge isn't simply a naked fabrication, designed to cover up your own partisan agenda. And, if you cannot do so, then issue a public apology to Senator Cruz and HarperCollins editor Adam Bellow for making false charges against them.
According to one publishing insider, the New York Times' liberal leanings affect which books appear on their list — and conservative titles are "likely to be ranked lower and drop off the list faster than those books with a more political slant."
The Times' method for calculating sales is also shrouded in some mystery. As The Daily Beastexplained, the Times' weighs sales by geography, so that large markets, or books that are selling well in particular markets, aren't skewing the data.
They claim this makes it so that people can't game the system. But because the exact mechanics of their filtering process are kept secret, many people find it suspicious.
Claiming to have published a bestseller is undoubtedly important — it's means more press, after all — but each publisher calculates "a bestseller" differently. The imprimatur of the New York Times' name gives a unique boost: it means prominence in bookstores, additional media coverage, and all-around bragging rights.
For Cruz, this whole affair has certainly given him publicity, both good and bad. His book is doing better than nearly all the other presidential candidates' releases in terms of total sales (according to Nielsen Bookscan) — with the exception of Hillary Clinton, whose most recent book, Hard Choices, was published last year. Philip Bump at the Washington Postpredicts that the book will soon appear on the Times list thanks to a boost in sales. That's what a brouhaha like this gets you anyway — as well as some providing an occasion for continued digs at the "liberal media." Either way, a win for Cruz.
Photo: Ted Cruz's book, A Time for Truth, skewers Republicans and is part autobiographical, but that's not what's gaining attention. It's the fact that The New York Times, unlike other major bestseller lists, has not included it in its tallies. (Via Amazon.)