Ted Nugent Clings to Guns, Religion, And… The Secret Service?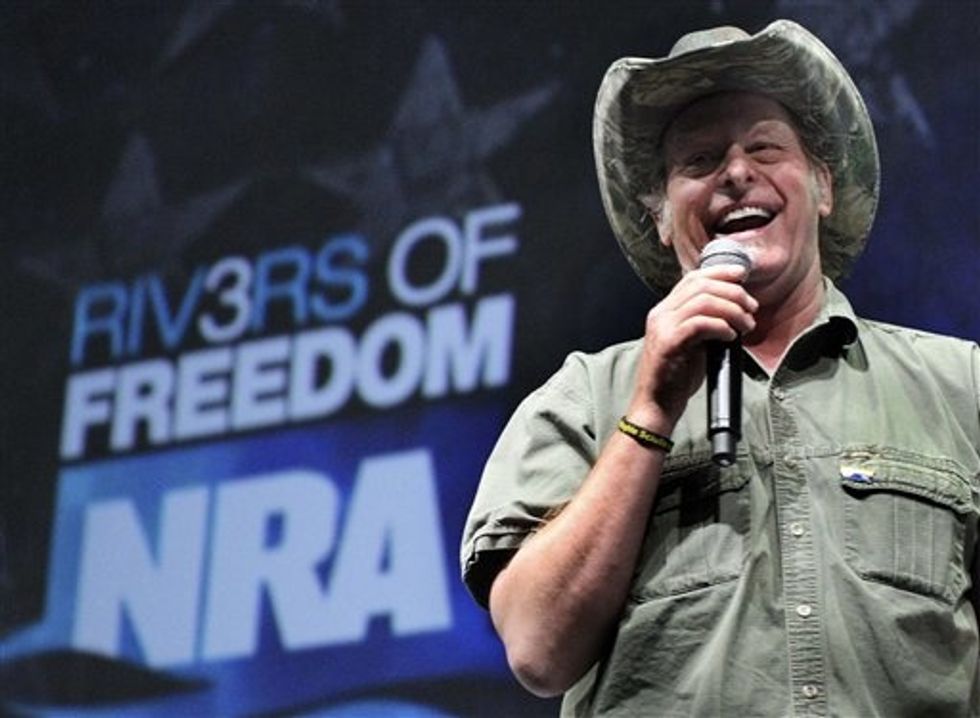 1970s rocker and pro-gun conservative activist Ted Nugent, who made headlines when he told National Rifle Association members last weekend that "I will either be dead or in jail by this time next year" if Barack Obama is re-elected president, met with Secret Service agents in Oklahoma Thursday to explain himself.
"The issue has been resolved" and the agency "does not anticipate any further action," Secret Service spokesman Brian Leary told the Washington Post.
Nugent went in to the meeting confident, bragging to radio host Dana Loesch that "the Secret Service are my buddies" and claiming that several seasoned FBI and Secret Service agents appeared at the very NRA event where he suggested he might attack the president.
"They work for me. I pay their salaries, and I mean that seriously. But also, I train with the Secret Service. I conduct federal marshal raids here in Texas. So I rely on these heroes of the federal agencies to save my life during these raids on fugitive felons. I know a lot of people don't know that, but I'm very active in law enforcement. So when you say Secret Service, all I can do is get a big grin on my face and realize that we'll either be shooting some taxpayer ammo at targets or we'll be eating barbecue."
But the point here was never to actually threaten the president's life, but rather to stoke the Republican base and renew his brand as a conservative firebrand. And on those counts, Nugent's incendiary remarks would appear to have been quite successful. Perhaps a run for Senate in his native Michigan is in the cards?