Ted Nugent Runs Into Twitter Buzzsaw After Attacking Parkland Teens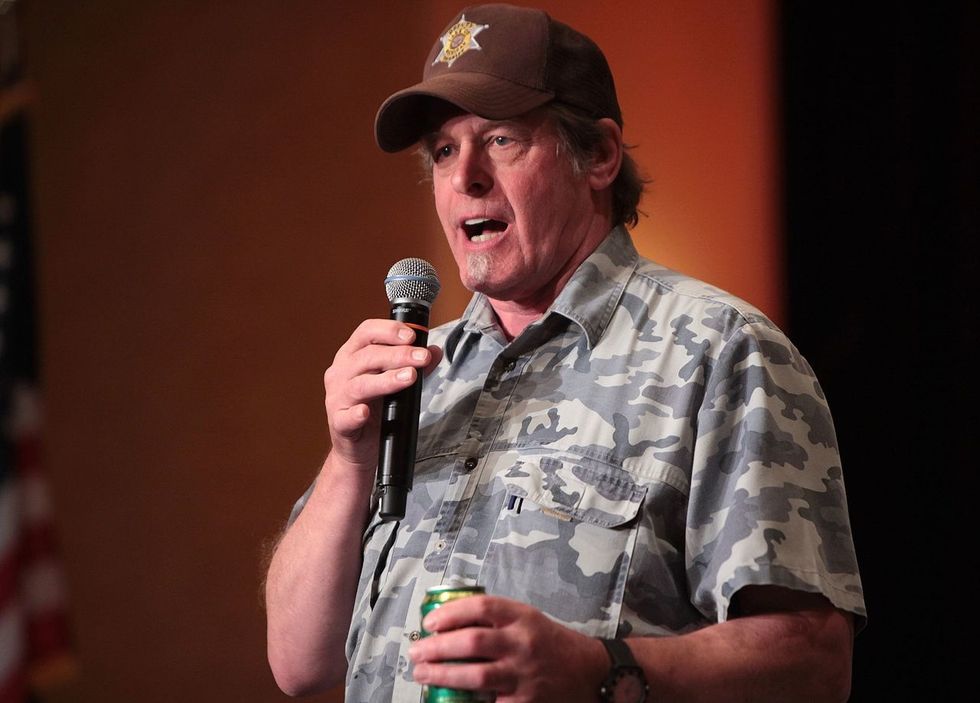 Reprinted with permission from Shareblue.com
NRA board member Ted Nugent spent his Friday night launching an unhinged verbal assault on the Parkland shooting survivors, becoming just the latest member of the right-wing outrage machine to attack the teen activists.
Hours later, social media users spent their Saturday morning dragging Nugent, making him just the latest member of the right-wing outrage machine to get publicly savaged for attacking the Parkland teens.
Appearing on "The Joe Pags Show" late Friday, Nugent took a swing at the teen shooting survivors, calling them "soulless" liars and likening their push for gun control to "committing spiritual suicide."
The student survivors "have been fed lies," Nugent said, before comparing the activism of David Hogg and Emma Gonzalez — two of the most outspoken Parkland survivors — to waging a war against everyday Americans.
"To attack the good law-abiding families of America when well known predictable murderers commit these horrors is deep in the category of soulless. These poor children, I'm afraid to say this and it hurts me to say this, but the evidence is irrefutable, they have no soul," he said.
Apparently, Nugent hasn't been paying much attention to current events. If he had, he would know that those everyday Americans have staked their positions firmly behind the Parkland survivors — a lesson he learned the hard way on Saturday.
As word of his outburst spread, social media users took to Twitter to drag the aging NRA board member, savaging him for everything from his irrelevance …
I cleaned a Ted Nugent off my shoe this morning.

— Eugene Gu, MD (@eugenegu) March 31, 2018
I have never even heard a single chord by Ted Nugent and I'm reasonably certain my life purpose is more fulfilled as a result.

— Robert Davenport (@citynightcap) March 31, 2018
… to his predilection for teenage girls …
Honestly, if you're a teen, it's gotta be a relief finding out Ted Nugent doesn't like you. pic.twitter.com/sagdo07jtC

— Røb Fee (@robfee) March 31, 2018
Ted Nugent is a racist, sexist, homophobic gun nut who has preyed upon teenage girls. He's Roy Moore with a guitar. The NRA and GOP continue to embrace bigoted creeps.

— Adam Best (@adamcbest) March 31, 2018
… to the time he deliberately failed a medical exam to avoid serving in Vietnam.
"See, I approached the whole thing like, Ted Nugent, cool hard-workin' dude, is gonna wreak havoc on these imbeciles in the armed forces. I'm gonna play their own game, and I'm gonna destroy 'em." – Nugent on how he deliberately failed a physical to avoid serving in Vietnam https://t.co/38Q4PCZhIy

— VoteVets (@votevets) March 31, 2018
Some users called for a boycott of Ted Nugent and put the pressure on venues to cancel upcoming appearances …
Ted Nugent is a contemptible human being and every single one of these venues that has him booked to perform this Summer should very seriously re-consider their decision pic.twitter.com/LeT2O9dRNG

— Corbin Reiff (@CorbinReiff) March 31, 2018
… while other users pointed out that a boycott isn't really necessary because Nugent can't sell anything in the first place.
I would normally call for a boycott of Ted Nugent, but nobody is buying anything he is selling already. pic.twitter.com/jdwmSfFsa3

— Red T Raccoon (@RedTRaccoon) March 31, 2018
And as one Twitter user masterfully demonstrated, there's nothing more brutal than cold, hard truth:
It must be weird for the Parkland students to find out Ted Nugent even exists.

— Mike McMahan (@MikeMcMahanTM) March 31, 2018
Nugent and his NRA allies just can't seem to accept the changing reality they're facing. Time after time, they keep lining themselves up like bowling pins — and each time, they get knocked downharder than the last.
From TV to Twitter to the streets of the nation's capital, the Parkland teens have shown that they're a force to be reckoned with. And with midterm elections just months away, the teen activists may soon prove that they're a force of nature at the ballot box, too.
Header image: Ted Nugent by Gage Skidmore