Teen Survivor To NRA-Owned GOP: 'You Have Chosen Death. We Choose Life'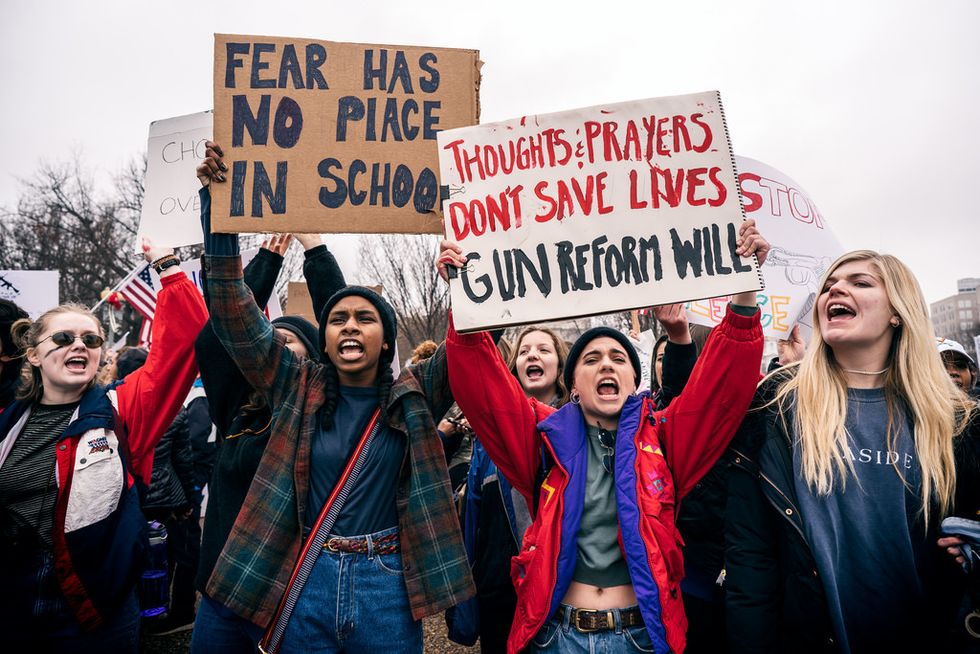 Reprinted with permission from Shareblue.com
17-year-old Alex Wind survived the mass shooting at Marjory Stoneman Douglas High School in Parkland, Florida. And at the March for Our Lives on Saturday, he drew a bright line between NRA-backed lawmakers and the students who escaped with their lives.
"You have chosen death," Wind declared. "We choose life!"
Wind is a founding member of the #NeverAgain movement, front and center of student-led activism against gun violence. He started demanding action from the federal government the very day of the shooting at his school.
Now, over one month later, his call has only gotten stronger alongside thousands of other studentsacross the country.
"In the wake of the tragedy on February 14th, we as students, as youths, decided that if adults weren't going to take action, we would," Wind declared.
He noted years of intransigence in Washington on gun safety, even as mass shootings have occurred at a horrifying rate.
Wind noted that "people believe the youth of this country are insignificant." But he pointed out that both history and the present prove that claim flat wrong.
"When Joan of Arc fought back English forces, she was 17 years old," Wind reminded the crowd. Rather, he declared, teenagers "were the only people that could have made this movement possible."
And he easily smacked down the absurd notion of arming teachers and school officials.
"If teachers start packing heat, are they gonna arm our pastors, ministers, and rabbis?" Wind asked. "Are they gonna arm the guy scanning tickets at the movie theater? Are they gonna arm the person wearing the Mickey Mouse costume at Disney?"
"This is what the National Rifle Association wants, and we will not stand for it!" he added. And he made it clear that much of the blame rests with the politicians in Congress that are backed by the NRA. While that used to be a more evenly-split group, it has now become starkly partisan.
"In raw numbers, the NRA gave to 115 Democratic House candidates in 1992, to 65 in 2010 and to only four in 2016," CNN noted.
And for Wind and his fellow student activists, the whole issue comes down to one simple thing: "Life or death."
"To all the politicans out there: If you take money from the NRA, you have chosen death! … If you do not stand with us by saying 'We need to pass common sense gun legislation,' you have chosen death! And none of the millions of people marching in this country today will stop until we see those against us out of office, because we choose life!"
Teenagers should not have the monumental task of fighting Congress and the NRA to save people's lives on their shoulders.
But the GOP's callous inertia has passed the buck on protecting citizens to some of the youngest among us. As a result, teens like Alex Wind have taken up the challenge like never before.
Come November, many of those NRA-owned Republicans may pay the price for their spineless dereliction of duty to the nation.