The Teflon President In A Swimsuit? New Reagan Statue Planned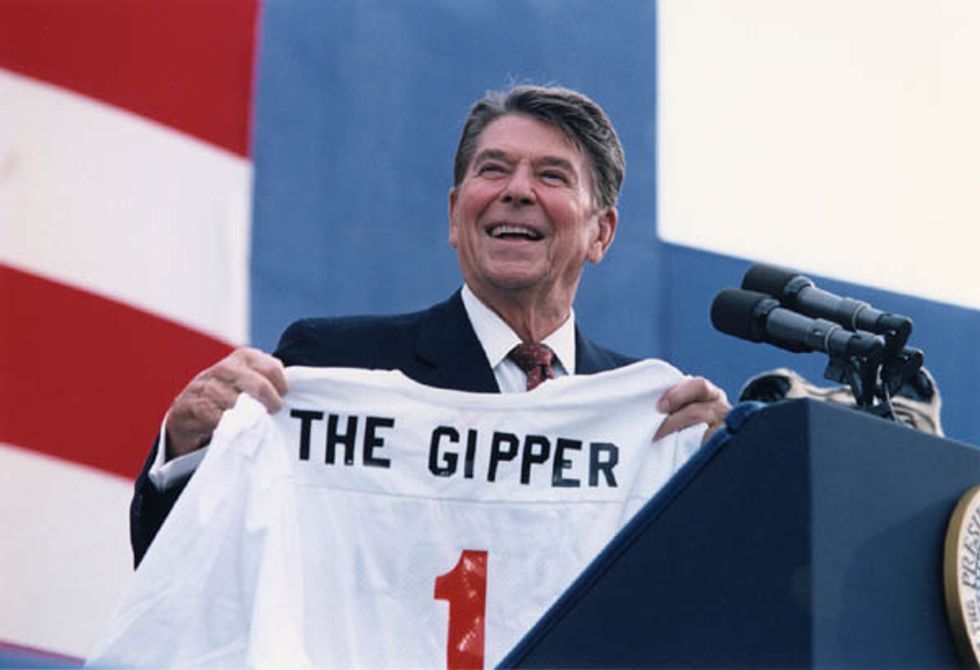 By Ted Gregory, Chicago Tribune
DIXON, Illinois — Decades before he became known as the Teflon president and the Great Communicator, Ronald Reagan was a hunk in trunks.
For seven summers on the banks of the Rock River, north of Reagan's boyhood hometown of Dixon, Illinois, the young man who became president monitored the beach at Lowell Park. Locals say more than a few women faked peril in the water so that the strapping, handsome fellow who sometimes parted his hair down the center would whisk them to safety.
"There are a lot of people who'll come to town for a Reagan visit and the first thing they ask is, 'Where is Lowell Park?' " Dixon Mayor Jim Burke said. "Then they'll ask, 'Where is the boyhood home?' "
Which is why Burke is leading a $200,000, privately funded effort to place what some might consider a slightly unpresidential sculpture of Reagan on the northern banks of the Rock River in Lowell Park. The sculpture of young Ron shows him in a one-piece tank top swimsuit that was ubiquitous in that era.
"We talked about it," Burke said, referring to a discussion among sculpture advocates about whether a depiction of Reagan in swimwear was undignified. "But everybody agreed that the statue is of him as a young man, when he was parting his hair down the middle. … I think if Reagan was alive, he'd approve of it because of that spot being such a big part of his life."
The city of Dixon reports that Reagan saved 77 lives while guarding the beach, although the number of purported rescues ballooned into the hundreds as his political career ascended.
The job provided him with $200 per summer for college expenses, city historical records show.
Burke and others note that Reagan, on a presidential visit, ordered Air Force One to circle Lowell Park to see what had changed since his lifeguarding days.
During the summers, the park was central to his life, Burke said. "He had his home, church, school and Lowell Park."
Dixon, a town of about 16,000, is 102 miles west of Chicago along the Ronald Reagan Memorial Highway (Interstate 88). It is known as the Petunia Capital of Illinois, and volunteers every year plant more than 30,000 of the pink flowers along main streets.

More recently Dixon garnered notoriety through its former comptroller, Rita Crundwell, who stole nearly $54 million over two decades before being detected and sentenced last year to 19 1/2 years in prison.
But Dixon is perhaps best known as the place where Reagan lived from age 9 until he was 22. It already has two Reagan statues: one at his boyhood home on Hennepin Avenue and another, also along the Rock River, depicting young Reagan on horseback.
Both are popular attractions. That popularity and visitors' curiosity about Lowell Park and its significant role in Reagan's youth led to years of discussion about placing a statue in the 240-acre park, Burke said.
"I thought it was finally time to grab the bull by the horns and get this thing done," he added.
In July he called a few civic leaders together and, with the help of a local bank, tourism office, chamber of commerce, the Lee County Republicans and a local resident, gathered $7,000 as seed money for a tentative design.
On Feb. 6, which would have been Reagan's 103rd birthday, Burke and the committee displayed that design and announced that the team at the Fine Art Studio of Rotblatt-Amrany in Highwood, Ill., would make the sculpture.
It would stand 7 feet tall from a base that artist Omri Amrany said might be made of limestone, and depict a young, earnest Reagan in bronze, striding to the rescue. Plans also call for a lifeguard chair and a narrative exhibit, including photos, of Reagan's years as a lifeguard.
Among other sculptures, Amrany's firm has made a Michael Jordan statue outside the United Center in Chicago and statues of Bobby Hull, Vince Lombardi and Kareem Abdul-Jabbar. Amrany was excited about depicting Reagan with a fresh perspective.
"He is one of the most beloved presidents in the U.S. today," he said of Reagan, who died in 2004 at 93. "From an artist's point of view, casting him in a bathing suit is a much better opportunity to work around the figure and express muscles." It was a distinction akin to "nature boy" versus a "standing suit," he said.
Photo via Wikimedia