Tension Mounts In Ferguson With Every Day Of Waiting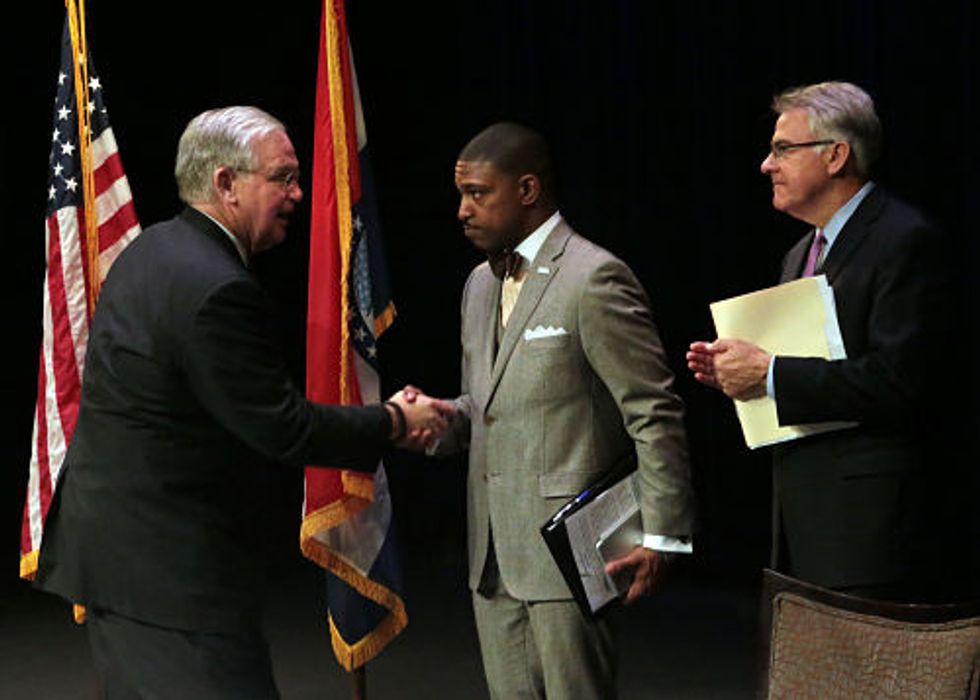 By Dugan Arnett and Rick Montgomery, The Kansas City Star (TNS)
FERGUSON, Mo. — The boards have long been in place, large slabs of wood attached to the front windows of her strip-mall hair salon.
A company came and attached them for $350, right around the time a neighboring business had its windows shattered. Triondus "Tree" Sleet, who owns Beauty Salon on West Florissant here, figured it was wise to take precautions.
She dislikes the boards. They cut out every inch of sunlight, giving her little shop, which she's owned for the past 12 years, a bunker feel.
"It's like being in prison," Sleet said this week as she worked on one of her remaining regular customers.
That feeling is not unusual in Ferguson.
For much of the past three months, residents have braced for the decision of a grand jury that has been considering evidence in the case of police officer Darren Wilson, who in August shot and killed an unarmed black teenager named Michael Brown.
And with the decision, the fallout it might bring.
Each day without an announcement brings mounting tension, and Missouri Gov. Jay Nixon's Monday declaration of a state of emergency in Ferguson did little to quell fear.
Then country singer Hunter Hayes canceled a Thursday concert in St. Louis, citing possible unrest.
The crowding of national news media also suggests something huge is about to happen. But will it?
Experts far from this St. Louis suburb note that a community can erupt for lots of reasons, but usually order and peaceful protests win out. Civil unrest in America typically ignites from an unexpected spark, not from months of worry, preparation and the worst of fears.
But law enforcement officials have gathered to go over contingency plans.
And like Sleet, the vast majority of businesses along a popular city strip have boarded up their windows in an attempt to ward off any looting that might occur.
Such is the current normal here.
On the eve of the announcement Ferguson has taken on an uneasy — and oftentimes eerie — calm.
Unlike the weeks immediately following Brown's death — when protesters lined the streets three- and four-deep and law enforcement officials stood in front of armored vehicles — there are few protesters still gathering within Ferguson. Neighborhoods that became synonymous with protestor-police face-offs in August have gone quiet.
Streetlights near the police station have been wrapped in holly and red bows for the holidays.
When civil discord turns to destruction, it tends to happen in a "flash" that few had seen coming, said Brian Houston, co-director of University of Missouri's Terrorism and Disaster Center.
"In this country, at least in the last 20 or 30 years, violent protests or riots are more often a flare reaction to an acute event than, say, a plan to burn down a town," he said.
Even when protests are planned, they can end in chaos if police overreact.
In 1999 tens of thousands of demonstrators converged on downtown Seattle to protest a World Trade Organization meeting. Police fired stun grenades, pepper spray and tear gas to clear streets and intersections.
Soon the protesters were heaving bottles and vandalizing cars and shops.
In Ferguson, Houston said, there were two flash points: Brown's killing and the aggressive police response.
He wonders if Missouri authorities have learned any lessons: "To say it's an emergency and we need soldiers to deal with it sounds like a self-fulfilling prophecy."
On Ferguson's Lang Drive, a quiet residential road located near the heart of where protests turned violent this summer, Katherine S. Wells is one of many retirees who fill the neighborhood. And like many, she is bracing for the upcoming decision.
Even with the possibility of violence, though, she hasn't considered the idea of leaving.
"I've been here for 27 years, so I have no plans to go anywhere," said Wells, who lives roughly a block from where a QuikTrip gas station was burned in the immediate aftermath of the August shooting.
At the Ferguson Burger Bar, as customers came and went — many of them out-of-towners armed with notebooks or cameras — David Whitt talked about the prevailing anticipation in the community.
"It affects you on a lot of levels," said Whitt, 35, who lives in the apartment complex Brown was killed near. "Dealing with all this and not knowing what's going to happen tomorrow."
Like back in August, when local law enforcement drew criticism for the use of tear gas and rubber bullets on protesters, there remains, at least in the eyes of some, a lingering distrust for law enforcement.
Whitt said he doesn't fear any violence following the grand jury announcement.
"No, I'm not afraid of that," he said. "I'm afraid of violence from the police."
In a news conference last week, Nixon announced that the Missouri Highway Patrol, St. Louis County police and St. Louis city police would be handling any potential fallout. Absent from the list was Ferguson's police department, which is currently under a civil rights investigation by the U.S. Justice Department.
An FBI bulletin warns law enforcement agencies nationwide that the grand jury decision "will likely" provoke extremist protesters to raise havoc, news media reported this week.
Water treatment plants could even become targets, and so-called "hacktivists" could attempt to launch cyber attacks against authorities.
While the protests for months have been peaceful, much of the recent reporting out of Ferguson has replayed images of the August fires, the looting and the military-style effort to restore order.
Incendiary coverage, many say. But experts argue the evidence is weak that media attention alone fuels violent unrest.
If the reporting is fair and complete, some contend, it may even avert the brand of rioting that in 1992 followed the acquittal of four Los Angeles police officers caught on video beating a pulled-over Rodney King.
"It was the lack of in-depth coverage that fueled unrest there," said Judy Muller, who helped cover the deadly Los Angeles riots as a TV reporter. Three days of disorder led to more than 50 deaths, about 7,000 arrests and hundreds of fires.
Now a professor at the University of Southern California's Annenberg School of Communication, Muller attributed the extent of that rampage partly to media fixation on a short, gruesome video. It had been edited by a TV station to exclude a blurry shot of King charging at the officers.
Little attention was paid to defense accounts of the circumstances of King's arrest after a high-speed chase.
Having cringed at the video over and over, "nobody imagined these guys would be let off," said Muller. "It was that unexpected shock that triggered everything."
It then may be beneficial to Ferguson that legal commentators, news reports and arguably the governor's emergency declaration signal the strong possibility that Wilson will not be indicted.
Daniel McMullen, who has run Solo Insurance on West Florissant for the past 20 years, simply wants things to return to normal.
"Most of my customers just want it over with," he said Tuesday, sitting in his office accompanied by his dog Maverick.
Not everyone, however, has managed to remain so calm.
A few miles away, inside Metro Shooting Supplies, customers streamed in Tuesday afternoon as phones rang. It's been that way for the past two weeks, said owner Steven King, who estimates his business sold 250 guns over the weekend — a massive jump from typical sales numbers.
"We've got people that have never thought — never even dreamt — that they would need a gun to defend their home coming in now and taking classes and learning how to shoot because they are afraid that somebody is going to come into their neighborhood," King said. "And they live in gated communities. So if those people are afraid, that tells you a little bit about the mood in St. Louis."
For their part, Ferguson officials have gone silent in recent days.
Police chief Thomas Jackson, whose job has been the source of much speculation in recent weeks, declined an interview request shortly after pulling into the station parking lot around 9 a.m. Tuesday.
Later, a newly appointed police spokesperson said Jackson and the city's mayor had met the previous day and decided it would be best to decline interviews until the grand jury announcement.
And then there's Sleet, the beauty shop owner.
Like many across the country, she begins each morning by checking the news to see if there have been any updates regarding the decision. So far, though, there has only been waiting. She worries about the toll the past few months has taken on business, and about what might still be coming. While she hopes the protective boarding she had installed will serve as a deterrent, she knows that, in reality, it's little more than a decoy.
"What do those boards mean to somebody who really wants to do something?" she asks.
Out on West Florissant this week, nightfall brought nothing of note. A thin blanket of snow still covered parts of the ground. Temperatures dwindled. By 7 p.m. most evenings, the street was empty, save for the occasional passerby bundled against the cold.
Dusk arrived once again Wednesday in Ferguson, and for one more day at least, its residents went home uneasily, bracing for what the next day might bring.
Photo: Missouri Gov. Jay Nixon shakes hands with Rev. Starsky Wilson, center, and Rich McClure after swearing the two men in as co-chairs of the Ferguson Commission on Tuesday, Nov. 18, 2014, at the Missouri History Museum in St. Louis. Nixon created the independent commission to address the "social and economic conditions" highlighted by protests after the shooting death of Michael Brown. (Laurie Skrivan/St. Louis Post-Dispatch/TNS)