Tesla Unveils Battery To 'Transform Energy Infrastructure'
@AFP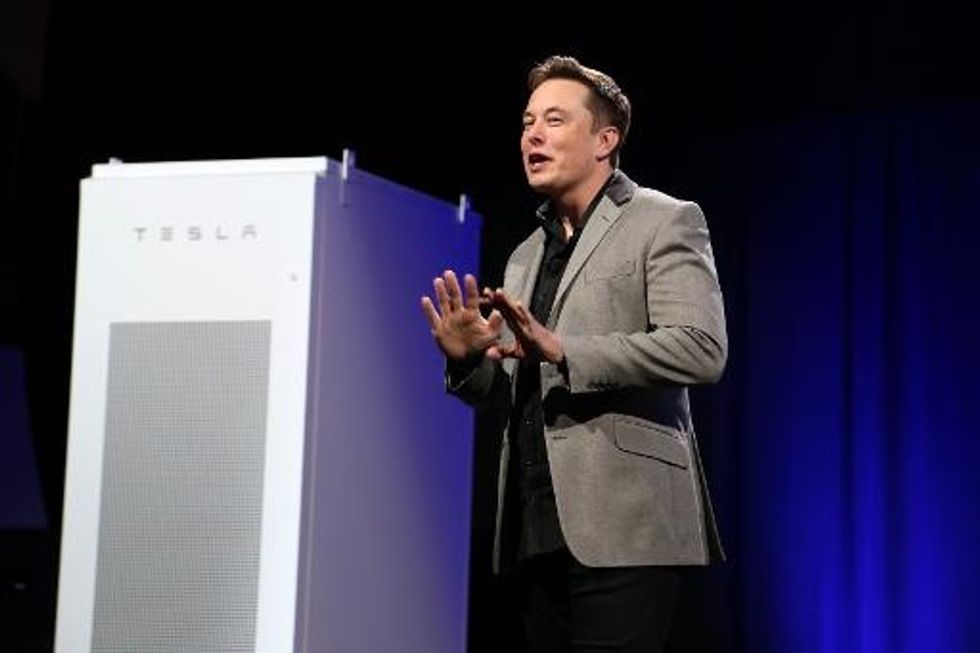 Los Angeles (AFP) – Electric car pioneer Tesla unveiled a "home battery" Thursday which its founder Elon Musk said would help change the "entire energy infrastructure of the world."
The Tesla Powerwall can store power from solar panels, from the electricity grid at night when it is typically cheaper, and provide a secure backup in the case of a power outage.
In theory the device, which typically would fit on the wall of a garage or inside a house, could make solar-powered homes completely independent of the traditional energy grid.
"The goal is complete transformation of the entire energy infrastructure of the world, to completely sustainable zero carbon," Musk told reporters shortly before unveiling the Powerwall in a stylish warehouse space outside Los Angeles.
People look at newly-unveiled Tesla Powerwall batteries at the Tesla Design Studio in Hawthorne, California, April 30, 2015
All the power for the evening demonstration, attended by several hundred media as well as tech world participants, came from his new batteries, hooked up to solar panels on the roof, he said.
Initially the device, which will cost $3,500, will go on sale in the United States later this year. But the aim is to roll it out internationally some time next year.
Germany is seen as a key market for the product — which is about 6 inches thick, 4 feet tall and 3 feet across — because it has among the highest take-up of solar energy in the world, Musk said.
But it could also be a huge boon for under-developed regions, where power is often unreliable at best, despite abundant solar energy — and he compared the potential to that of the way cellphone technology has expanded.
"It's analogous to the way mobile leap-frogged landlines," Musk said.
"This is going to be really great for the poorest communities in the world," he said. "This allows you to be completely off grid."
Musk stressed however that moving advanced economies like America away from unsustainable fossil fuels was a key goal.
"I think we should collectively do something about this .. we have this handy fusion reactor in the sky, called the sun," he said.
The Powerwall comes in 10 kWh weekly cycle and 7 kWh daily cycle models, both of which are guaranteed for 10 years and are sufficient to power most homes during peak evening hours.
The Tesla chief was coy when asked whether Tesla Energy would be a bigger business than Tesla Motors, for which he is best known. He dodged the question.
Last year Tesla announced the construction of the world's largest lithium-ion battery plant in Nevada, a five-billion-dollar "Gigafactory" with Japanese electronics giant Panasonic.
Tesla will run operations while its Japanese partner will make battery cells destined for the plant and invest in equipment and machinery, according to a joint statement released at that time.
While Tesla produces relatively few vehicles, it has become a star in the sector due to keen demand and a reputation for high quality.
Photo: Tesla Motors CEO Elon Musk unveils large utility scale home batteries at the Tesla Design Studio in Hawthorne, California, April 30, 2015 (©afp.com / David McNew)