Test For Jeb Bush At Debate: Can He Tone Down His Inner Wonk?
@reuters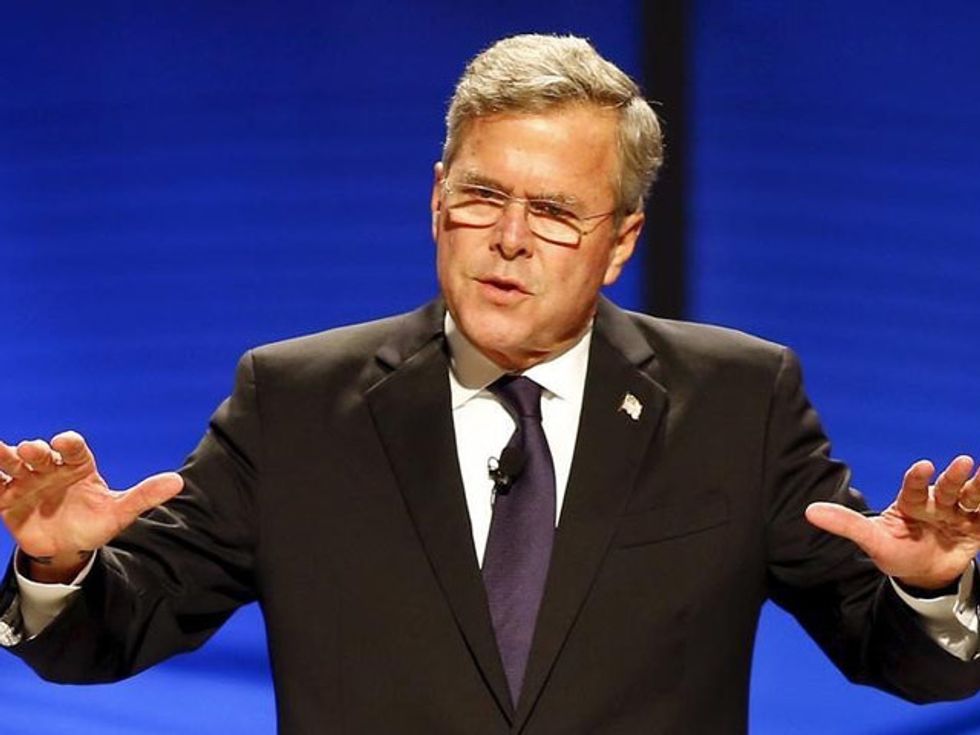 By Steve Holland
WASHINGTON (Reuters) – Jeb Bush has staked out a claim as the most serious of the 15 Republican presidential candidates, with a deeply considered policy position on everything from healthcare to federal regulations to entitlement reform to Syria.
But as he prepares to do battle once more against his rivals at the fourth Republican presidential debate on Tuesday in Milwaukee, Bush faces a challenge: Whether he can talk simply and eloquently about Americans' problems without lapsing into nerd-speak.
The former Florida governor's tentative performance at the last encounter two weeks ago in Boulder, Colorado contributed to another dive in his favorability numbers in the race for the Republican nomination for the November 2016 election.
Bush has hired an image consultant to try to help him with his presentation but he has rejected advice from advisers to get rid of his eyeglasses and to stand up straighter and puff his chest out.
He acknowledges that his debate performances need work.
"I do pretty good when I'm out with real people interacting with them. Have fun doing it," Bush said last week on his campaign bus in New Hampshire. "But the debate process is different."
But even at campaign events, Bush stuffs his speeches with facts and figures rather than short, sharp, sound bites.
"POSSE COMITATUS LAW"
In Hollis, New Hampshire, last week when a voter asked Bush whether he would support sending National Guard troops to the U.S.-Mexican border to stop the flow of illegal immigrants, Bush interjected:
"You'd have to change the Posse Comitatus Law," he said, referring to an obscure 1878 law that limits the powers of the federal government in using federal military personnel to enforce U.S. domestic policies.
While high-flying rivals like Donald Trump, Ben Carson and Marco Rubio gain attention with more emotional pitches, Bush has clung to his clinical approach of talking policy.
In comparison to Trump who vows to build "the best wall ever" on the Mexican border, Bush offered what he feels is a more realistic view when a voter in Raymond, N.H., asked him about a wall. He noted the rugged terrain along the border.
"There are places where you couldn't build a fence," he said. "But where fences are appropriate, do it, fine."
Listening to Bush at the Hollis event was New Hampshire Republican Lorin Rydstrom, who said he liked what he heard, but harbors doubts.
"He's got a great pedigree," said Rydstrom. "The question is passion. Does he have the passion to do it?"
Bush reads obscure policy studies for input on developing his positions. He eschews fiction in favor of nonfiction.
"There's talkers and there's doers and I'm in the doers' lane," Bush told Reuters in a recent interview. "And I want people to know that. So we're really focused on policy."
But experts, supporters and, significantly, some of his financial donors have noticed that Bush has not been able to boil his message down into several digestible points that describe why he is running for president and what he would do if elected.
Fergus Cullen, a former chairman of the New Hampshire Republican Party and who has not endorsed a candidate this year, attended Bush's recent rollout of his healthcare plan. He noticed that Bush had plenty of details but did not cite examples of how his policy would help the average American.
"A huge part of being a presidential candidate and a president is your communications skills and your ability to explain complicated things that regular people can understand. Some candidates are better than that than others," Cullen said.
 (Reporting By Steve Holland; Editing by Alistair Bell)
U.S. Republican presidential candidate and former Governor Jeb Bush speaks at the North Texas Presidential Forum hosted by the Faith & Freedom Coalition and Prestonwood Baptist Church in Plano, Texas October 18, 2015.  REUTERS/Mike Stone