Testimony Begins In Trial On Michigan's Gay-Marriage Ban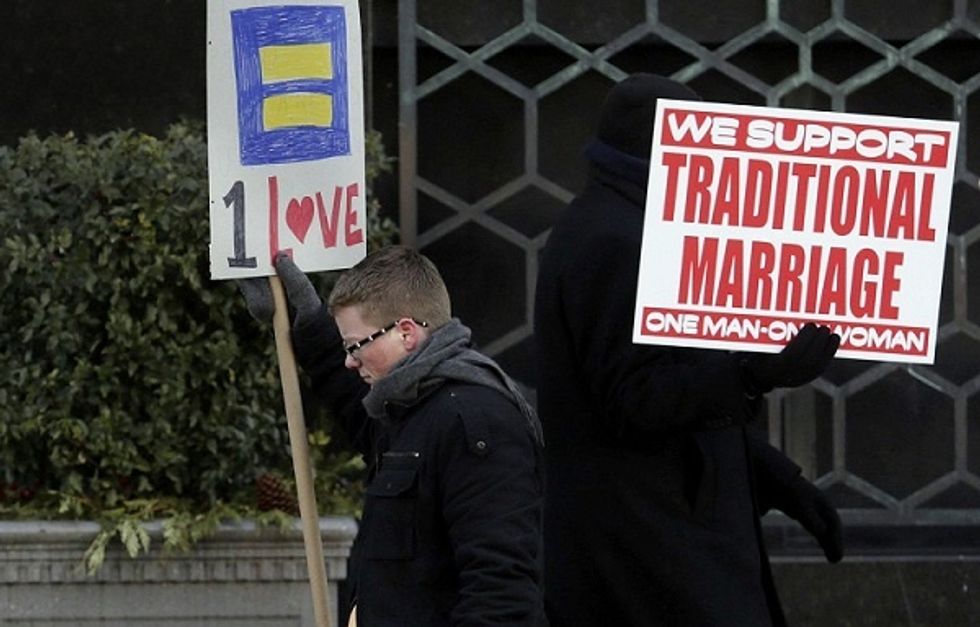 By Tresa Baldas, Detroit Free Press
DETROIT — The fate of Michigan's gay-marriage ban is officially in the hands of a federal judge, who on Tuesday heard opening statements in a case that will decide what marriage means in Michigan, and whether voters have a right to exclude gays and lesbians from forming that union and raising a family.
Voters in Michigan have already voted against gay-marriage — a point that state attorney Kristin Heyse hammered away in her opening statements. She argued it is not irrational for voters to want to define marriage as being a union only between a man and a woman. Nor is it irrational for the state to want to preserve the traditional family structure: a mom and a dad.
But same-sex marriage proponents argue the ban is unconstitutional and needs to be overturned.
"Our marriage ban did not happen in a vacuum: The proponents of the ban fully intended to exclude this politically unpopular group," argued Carol Stanyar, one of several lawyers who is fighting to overturn Michigan's bans on same-sex marriage and same-sex adoption.
On the latter point, Stanyar argued that no other group has to undergo a competency test to have children, and that gays and lesbians shouldn't, either. She also stressed repeatedly that there is no proof that same-sex couples aren't just as loving and nurturing as heterosexual parents, nor that kids raised by gays and lesbians fare worse than those raised by heterosexuals.
Stanyar is representing two female nurses who are fighting for the right to marry and adopt each others' children.
"It's hard to imagine how the adult plaintiffs in this case could be contributing any more. They took in babies who were left behind," Stanyar told U.S. District Judge Bernard Friedman. "These two women are heroes. And they're not alone. All these families should be embraced. They should be supported. They should be celebrated."
To bolster that argument, Stanyar offered the testimony of David Brodzinsky, a seasoned psychologist and child development expert who has researched adoption and family structure for more than three decades.
Brodzinsky testified that the psychological well being of kids raised by same-sex parents is the same as those raised by heterosexuals. He also testified that family structure has no impact on how well-adjusted a child is.
Before Brodzinsky took the stand, Heyse urged the judge not to believe everything the plaintiffs experts say, and to uphold the will of the voters.
To overturn the will of the people, the court must conclude that being raised by a mother and a father is inconsequential," Heyse said. "This court should not rush to determine that mothers and fathers are replaceable or dispensable."
Heyse also noted: "We recognize that not all children can be raised by a mom and a dad; but that doesn't mean that shouldn't be the goal or ideal."
But voters shouldn't be allowed to pass discriminatory laws, either, argued attorney Michael Pitt, who is representing an Oakland County clerk who believes gays and lesbians are unfairly being denied marriage certificates.
"If the people of the state of Michigan had voted to ban interracial marriages, I don't think we would be here today."
Unlike the last gay-marriage hearing in Detroit, which drew just one protester opposed to gay marriage, Tuesday's trial drew a crowd of 40 demonstrators who marched and held signs in front of the federal courthouse in support of traditional marriage. The group included teenagers and adults who said they wanted the judge to know that there are people who are opposed to same-sex marriage and parenting. Some said it bothered them that no one demonstrated at a court hearing in the fall, so they came out in bigger numbers today.
"We're here simply for traditional marriage," said Rex Evans, of the Free Will Baptist parish in Ypsilanti. "We don't hate anyone. We're just here to voice our views on traditional marriage."
Photo: Mandi Wright/Detroit Free Press/MCT