Texas House Passes Measure To Allow Concealed Handguns On College Campuses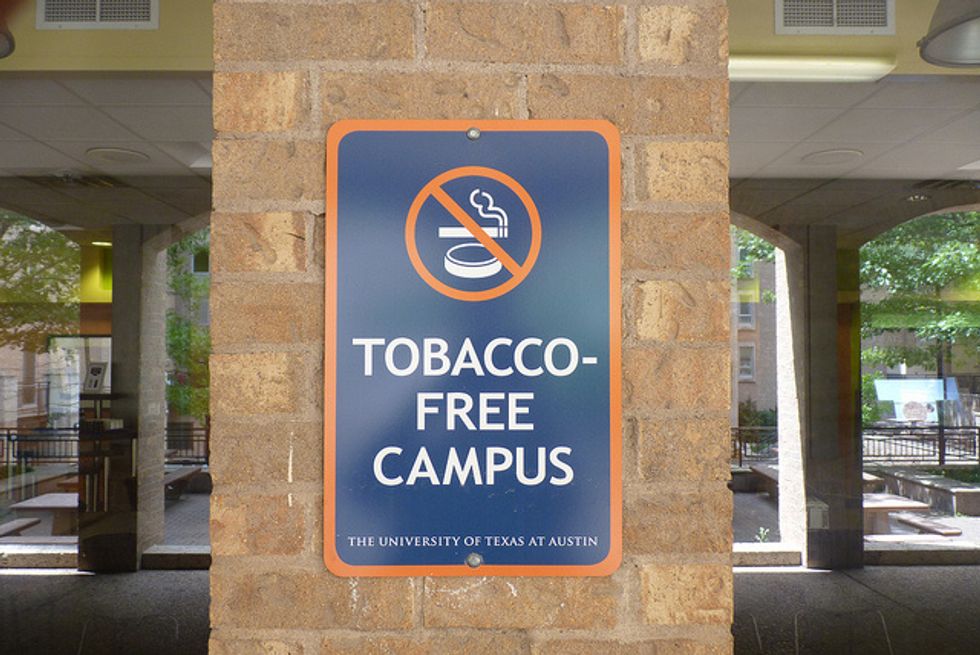 By Anna M. Tinsley, Fort Worth Star-Telegram (TNS)
AUSTIN, Texas — Texas moved closer to allowing concealed handguns in classrooms and other areas on public and private college campuses late Tuesday night, as House members gave tentative approval just minutes before the midnight deadline.
An hourslong debate over Senate Bill 11, known as "campus carry," abruptly wrapped up as the deadline to pass Senate bills out of the lower chamber loomed and a vote was suddenly called on what some called a "watered down" measure.
House members approved the measure on a 101-47 vote after more than 100 amendments were suddenly dropped.
"Finally our students will be protected, our professors will be protected and law-abiding citizens will be protected," state Rep. Giovanni Capriglione, R-Southlake, said after the vote.
The life or death of this measure, and dozens of other bills, had been up in the air late in the evening, slowed down earlier in the day by procedural moves such as "chubbing" — lengthy discussions about minute points on minor bills that otherwise would pass easily and without discussion.
Members of the House of Representatives faced a midnight deadline Tuesday to give tentative approval to Senate bills that touched on topics such as whether certain health insurance plans should be banned from covering abortions and whether faith-based welfare organizations should be able to stop same-sex couples from adopting children.
With a number of GOP priorities on the calendar, state Rep. Larry Phillips, R-Sherman, earlier in the day unsuccessfully tried to speed up the process by proposing moving about 40 bills to another day.
Democrats, including state Reps. Nicole Collier and Ramon Romero Jr. of Fort Worth and Chris Turner of Arlington, blocked that move.
"It's frustrating for people who have bills up or have something they want to pass," said state Rep. Craig Goldman, R-Fort Worth.
Eventually the chubbing slowed down, after a Democratic-proposed bill was killed, and lawmakers began wading through dozens of proposals including giving Texas students the ability to bring sunscreen to school and moving forward with a study regarding homeless veterans.
One bill lawmakers spent hours debating as the sun faded was a comprehensive ethics reform bill, designated early in the session a priority by Gov. Greg Abbott. The goal, lawmakers said, was to shine sunlight on the government. The House gave tentative approval to the measure 96-48.
Some had hoped to delay Senate Bill 11, which passed the Senate in March, that would allow concealed handguns onto most areas of public universities in the state.
The bill, which Collier, Romero and Turner voted against, must still gain final approval from the House. And the Senate must sign off on changes, or take the bill to a conference committee, before it can go to Abbott.
This campus carry measure comes 20 years after lawmakers first made it legal for Texans to carry concealed handguns in most places statewide.
Members began debating the issue around 9:30 p.m., but more than 100 amendments were filed by lawmakers hoping to make adjustments to the measure.
State Rep. Allen Fletcher, R-Tomball, carried the bill in the House and said campus carry was something college students need.
"We should not be disarming them … because they walk into a classroom," he said, adding that they must be law abiding citizens and 21-years-old or older to get a concealed handgun license in the first place.
Amendments were approved requiring private universities to implement campus carry and to allow each university to determine where concealed handguns may be carried.
"A watered down useless campus carry bill … what is this the 83rd session again?" state Rep. Jonathan Stickland, R-Bedford, tweeted out after the vote.
Supporters say the campus carry bill — which has been unsuccessfully proposed in past legislative sessions — is needed to let teachers and students defend themselves, particularly in the wake of tragedies such as the 2007 Virginia Tech shooting by a gunman that killed 32 people.
"It allows innocent people to defend themselves on campus," Capriglione said. "There are definitely people who don't want it.
"But it's not unreasonable to expect 21-year-olds to handle it reasonably and responsibly."
Officials at public colleges say the plan could cost nearly $50 million in coming years — an expense that could be passed to students. The cost is high, they say, because additional officers, training, storage facilities and security technology would be needed if the proposal becomes law.
"I think it's a horrible idea," Romero of Fort Worth said. "I think the lack of support from student groups and professors and universities has been overwhelming."
Many "don't see the need for this type of legislation," he said. "It's just the completion of a campaign promise … something on some folks' wish lists."
Projections from the University of Texas System, which includes the University of Texas at Arlington, show that implementing the bill could cost $39 million over six years, with most of that cost at the health institutions, according to paperwork submitted to the Legislature.
Estimates from the University of North Texas System, which includes the UNT Health Science Center at Fort Worth, include $1 million in upfront costs and ongoing expenses of $250,000, state records show.
UT System Chancellor William McRaven has said he worries that concealed handguns will make campuses less safe because stress and guns are a bad mix. In a letter to lawmakers, he expressed concern about accidental shootings and suicides, as well as the fear that concealed handguns "will make campus a less safe place."
Texas A&M System Chancellor John Sharp also sent a letter to lawmakers, saying he has "complete trust and faith" in his students and professors, which is why Texas A&M "will not have a position on this issue and will not oppose campus carry."
UNT System Chancellor Lee Jackson noted that the bill might negatively affect a "younger than average population, some living away from home for the first time."
Law officers also are divided.
Austin Police Chief Art Acevedo has said "it's a bad idea." McLennan County Sheriff Parnell has said this bill gives students and professors a chance to protect themselves because "police can't be everywhere at once."
Expanding gun rights in Texas has been controversial and headline gathering long before the first day of this year's Legislative Session.
Emotions run high on this issue, growing in recent years. Supporters of the movement have taken to the streets _ particularly in Tarrant County — with semiautomatic rifles and black powder pistols, which are legal to openly carry in Texas, hoping to draw attention to their cause.
Earlier this session, Kory Watkins, a leader of Tarrant County Open Carry, posted online a video some say threatened the safety of lawmakers who don't support making it legal for Texans to openly carry their handguns.
That followed a dust-up earlier this session between local open-carry supporters and at least one lawmaker. State Rep. Poncho Nevarez, D-Eagle Pass, indicated he doesn't support open carry, and his staff asked Open Carry Tarrant County members to leave his office. There was an aggressive conversation; soon after that the House approved a measure making it easier for members to have panic buttons put in their offices.
Abbott has long said he would sign campus carry and open carry — a proposal to let licensed Texans openly carry handguns statewide — into law. Open carry passed the Senate last week and returns to the House this week for approval of changes made to the bill.
Photo: The University of Texas at Austin might be a tobacco-free campus, but if a new law is passed by the state legislature, it won't be a gun-free one. ctj71081 via Flickr