Texas Prepares To Execute Schizophrenic Inmate Despite Call For Clemency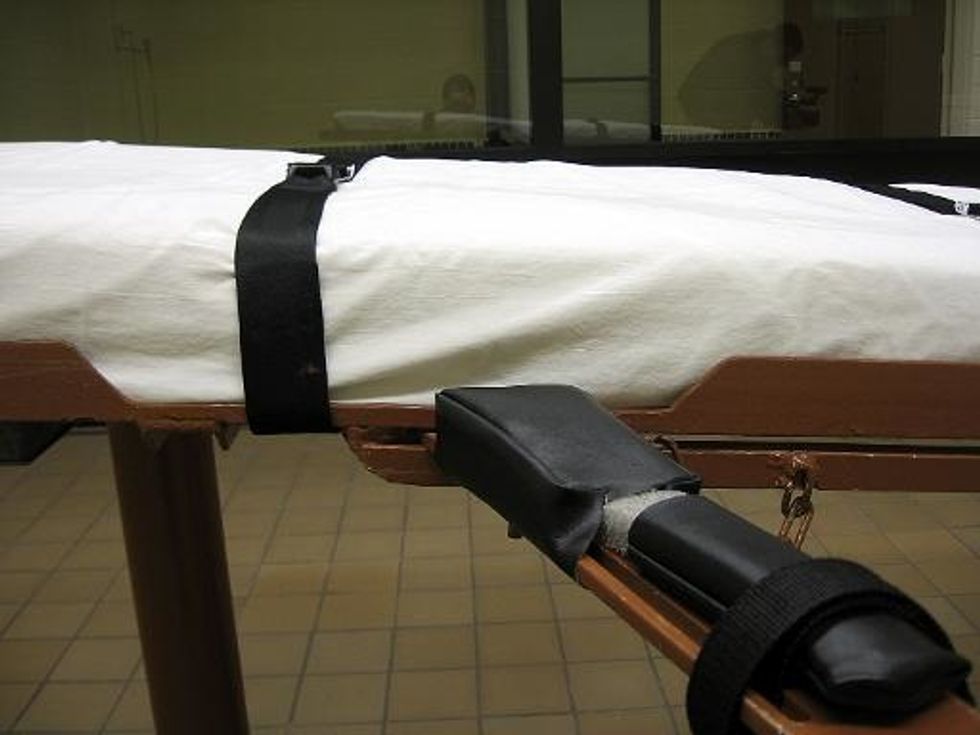 By Anna M. Tinsley, Fort Worth Star-Telegram (TNS)
As Texas prepares to execute its 11th inmate in a year with the fewest executions in nearly two decades, legal and mental health groups across the state and the nation are scrambling to spare Scott Panetti from the death chamber.
Panetti, a schizophrenic who is scheduled for lethal injection Dec. 3, was convicted of fatally shooting his in-laws in front of his estranged wife and children more than two decades ago in their home in Fredericksburg, Texas.
A new clemency petition has been filed to try to block the execution of Panetti, who acted as his own attorney and appeared in court wearing a purple cowboy suit and a 10-gallon hat. Some worry he is so mentally ill that he won't understand why he is being put to death.
"The case of Scott Louis Panetti is a judicial disaster that has attracted national and international outrage — and for good reason," according to the latest clemency petition. "Evidence of his incompetency runs like a fissure through every proceeding in his case — from arraignment to execution.
"The execution of Scott Panetti would cross a moral line."
Texas, which has long led the nation in executions, is on track to put the fewest inmates to death since 1996 and some believe the death penalty may be fading away.
The state has 273 inmates on death row, state records show.
Nine executions are scheduled for the first four months of 2015.
"Texas has a deep commitment to the death penalty," said Cal Jillson, a political science professor at Southern Methodist University. "In this state's political culture, crime is to be treated very seriously, and the threat of the death penalty is one device that can be held over the head of criminals.
"The decrease in executions shows there is a very serious alternative to the death penalty."
In 2005, legislators changed the law to give juries an alternative to the death penalty: life in prison without parole.
Since then, jurors have overwhelmingly chosen that option, giving 687 people life without parole, compared with 84 death sentences, according to the Texas Department of Criminal Justice.
A Gillespie County judge recently scheduled Panetti's execution for Dec. 3.
But Panetti's case has been in and out of the courts for years because of the 56-year-old's history of mental illness.
Through the years, justices have tried to determine whether Panetti, who has been diagnosed as schizophrenic, can understand that he has been sentenced to die and why.
"Mr. Panetti has not had a competency hearing in nearly seven years," according to one letter calling for clemency. "He has a fixed delusion that his execution is being orchestrated by Satan, working through the State of Texas, to put an end to his preaching the Gospel of Jesus Christ."
During his trial in 1995, when he was convicted of killing his in-laws, Joe and Amanda Alvarado, Panetti tried to call President John F. Kennedy and Jesus Christ as witnesses.
When Panetti refused to take his antipsychotic drugs, the judge allowed him to represent himself. Notes taken by Panetti's standby counsel described his behavior as "trancelike," "bizarre" and "scary."
A group of officials including former Gov. Mark White has also written a clemency letter.
"We are deeply troubled that a capital sentence was the result of a trial where a man with schizophrenia represented himself, dressed in a costume," the letter stated. "We come together from across the partisan and ideological divide and are united in our belief that, irrespective of whether we support or oppose the death penalty, this is not an appropriate case for execution."
Former U.S. Rep. Ron Paul has also sent a letter.
Panetti's execution would be the 11th in Texas this year.
That's the fewest since 1996, when there were three, state data show. But it's still more than any other state this year: Florida and Missouri have had eight each, Oklahoma three, and Georgia, Ohio, and Arizona one each, according to the Death Penalty Information Center in Washington.
"Texas is the capital of capital punishment," said Richard Dieter, the center's executive director. "Clearly, people see it as the most likely place to have an execution."
But 2014 is a far cry from some of Texas' busiest years for executions, when some said the state was home to the "conveyor belt of death." There were 40 in 2000, 35 in 1999 and 37 in 1997.
"Things are changing in Texas," Dieter said, adding that it's not just demographics but also new laws and new elected officials. "Texas is not the dominant state in the death penalty that it has been."
On average, an inmate spends 11 years on Death Row before being executed, state data show. A decline in executions was expected as the number of people sentenced to life without parole rose, Dieter said.
Before that option was added in 2005, Texas juries had two choices — the death penalty and life in prison with the possibility of parole, meaning that some inmates convicted at a young age could be released back into the community after serving 40 years.
When Gov. Rick Perry signed the life-without-parole measure into law, he said, "I believe this bill will improve our criminal justice system because it gives jurors a new option to protect the public with the certainty a convicted killer will never roam our streets again."
The first year the option was available, only 17 people were sentenced to life without parole. That rose through the years, peaking at 109 in 2012. Through August this year, 69 people had been sentenced to life without parole, state records show.
Since the law changed, the number of people sentenced to death has hit double digits only three times — 10 in 2006, 15 in 2007 and 11 in 2009. This year, four people have been sent to death row, according to state records.
"With less death sentences coming in, it was bound to be true that the number of executions would go down as well," Dieter said. "The whole system is receding."
AFP Photo/Caroline Groussain