Texas Reels, Braces For More Flooding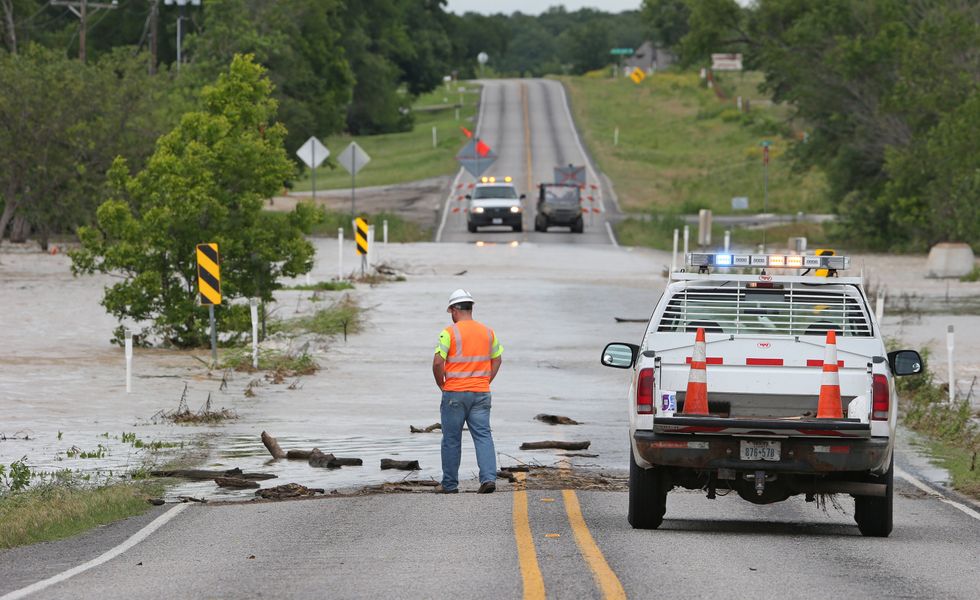 By Molly Hennessy-Fiske, Los Angeles Times (TNS)
HOUSTON — Across the state, Texans took stock of the damage wrought by a week of punishing storms while they braced for more flooding.
The floodwaters touched city and country. About 40 miles northeast of Houston, ranchers used an airboat to corral and feed a herd of about 500 cattle stranded when flooding Saturday along the Trinity River turned their pasture into an island outside the city of Liberty.
"That's about $1 million in cows," said Tom Branch, Liberty County emergency management director. "They've been trying to get them out of there for days."
In Houston, fans fled a baseball game between the Astros and the Chicago White Sox when water started pouring through the dome-shaped roof of Minute Maid Park.
"The entire roof, especially our section, it was like a waterfall," said Sam Alford, 26.
In Houston's Meyerland neighborhood, residents were salvaging what they could from homes inundated with water from nearby Brays Bayou. Jennifer and Warren Liao were working their way through their ruined brick ranch house at 9 p.m. after watching a tow truck haul away their flooded cars.
They had been in New York, attending their youngest daughter's graduation from Columbia University, on Monday when their home flooded. A foot of water poured in, destroying seven of their three children's string instruments and three pianos, including a Steinway with ivory keys.
They managed to save their son's cello, but had to throw out almost everything else _ a washer, dryer, George Foreman grill and another daughter's diploma.
They have flood insurance, mandated by their mortgage, but it doesn't cover everything. "Today the adjuster came. We maxed out already," Jennifer Liao said.
The storms that started during the Memorial Day weekend have 33 killed people, with 6 victims in Oklahoma and 27 in Texas.
Hays County officials in central Texas reported that two women's bodies had been found there Saturday after flooding on the Blanco River.
Officials have found several bodies from a nine-member group whose vacation house was swept away overnight Saturday, including retired Corpus Christi dentist Ralph Carey, 73; daughter Michelle Charba, 43; and family friend Andrew McComb, 6, whose father was the lone survivor.
With the forecast calling for more rain, Texans prepared for more floods.
"They say in the month of May, the rainfall has been enough to cover the entire state 8 inches," Warren Liao said as he and his wife stood on the porch watching the latest downpour.
One thing was certain, Jennifer Liao said as they left to stay at a friend's house. "It's not over yet."
(Staff writer Katie Shepherd in Los Angeles contributed to this report.)
(c)2015 Los Angeles Times. Distributed by Tribune Content Agency, LLC.
Photo: Cody Ogle, with TxDot, a one side of the roadblock on FM 730 in Boyd, Texas, with the West Fork of the Trinity River flowing over the road behind him on Saturday, May 30, 2015. (Paul Moseley/Fort Worth Star-Telegram/TNS)