The Best And Worst Moments From GQ's Ben Carson Profile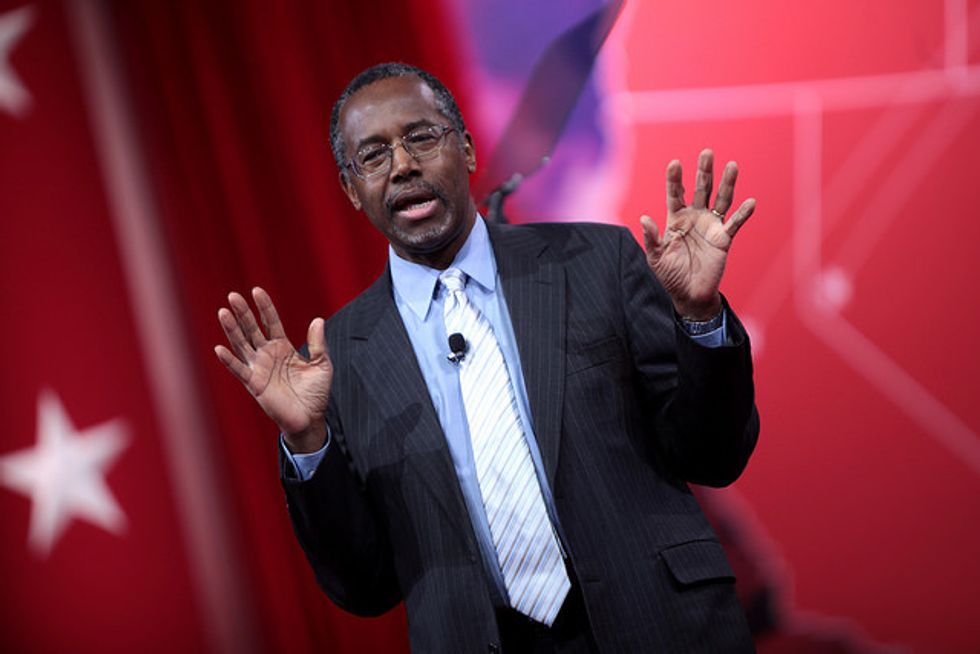 By Ben Brody, Bloomberg News (TNS)
WASHINGTON — Is he ready for prime time?
In its April issue, GQ magazine features a profile on prospective presidential candidate Dr. Ben Carson, the retired head of pediatric neurosurgery at Johns Hopkins and the first African-American to run a division there. Though Carson has never held elected office, his unapologetic conservatism and up-from-poverty story have excited much of the base, and GQ's piece, which shadows Carson on a trip to Israel, watching the State of the Union, and reflecting on his media reputation as he gears up for a likely presidential run, captures both the positive and negative aspects of his potential candidacy.
Some of the most buzz-generating moments:
Carson didn't know what the Knesset does
"What is the role of the Knesset?" Carson asked his Israeli guide of the country's one-chamber legislature. The occasion was a Christmastime trip in 2014, his first to the nation that almost all presidential hopefuls visit. The guide explained its working and Israel's political parties. "It sounds complex," Carson said. "Why don't they just adopt the system we have?"
He doubled down on Nazi comparisons, at a Holocaust museum
Last year, Carson drew criticism for suggesting that liberals could turn American into Nazi Germany, and stating that the U.S. was "very much like Nazi Germany" because people were afraid to say what they believed, according to CNN. Sitting at the cafeteria of Yad Vashem, the Holocaust museum in Jerusalem, during the Israel trip, Carson was asked if the visit prompted him to reconsider the comparison. "Not at all," he said. "It makes it even stronger."
He doesn't think being treasury secretary involves much policy
The secretary of state Carson most admires is Condoleezza Rice, while, as for defense secretaries, he likes Robert Gates. When asked to name his favorite secretary of the treasury, he paused.
"Andrea Mitchell's husband," he eventually offered. I reminded him that Mitchell's husband, also known as Alan Greenspan, had actually been chairman of the Federal Reserve. "I don't know that there's anybody that really stands out to me as an outstanding treasury secretary. I mean, that's a pretty hard place to be outstanding," he finally said. "Secretaries of the treasury, for the most part, are not big policy people."
He became Republican (again) so he could run
In his youth, he was a "radical" Democrat but became a Republican during Ronald Reagan's presidency. He then left the party and became a conservative-minded independent during the Bill Clinton impeachment because he felt that congressional Republicans who had had their own dalliances were being hypocritical. He only re-registered with the party in 2014. "If I weren't thinking about running for office, I would remain an independent," he said.
His fundraising apparatus is ambitious and successful
The Draft Carson Super PAC has raised more than $13 million last year. Carson also brought in $6 million for the American Legacy PAC, which tapped him to fundraise for its Obamacare repeal program. Because Carson has worked with a long list of causes, his likely campaign manager, Terry Giles, predicts his mailing list could have more than 2 million names on it. "If I can get $100 from 1.5 million people," Giles said, "I'll have $150 million for the first four primaries, and we'll be extremely competitive." (Jeb Bush, who is considered the Republican fundraising front-runner, hopes to raise $100 million.)
He referred to President Barack Obama as a "psychopath"
Carson watched 2015's State of the Union address at the Washington home of an adviser, who said the president looked "elegant" in his white shirt and sky blue tie. "Like most psychopaths," Carson responded. "That's why they're successful. That's the way they look. They all look great." When the adviser, Armstrong Williams, said the president had to "convince people to believe him" the same way Carson would, the doctor said the difference was that Obama was lying. "He's trying to sell what he thinks is not true!" Carson said. "He's sitting there saying, 'These Americans are so stupid I can tell them anything.'" Williams warned Carson off that kind of rhetoric in his post-speech appearances.
He doesn't understand the reaction to some of his comments on homosexuality and Obamacare
Speaking about same-sex marriage in 2013, he also said gays and other groups like "people who believe in bestiality" couldn't change the definition of the institution, according to ABC News. Later that year, Carson said he thought the Affordable Care Act was "the worst thing that has happened in this nation since slavery," according to The Washington Post. "And it is in a way, it is slavery in a way because it is making all of us subservient to the government, and it was never about health care. It was about control." In the profile, he waved off the strong condemnations these and other comments sparked. "We've reached a point where if you say the word 'slavery' or you say the word 'bestiality,' it's like you've sprayed a fly with Raid — people start spinning, and they just can't function anymore," he said.
Photo: Gage Skidmore via Flickr