The Civil War Continues: Rand Paul Calls Chris Christie 'The King Of Bacon,' Christie Rejects Beer Date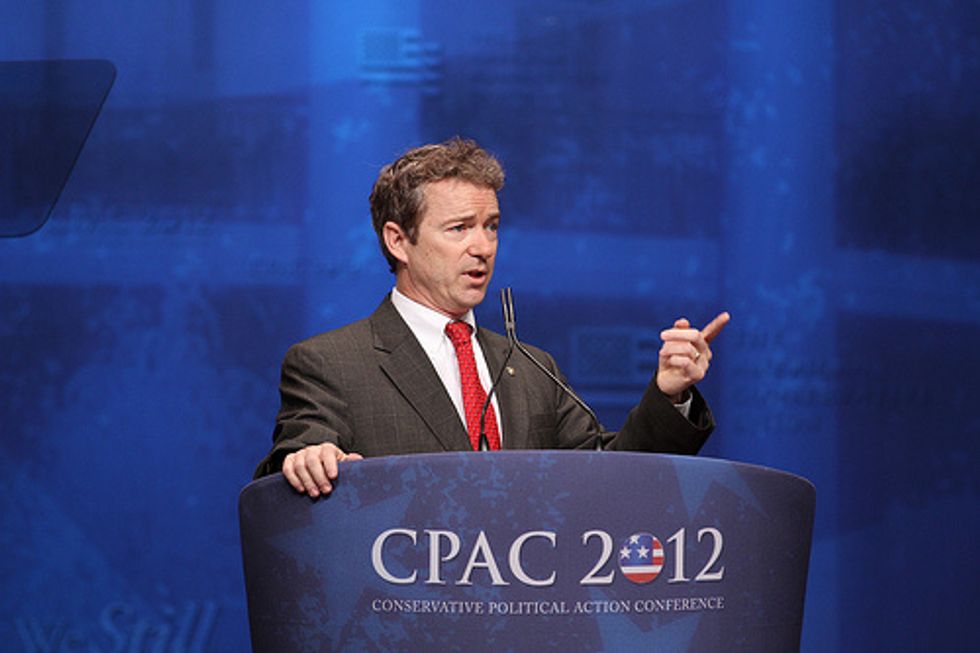 The war of words between two early frontrunners for the 2016 GOP presidential nomination is escalating.
Back in June, Senator Rand Paul (R-KY) took a not-widely-noticed potshot at New Jersey's Republican governor, Chris Christie, over his " not very conservative " choice of holding an unnecessary special election.
Apparently the governor was stewing for weeks because last week, he had no qualms about calling the junior senator from Kentucky "dangerous."
"This strain of libertarianism that's going through parties right now and making big headlines I think is a very dangerous thought," Christie said on Thursday at a Republican forum in Aspen, Colorado. "You can name any number of people and [Paul is] one of them," he said.
"These esoteric, intellectual debates — I want them to come to New Jersey and sit across from the widows and the orphans and have that conversation. And they won't, because that's a much tougher conversation to have," he continued.
Paul blasted back at the governor through his Twitter account:
Christie worries about the dangers of freedom. I worry about the danger of losing that freedom. Spying without warrants is unconstitutional.

— Senator Rand Paul (@SenRandPaul) July 26, 2013
Over the weekend, Paul stepped up the rhetoric even more.
"The people who want to criticize me and call me names, they are precisely the same people who are unwilling to cut the spending," Paul said at an event in Franklin, Kentucky, according to CNN affiliate WKRN-TV .
"They are 'Gimme, gimme, gimme all my Sandy money now.' Those are the people who are bankrupting the government and not allowing enough money be left over for national defense."
The battle over aid for Sandy, which was delayed by House leadership at the end of the last congressional session, led to Christie and other area Republicans blasting their own party for playing games with disaster relief.
Paul's comments are particularly hypocritical, given the amount of government assistance his state gets from the region most affected by Sandy.
"For every dollar Kentucky sends to Washington in federal taxes, it gets back between $1.51 and $1.82 in federal spending, depending on which study is consulted," the Lexington Herald-Leader 's John Cheves reported in 2010. "Other states — mostly in the Northeast and Midwest — subsidize Kentucky by paying more in taxes than they get in return."
Kentucky ranks 13th out of the 30 states that take in more than they give to the federal government, where New Jersey is the nation's 3rd biggest donor state, according to 2011 analysis by The Economist .
In 2010, less than a week after he won his seat, the senator-elect completely reversed his stand and said he would fight for earmarks to help Kentucky. Rejecting " wasteful earmark spending " was a centerpiece of his campaign.
On Monday, the senator directly took on Christie's comments invoking 911 directly.
"It's really, I think, kind of sad and cheap that he would use the cloak of 9/11 victims and say, I'm the only one who cares about these victims. Hogwash," Paul said on Monday on Fox News. "If he cared about protecting this country, maybe he wouldn't be in this 'give me, give me, give me all of the money' that you have in Washington or don't have and he would be more fiscally responsive and know the way we defend our country."
"I think it's not very smart. (Christie) may have heard that, you know, the republican party is on life support in the Northeast. Republicans are in danger of becoming an endangered species," Paul said. "It's not smart for Republicans to be attacking Republicans, but I would remind him that what is dangerous is to forget that we have a Bill of Rights, to forget about privacy and give up on all of our liberty that you have to live in a police state."
Senator Paul has led the GOP pack in recent polls from Iowa and New Hampshire, the crucial first two states to weigh in on the 2016 presidential nomination. He will likely vie with Senator Ted Cruz (R-TX) for the support of the more libertarian populist wing of the party.
Though Paul leads the polls in Iowa, Christie was the only Republican candidate in a recent Quinnipiac poll of Iowa who had net positive ratings with Democrats, Republicans and independents. Paul was not included in that poll.
With just under three years to go until the 2016 primary begins in earnest, it looks like the 11th Commandment once quoted by Ronald Reagan — Thou shalt not speak ill of any fellow Republican — shalt not be in effect.
UPDATE : Christie responded to Paul's comments Tuesday by pointing out that Kentucky receives a lot of "pork-barrell spending."
UPDATE : On CNN Tuesday, the war continued . "This is the king of bacon talking about bacon," Paul said. "What does he want to do, shut down military bases in Kentucky?"
NOTE : Kentucky has two military bases. New Jersey has eight.
UPDATE : On Wednesday afternoon,Rand Paul reportedly asked Chris Christie to get a beer. "I think with Governor Christie, it's gotten a little too personal, so let's kiss and make up," the senator said .
UPDATE : The Washington Post's Post TV has put together a fact check of the feud.
UPDATE: Christie has turned down Rand Paul's offer to get a beer, claims he doesn't "really have time for that at the moment…" But he will look the senator up when he gets to Washington, D.C.. The governor also suggested that Paul was using the Christie brand to get attention.
ABC News' Rick Klein explains that this little spat is beginning of what a battle for the future of the Republican Party looks like.
Photo: Mark Taylor via Flickr.com