The Cleaned-Up Donald Trump Vs. The Real Donald Trump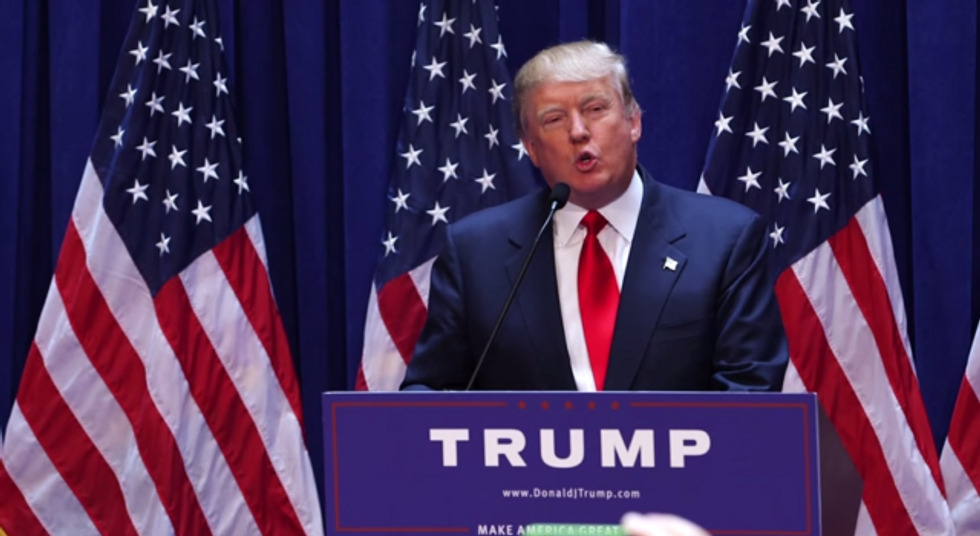 Donald Trump's rambling, incoherent, factually loose speech Tuesday set the new faux-gold standard for anyone announcing a presidential run.
Watching Trump's screed on TV, you could be forgiven for not realizing that he actually had a planned speech – a speech written by actual speechwriters – in his pocket, but within the first few minutes of opening his mouth, that plan was gone. The Donald went rogue.
His planned speech, which you can read in its entirety below, was only supposed to run 10 minutes. But once the cameras are rolling, why talk for 10 when you can talk for 60?
His written speech touched on a lot of the same topics as the spoken version – Obamacare, the economy, his negotiating prowess – with a little less xenophobia and less bragging about his $3 website.
As he told the Washington Post last February, Trump wanted to make a straightforward pitch to the American people, "meant to reach voters who are fed up with the political system, mixing conservative populism and a blunt message about leadership."
That at least was the case whether you read his prepared remarks or listened to what he delivered. But the speech he ended up giving was far more entertaining than the one written for him. Here are some key differences between the prepared text and the real Donald Trump:
On Mexico:
Written remarks:
It is way past time to build a massive wall to secure our southern border – and nobody can build a bigger and better wall than Donald Trump. A country without borders is, quite simply, not a country. Mexico is not our friend. They are beating us at the border and hurting us badly at economic development. They are sending people that they don't want—the United States is becoming a dumping ground for the world.
Spoken remarks:
When Mexico sends its people, they're not sending their best. They're not sending you. They're not sending you. They're sending people that have lots of problems, and they're bringing those problems with us. They're bringing drugs. They're bringing crime. They're rapists. And some, I assume, are good people.
But I speak to border guards and they tell us what we're getting. And it only makes common sense. It only makes common sense. They're sending us not the right people.
… I would build a great wall, and nobody builds walls better than me, believe me, and I'll build them very inexpensively. I will build a great, great wall on our southern border. And I will have Mexico pay for that wall. Mark my words.
Next: Trump on Trade and Obamacare
On Trade:
Written remarks:
It is time to stop sending jobs overseas through bad foreign trade deals. We will renegotiate our trade deals with the toughest negotiators our country has… the ones who have actually read "The Art of the Deal" and know how to make great deals for our country.
Spoken remarks:
I'm going to tell you a couple of stories about trade, because I'm totally against the trade bill for a number of reasons.
Number one, the people negotiating it don't have a clue. Our president doesn't have a clue. He's a bad negotiator.
… I'm a free trader. But the problem with free trade is you need really talented people to negotiate for you. If you don't have talented people, if you don't have great leadership, if you don't have people that know business, not just a political hack that got the job because he made a contribution to a campaign, which is the way all jobs, just about, are gotten. Free trade is terrible.
Free trade can be wonderful if you have smart people, but we have people that are stupid. We have people that aren't smart.
… I know the smartest negotiators in the world. I know the good ones. I know the bad ones. I know the overrated ones.
You got a lot of them that are overrated. They're not good. They think they are. They get good stories, because the newspapers get buffaloed. But they're not good.
But I know the best negotiators in the world, and I'd put them one for each country. Believe me, folks. We will do very, very well. Very, very well.
On Obamacare:
Written remarks:
ObamaCare [sic] must be repealed and replaced with something far superior and at far less cost.
Spoken remarks:
We have a disaster called the big lie: Obamacare. Obamacare.
Yesterday, it came out that costs are going for people up 29, 39, 49, and even 55 percent, and deductibles are through the roof. You have to get hit by a tractor, literally, a tractor, to use it, because the deductibles are so high, it's virtually useless. It is a disaster.
And remember the $5 billion Web site? $5 billion we spent on a Web site, and to this day it doesn't work. A $5 billion Web site.
I have so many Web sites, I have them all over the place. I hire people, they do a Web site. It costs me $3. $5 billion Web site.
… But Obamacare kicks in in 2016. Really big league. It is going to be amazingly destructive. Doctors are quitting. I have a friend who's a doctor, and he said to me the other day, "Donald, I never saw anything like it. I have more accountants than I have nurses. It's a disaster. My patients are beside themselves. They had a plan that was good. They have no plan now."
We have to repeal Obamacare, and it can be — and — and it can be replaced with something much better for everybody. Let it be for everybody. But much better and much less expensive for people and for the government. And we can do it.
Next: Trump on China and Special Interests
On China:
Written remarks:
It is time to get tough with the Chinese on currency manipulation and espionage. We will tax China for each bad act, and if they continue then we will tax them at an even higher level.
Spoken remarks:
When was the last time you heard China is killing us? They're devaluing their currency to a level that you wouldn't believe. It makes it impossible for our companies to compete, impossible. They're killing us.
… I like China. I sell apartments for — I just sold an apartment for $15 million to somebody from China. Am I supposed to dislike them? I own a big chunk of the Bank of America building at 1290 Avenue of the Americas that I got from China in a war. Very valuable.
I love China. The biggest bank in the world is from China. You know where their United States headquarters is located? In this building, in Trump Tower. I love China. People say, "Oh, you don't like China?"
No, I love them. But their leaders are much smarter than our leaders, and we can't sustain ourself with that. There's too much — it's like — it's like take the New England Patriots and Tom Brady and have them play your high school football team. That's the difference between China's leaders and our leaders.
They are ripping us. We are rebuilding China. We're rebuilding many countries. China, you go there now, roads, bridges, schools, you never saw anything like it. They have bridges that make the George Washington Bridge look like small potatoes. And they're all over the place.
We have all the cards, but we don't know how to use them. We don't even know that we have the cards, because our leaders don't understand the game. We could turn off that spigot by charging them tax until they behave properly.
Now they're going militarily. They're building a military island in the middle of the South China Sea. A military island. Now, our country could never do that because we'd have to get environmental clearance, and the environmentalist wouldn't let our country — we would never build in an ocean. They built it in about one year, this massive military port.
They're building up their military to a point that is very scary. You have a problem with ISIS. You have a bigger problem with China.
On Special Interests
Written remarks:
We will change Washington together and defeat the special interests. I am not a politician. I can't be bought. I won't be running around the country begging people for money for my campaign. I won't owe anybody anything. I won't be beholden to anyone except to you, the American people, if you elect me to serve as your President.

Spoken remarks:
So I've watched the politicians. I've dealt with them all my life. If you can't make a good deal with a politician, then there's something wrong with you. You're certainly not very good. And that's what we have representing us. They will never make America great again. They don't even have a chance. They're controlled fully — they're controlled fully by the lobbyists, by the donors, and by the special interests, fully.
Yes, they control them. Hey, I have lobbyists. I have to tell you. I have lobbyists that can produce anything for me. They're great. But you know what? it won't happen. It won't happen. Because we have to stop doing things for some people, but for this country, it's destroying our country. We have to stop, and it has to stop now.
Now, our country needs — our country needs a truly great leader, and we need a truly great leader now. We need a leader that wrote The Art of the Deal.
… It's nice. I don't need anybody's money.
I'm using my own money. I'm not using the lobbyists. I'm not using donors. I don't care. I'm really rich.
Continue: He's been thinking about this for a long time.
Although he has flirted with a presidential run several times, he got serious — really — this time around. He formed an exploratory committee in March. He spent the winter and spring on a hiring spree, staffing up on advisors, legal counsel, and teams for Iowa, New Hampshire, and South Carolina, which will be the first states to vote in the primaries next February. He filled his campaign with vets from the Tea Party and the Koch brothers' Americans for Prosperity PAC.
The Koch brothers, incidentally, have not come out in support of Trump – choosing instead to consider seriously Scott Walker, Ted Cruz, Marco Rubio, Rand Paul, and Jeb Bush. Trump, for his part, has opted to embrace his black sheep status within the race and has insulted most everyone on the crowded GOP primary field.
In a race where candidates' campaigns are scripted within an inch of their lives, just remember: When Trump speaks, it's the real Trump talking.
Photo: Make American Great Again! Donald Trump via YouTube