The Compelling Case Against Kavanaugh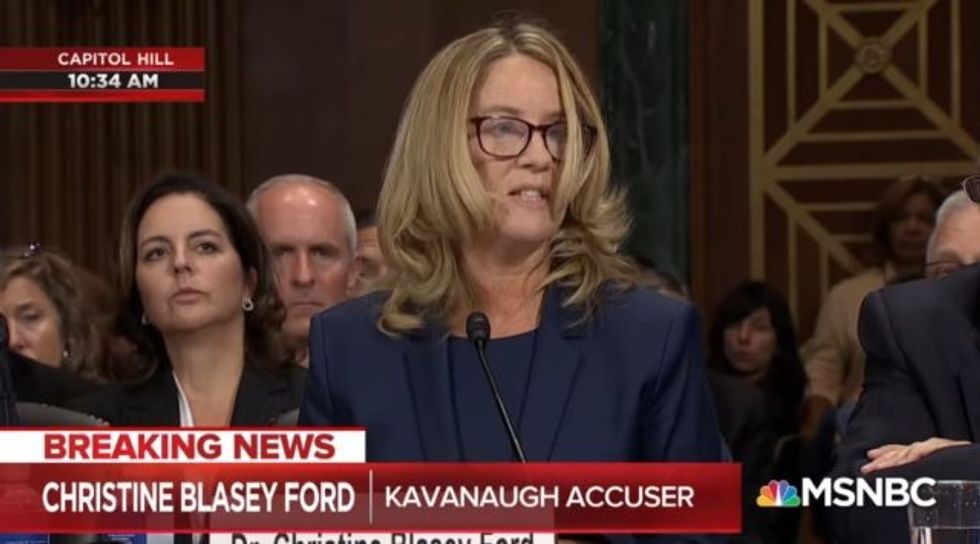 Reprinted with permission from Creators.
Christine Blasey Ford and Brett Kavanaugh appeared before the Senate Judiciary Committee with different purposes — she to offer an account of violent behavior that would disqualify him from the Supreme Court and he to counter her allegations and prove himself suitable for the post. But it was the nominee who offered the most irrefutable evidence of his unfitness.
Kavanaugh was a spectacle in belligerence and self-pity, vilifying Democrats for having the utter gall to take seriously the woman who says he attacked her at a party when they were in high school.
He furiously condemned the supposed injustice visited upon him, raging through his tears at a process he called "a calculated and orchestrated political hit" and "a national disgrace." He even blamed the Clintons.
The studious judge and mild suburban dad Americans saw before was replaced by a bitter partisan warrior with a butane lighter and a box of matches, scorching the earth as he went.
In the absence of the FBI investigation that Democrats wanted and Republicans rejected, viewers were left to ponder which witness to trust. "Why don't you believe him?" demanded Sen. Lindsey Graham, R-S.C.
Glad you asked. People who knew Kavanaugh in his younger days remember him as a frequent drunk, not the conventional social tippler he purports to have been. His insistence that as a teen he was occupied entirely with academics, sports and church is at odds with the rambunctious misogyny advertised in his yearbook entry.
His defenders think that in the absence of definitive evidence — which the committee refused to pursue — we are obligated to dismiss Ford's claim. If this were a criminal investigation, with his freedom at stake, they would be right. But it's not. He stands to lose nothing but a prized federal office.
The presumption is not that the Senate should confirm any Supreme Court nominee unless there is a slam-dunk reason not to. The burden is on the nominee and his advocates to demonstrate that he belongs in that exalted post.
Republicans once acknowledged as much. When George W. Bush chose Harriet Miers in 2005, many conservatives opposed her because she lacked impressive credentials and a well-developed conservative judicial philosophy, which they regarded as essential. GOP senators didn't want someone who could eke out a passing grade; they wanted someone who could teach the course. She finally withdrew.
Reasonable doubts about Kavanaugh are ample grounds for rejecting him. He was not entitled to be chosen, given the many outstanding candidates The Federalist Society could identify, and he is not entitled to be approved.
Ford made deeply alarming allegations that have not been supported by independent evidence or testimony. No one could doubt that she was sexually assaulted and suffered lasting harm.
The weight of what we know makes her story more believable than his. She talked about what happened several times with confidants over the years. She has no record of lying, and she has no motive to lie. Coming forward gained her nothing and cost her much.
He's a different case. People who knew Kavanaugh then say he was a hard drinker; he claimed as much in his high school yearbook and in speeches as an adult. Drunks often forget their drunken transgressions.
He has told brazen falsehoods. There was this statement upon being nominated: "No president has ever consulted more widely or talked with more people from more backgrounds to seek input about a Supreme Court nomination."
There was his claim that his yearbook reference to being a "Renate Alumnius" was to "show affection" for a female acquaintance — but Renate Schroeder Dolphin and others took it to falsely imply he had sex with her. Unlike Ford, he has powerful reasons to lie about whether he attacked her.
Stanford Law School professor Michael McConnell wrote earlier in praise of this nomination. "The irony," he said, "is that Kavanaugh is a remarkably un-Trumpian nominee" who "gets along with colleagues across the spectrum, respects precedent and plays by the rules."
But on Thursday, Kavanaugh revealed how much he shares the president's intemperate disposition and contempt for democratic norms. He was as Trumpian as Trump could want. He made clear that he considers himself savagely wronged and that he will never let go of his searing anger.
That alone disqualifies him from a job that requires sober dispassion and an unshakable commitment to fairness. It would be supremely reckless to entrust the demands of justice to someone bent on revenge.
Steve Chapman blogs at http://www.chicagotribune.com/news/opinion/chapman. Follow him on Twitter @SteveChapman13 or at https://www.facebook.com/stevechapman13. To find out more about Steve Chapman and read features by other Creators Syndicate writers and cartoonists, visit the Creators Syndicate website at www.creators.com.