The Confederacy Crashes In A Week. It Only Took 150 Years.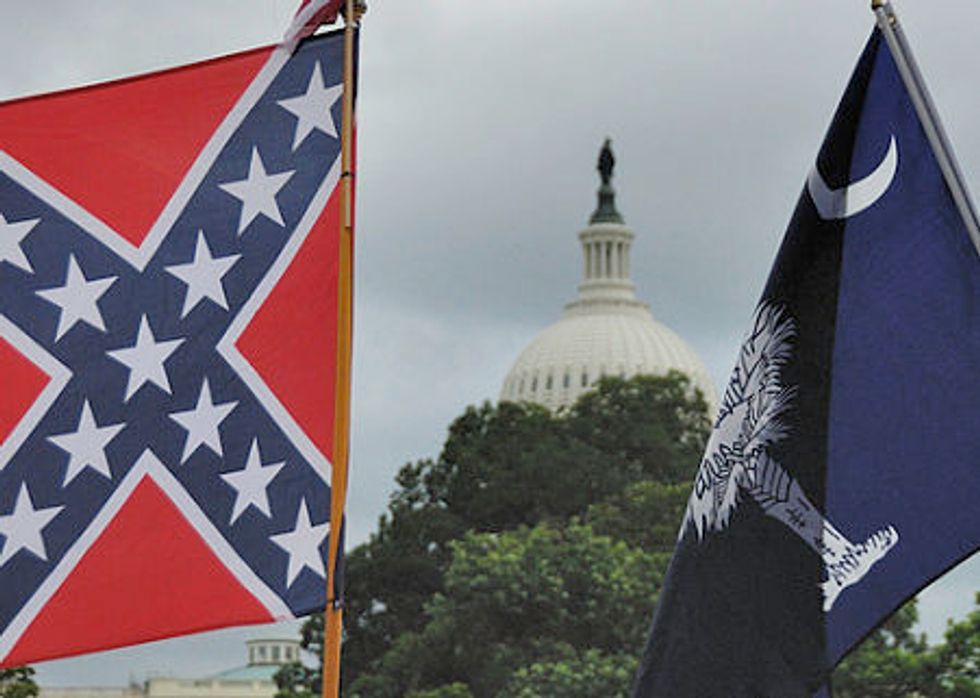 The rush to ditch the Confederate battle flag is making the country's shift in favor of gay marriage look like slow motion. A groundbreaking 2003 ruling from the highest court in Massachusetts was the first to legalize same-sex marriage. In 2011, Gallup reported another first: Gay marriage now had majority support.
If eight years is a sea change in the blink of an eye, the sprint away from the Rebel flag by politicians and CEOs qualifies as whiplash. It was at full speed less than a week after the Emanuel AME church tragedy in which a white supremacist shooter apparently took succor and affirmation from the flag as he laid his plans to murder nine people. "The flag now is owned by him. It's the flag of the murderer in our time," South Carolina Sen. Lindsey Graham, a GOP presidential candidate, told CBS.
Everything that has been said about the flag in the past week has been true for the past 150 years. It represents treason and brutality, white supremacy and black bondage. So how much credit should today's "leaders" get for their sudden bid for distance from Dylann Roof and that flag?
It is tempting to go with a safety-in-numbers theory. Politicians and businesses may recognize a unique moment of opportunity to act on principle without paying a penalty. It's like speeding at the same rate as other cars when you're in a long line of traffic. Everyone's doing it, so nobody's likely to get a ticket or — in this case — lose votes or customers.
The risk has been high until now. For instance, a Winthrop University poll last November showed 61 percent of people in South Carolina — including 73 percent of whites — wanted to keep the flag on the Capitol grounds. Gov. Nikki Haley, an Indian-American Republican running for re-election that month, called it a non-issue in her campaign. But this week, surrounded by Democrats, Republicans, blacks, and whites, she called it part of the state's past and said it needs to go. And with that she set off the swarm.
The GOP's 2016 presidential candidates were first to say they agreed. They were quickly followed by governors and legislators in other states suddenly feeling moved to exorcise statues, flags and license plates. And then came the national and state business communities. WalMart, eBay, Amazon.com, and Sears said they would stop selling Confederate flag merchandise. Boeing, BMW, Michelin, and multiple chambers of commerce in South Carolina fell in line behind Haley. Perhaps most miraculously, so did the state legislature. The state House voted 103-10 to allow debate this summer on removing the flag. The state Senate agreed by voice vote.
Obviously, it would have been admirable for all of this to have happened without the cruel shock of a massacre of innocents, and without the pressure of an early presidential primary in South Carolina. And there were some people who did what they considered to be the right thing long ago — among them former Georgia Gov. Roy Barnes, who shrank the Confederate battle emblem on his state flag and says that's the main reason he lost his 2002 re-election bid; and 2016 presidential candidate Jeb Bush, who moved the Confederate flag to a museum when he was the governor of Florida and reportedly advised Haley on her course in the current crisis.
The lightning reactions of the past few days suggest to me that many people have been uneasy about Confederate flags and symbols for many years. Whatever their reasons, they have seized this moment to act. It didn't hurt that the same week as the church killings, the Supreme Court ruled Texas does not have to issue Confederate flag license plates. Virginia Gov. Terry McAuliffe promptly announced he would phase them out in his state.
The conversation continues to spread, with Tennessee leaders calling for the removal of a bust of Ku Klux Klan leader Nathan Bedford Forrest from the state Capitol, and a petition filed to remove a statue of Jefferson Davis from the University of Texas campus in Austin. The sudden consensus is that these men, these flags, these emblems, are history. They belong in museums or on personal property. They don't belong at seats of learning and government, where they contradict our national values and ideals by their very presence.
This discussion is too valuable to quibble about who waited too long and who did not. It's more than enough that it's happening at all.
—
Follow Jill Lawrence on Twitter @JillDLawrence. To find out more about Jill Lawrence and read features by other Creators Syndicate writers and cartoonists, visit the Creators Syndicate website at www.creators.com. 
The Confederate and South Carolina State flags fly during a march in Washington, D.C. (Photo by Andrew Aliferis via Flickr.com)