The Conspiracy Theories Of Ben Carson: A Brief Introduction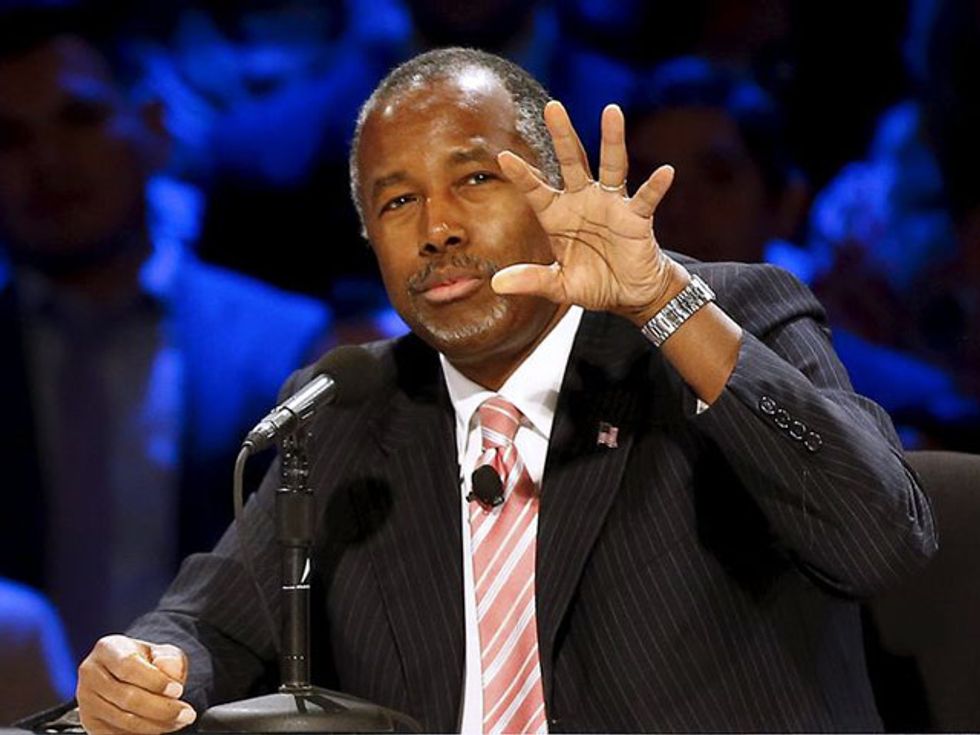 The world is now a-BuzzFeed with the discovery of a video from 1998, in which Dr. Ben Carson opined that the pyramids of Egypt were really built as grain houses — not as majestic tombs for the kings. Carson made his case by citing the Bible — specifically the story from Genesis of Joseph advising the Pharaoh of his day to store up grain in order to prepare for seven years of famine.
The alternative, Carson said, was to listen to all those scientists who say the pyramids were built by aliens. As if there were no middle ground there.
In recent days, Carson has reaffirmed these beliefs to a CBS reporter. (Is it possible that Carson was wary of discussing "pyramids" on the record, lest he give a subtle tipoff about his campaign's very suspicious fundraising and spending operation?)
But this got us wondering: What other wild and wacky stuff does Ben Carson believe, which the wider electorate just hasn't become totally aware yet? Here's just a short introduction.
1. Barack Obama Is Part Of The Communist Conspiracy To Bring Down America
In 2014, Carson declared that President Obama and then-Attorney General Eric Holder were acting out roles in a decades-long communist conspiracy to subvert America.
In doing so, he cited a book from the 1950s by fringe right-wing conspiracy theorist Cleon Skousen, The Naked Communist. (Skousen was also a major racist, even defending the honor of antebellum Southern slavery and the Supreme Court's 1857 Dred Scott decision.)
2. The Theory Of Evolution Came From The Devil
In a 2011 speech to a church group, Carson declared: "I personally believe that this theory, that Darwin came up with, was something that was encouraged by the Adversary."
Carson elaborated on this point: "Now this whole creation vs. evolution controversy has been raging on, really since the beginning. Because what is Satan's plan? To get rid of God — to disparage God, to mischaracterize God."
About a month ago, Carson appeared with Bill O'Reilly and dismissed attacks on his beliefs regarding evolution as part of a pattern of liberals attacking African-American conservatives. As for the substance of things, well, he hedged — and asked what those scientists even know, anyway.
"People don't realize, he's God — if he wanted to create an Earth that was billions of years old, he could do it. They can't do it — how come they're always trying to put themselves int he same category as God?"
3. Gay Rights Is A Communist Plot — And Men In Prison Prove That Homosexuality Is A Choice
In a 2014 speech to the anti-gay National Organization for Marriage, Carson again referenced the aforementioned Cleon Skousen — and said that "neo-Marxists" had "systematically attacked" the family in order to bring down the United States.
In an appearance on CNN earlier this year, Carson argued that homosexuality is a choice — an argument, he said, was lent credence by the experience of some prisoners.
"Because a lot of people who go into prison go into prison straight, and when they come out, they're gay. So, did something happen while they were in there? Ask yourself that question," Carson said.
Yes — "something" did happen to them in there. In addition to sexual assault, which is rampant in prisons, there is also what is referred to as "situational homosexuality," which occurs to men in prisons.
Anyway, clearly the good doctor does not favor a fact-based approach to answering life's lingering questions. But he loves a good story.
Photo: U.S. Republican presidential candidate Dr. Ben Carson speaks at the North Texas Presidential Forum hosted by the Faith & Freedom Coalition and Prestonwood Baptist Church in Plano, Texas October 18, 2015. REUTERS/Mike Stone