The Dog Who Didn't Bark On Benghazi: Joe Lieberman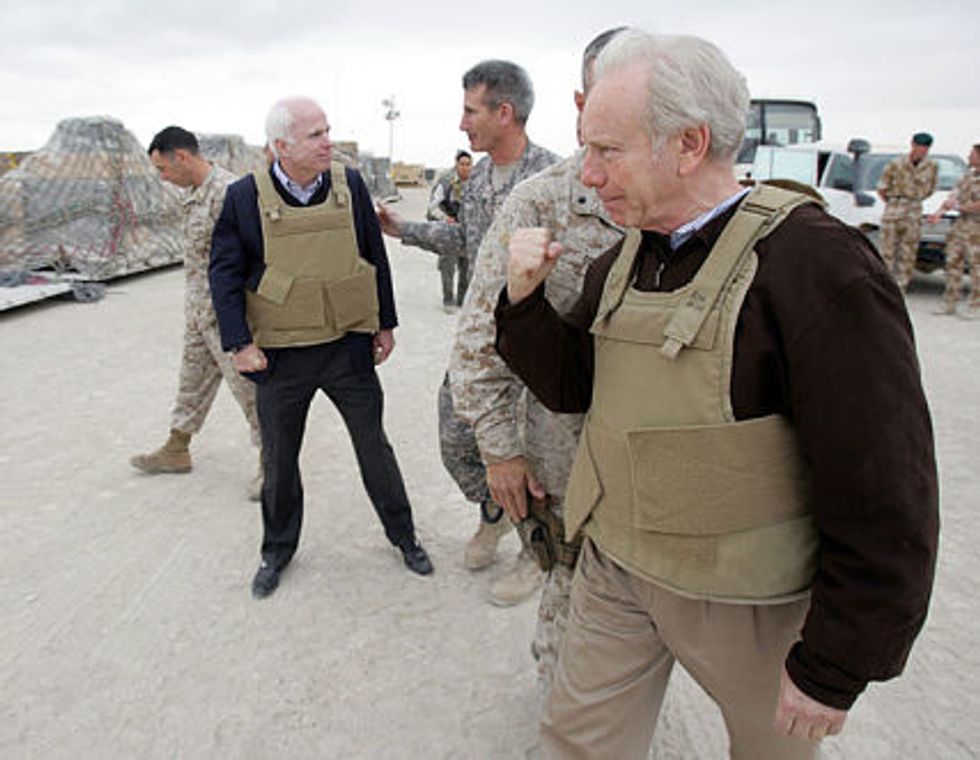 As Senators John McCain (R-AZ), Lindsey Graham (R-SC), and Kelly Ayotte (R-NH) have created a daily spectacle by attacking UN Ambassador Susan Rice for releasing preliminary intelligence about the September 11 attack on the U.S. consulate in Benghazi — which  she said was preliminary intelligence at the time — one senator has been conspicuous in his absence from their antics.
For years, Joe Lieberman (I-CT) has played the third "Amigo" to McCain and Graham.
He even endorsed McCain for president only two elections after he served as Al Gore's running mate. The three have been as one in supporting just about any opportunity for a military intervention (or "surge") possible. But as McCain and Graham's attacks on Rice have grown more personal and vindictive, not to say unhinged, Lieberman has disappeared from their side, replaced by freshman senator and former Romney surrogate Ayotte — the new "Amiga."
On Tuesday, Lieberman stepped completely away from the Amigo fold to declare that he would vote for Rice as Secretary of State, even though she hasn't been nominated and won't be until Lieberman has begun his retirement in 2013.
Why? Lieberman says he believes Rice is telling "the whole truth."
Lieberman's break is a telling sign that McCain and Graham's attack is purely partisan in motivation. Some have speculated that they're simply trying to corner the president into nominating Senator John Kerry as Secretary of State, forcing a special election that would give the recently defeated Scott Brown another chance at a Senate seat. But if you believe the reports that say Rice is being considered for Secretary of State, they also suggest that Kerry would lead the Department of Defense.
McCain, Graham and Ayotte seem to be simply aiming at creating a scandal that Graham has suggested is on par with Iran-Contra, when members of the Reagan administration sold weapons to Iran to fund the Contras — the accusation being that the Obama administration was deliberately misleading about the reason for the Benghazi incident, to avoid admitting we'd been attacked by a group with al Qaeda affiliations so close to the election.
This theory suffers from a multitude of problems.

First, Rice was offering intelligence directly from the CIA. Second, the idea that the attack was the result of riots related to a video would be as damaging to the president's prestige as an al Qaeda attack. It's easy to argue that playing up a terrorist attack would have been more beneficial to the president.
And speaking of playing up a terrorist attack…
McCain and Graham are fuming at Rice for having presented bad intelligence on television. However, Buzzfeed's Andrew Kaczynski has uncovered several instances of both senators doing the same thing in the run-up to the Iraq war. (Maybe if Ambassador Rice had blamed the consulate attack on Saddam Hussein, McCain and Graham would have given her a break.) Back then Lieberman added a veneer of bipartisanship to McCain and Graham's proclamations. But with him gone, the three Republicans are still doing damage — mostly to their own reputations.
President Obama's quiet diplomacy with Lieberman deserves some credit here and may be why the senator has decided to go out offering his support to the embattled potential nominee.
In 2009, after Lieberman had spoken at the Republican National Convention and endorsed his opponent, the president reportedly insisted that Lieberman be welcomed back into the Senate Democratic caucus, without losing his chair on the Senate Homeland Security and Governmental Affairs Committee. This magnanimity gave the president a needed vote for many of his key initiatives.
It may also have created sufficient goodwill in Lieberman to break with his old Amigos in their latest and most ridiculous campaign against the White House.