The Double Standards That Trapped Kamala Harris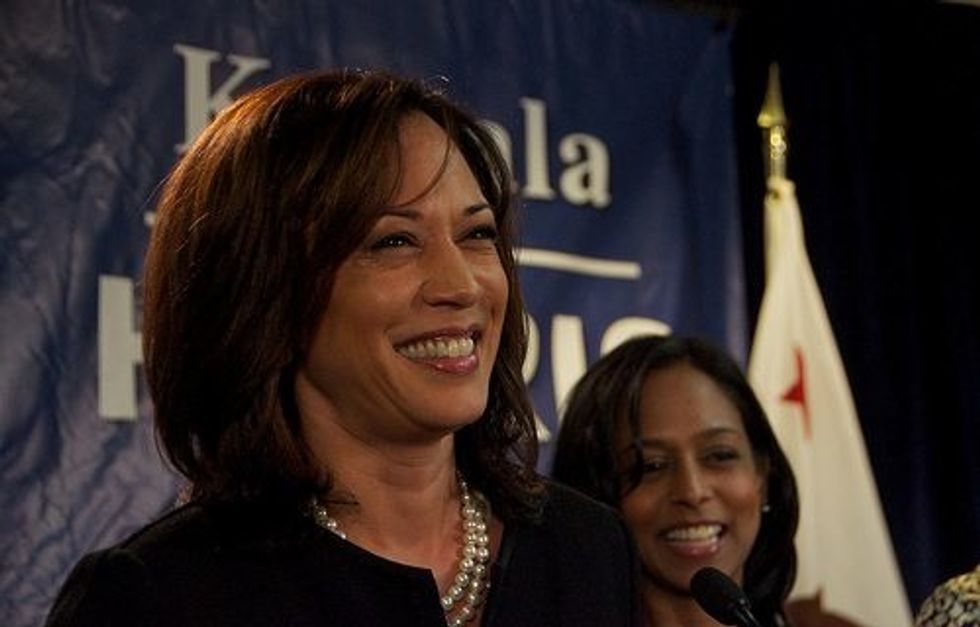 There is a particular line that stuck with me in the just-opened film Queen & Slim, about a black couple on the run after an altercation with a white police officer goes awry in the depressing and terrible way you might imagine. During their perilous road trip, in a quieter moment, he (a retail worker) asks her (an attorney) if she is good at her job. "I'm an excellent lawyer," she replies, to which he answers with a question that's really a statement: "Why do black people always got to be excellent? Why can't we just be ourselves?"
Since the pre-mortems were written a bit ago, it's time for a post-mortem on the presidential campaign of  Sen. Kamala Harris (D-CA), who never seemed to quite discover who she was or at least convey authenticity and excellence to enough voters or donors to make a difference.
Did she have trouble settling on why exactly she wanted to be president — the vision thing? Sure. Uneven debate performances certainly hurt. Even many of the voters of color she depended on didn't warm to her confused message on her record as a prosecutor. And that detailed letter of resignation from a former campaign staffer was blistering. (Though if I were that staffer's new boss at Michael Bloomberg headquarters, I would watch my back.)
But was that all it was? It's not as though other campaigns were flawless. Didn't a Tom Steyer guy pilfer some Harris volunteer data and resign without the campaign suffering more than a bad headline or two? Rough spots linger more for some than others, with Bloomberg and Steyer and their deep pockets more than able to weather any storms.
Harris, however, faced unique hurdles from the start, some of it personal. White counterparts had only to defend their records, not their racial identity or the race of their spouse. Does anyone know or care who Amy Klobuchar or Bernie Sanders is married to? Yet there were actually questions about whether Harris was black enough or why she had a white husband.
In her shoes
As her foes almost too gleefully celebrated her exit, others had thoughts.
Glynda C. Carr, the president and CEO of Higher Heights for America PAC, a national organization that focuses on mobilizing and elevating the voices of black women, said in a statement about the candidate her group had endorsed: "Senator Harris raised issues, such as health care and equal pay during her candidacy that resonated with women of color, particularly Black women. Her voice will be missed on the road to 2020."
Aimee Allison, the founder of She the People, "a national network connecting women of color to transform our democracy," said, "As a Black woman, I know from personal experience that Kamala has to work three times as hard as some of the other candidates in this race to get half as far."
Reminds me of a mantra a wise black woman, my mother, repeated throughout my childhood: "You have to be twice as good to get half as far," warning there would be little margin for error.
Are a few remaining Democratic 2020 hopefuls having similar flashbacks, wondering about the reasons white candidates are getting most of the money, attention and poll numbers. Is it because of the qualities of the particular candidates, the breadth of their résumés, the effectiveness of their campaigns, hard-to-define charisma? Of course.
It's also clearly more than that, a case of who gets the benefit of the doubt, even after the last two-term Democratic president was a black man with the name Barack Hussein Obama who was down double digits in the polls to front-runner Hillary Clinton in 2007.
In the last debate, New Jersey Sen. Cory Booker, perhaps feeling a little of that "What do I have to do to get noticed around here?" vibe, slipped in his Rhodes scholar bona fides. Whining? Consider that a HuffPost search last month found that in 2019, U.S. news outlets cited Pete Buttigieg's Rhodes scholarship 596 times while Booker's had 79 mentions.
Julián Castro is no slouch, either, with degrees from Stanford and Harvard Law. On The Daily Show, with host Trevor Noah, Castro continued the back-and-forth that had the former San Antonio mayor answering Buttigieg's invitation to walk with him through the streets of South Bend, Indiana, to observe what a mayor can accomplish. "I was mayor of a city that's 14 times larger than South Bend," Castro said. Yet the former HUD secretary had not qualified for the last debate stage when a question about housing policy, one of his signature issues, was raised.
The road ahead
Both Castro and Booker have expressed regret at Harris dropping out, in remarks that may resonate with minority voters Democrats need to win but that too many party leaders unfortunately may dismiss as so much sour grapes from low-polling hopefuls.
Now while it's true that Buttigieg's failure to connect with minority voters has been the subject of innumerable think pieces, including from me, he often gets an "A" for effort when he stumbles. He was praised for his blunt debate assessment that he failed to diversify South Bend's police department. But when he said he "couldn't get it done," I wanted to know, as then-candidate Rep. Eric Swalwell did, why not, and what he was going to do about it?
And though the drama over Buttigieg's 2011 quote that failing black students lacked role models who valued education has seemingly passed, the sting remains for many like me, with a dad with an eighth grade education and a reverence for learning that he used to teach himself and send five children to college — law school, in my brother's case.
Voters are judged differently as well, with Klobuchar, Buttigieg and others offering so many paeans to the "real" people in the "heartland," a word that has come to mean solid values as much as geography, you'd think citizens on the coast and in urban areas across the country are barely American.
It's inevitable this early in the process that campaigns will stall and candidates will, like Harris, decide to cut their losses and concentrate on the future. Current top-tier contender Joe Biden had plenty of setbacks before becoming vice president.
But how will voters with the most at stake judge what is shaping up to be an all-white December debate lineup and what could become a race with more billionaires than minorities?
It's about the issues, which matter as much as representation; it's about something else, too, because, as my mom knew, life is not sunshine, lollipops and rainbows for everyone.
That also goes for politics.
Mary C. Curtis has worked at The New York Times, The Baltimore Sun, The Charlotte Observer, as national correspondent for Politics Daily, and is a senior facilitator with The OpEd Project. Follow her on Twitter @mcurtisnc3.