The Empty Foreign Policy Of Romney-Ryan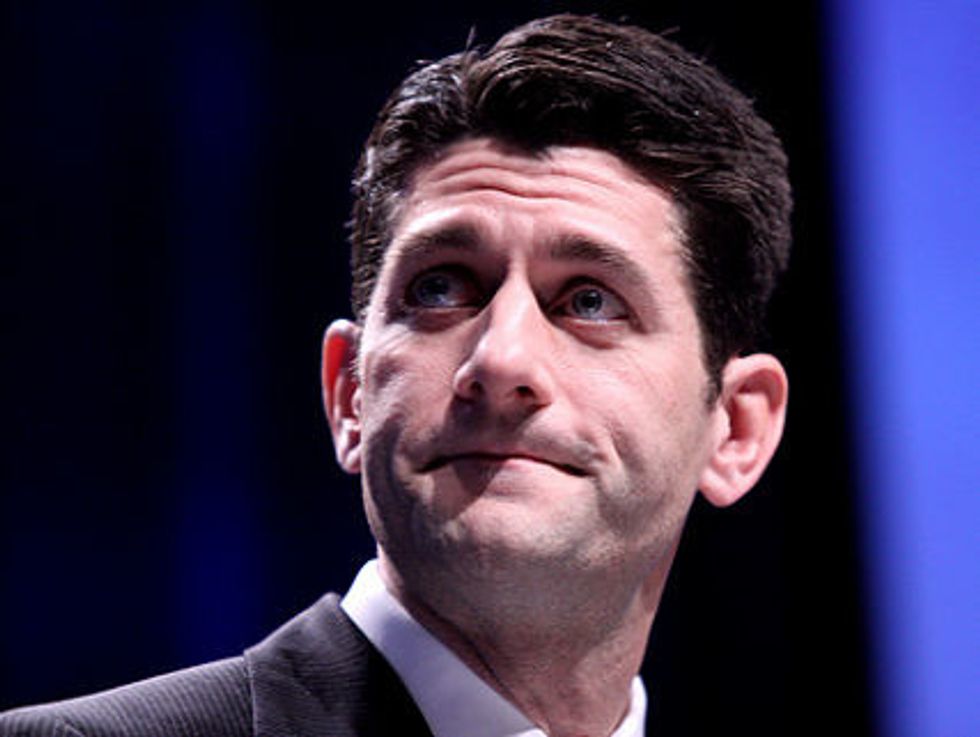 Praising Mitt Romney's selection of Paul Ryan as "bold" has quickly become the most overused meme of the campaign, but there is one especially daring quality to Romney's pick: together, Romney and Ryan have less foreign policy and national security experience than any national ticket of either party since the 1940s.
Romney's glaring lack of foreign policy credentials has been well documented throughout the campaign. With no relevant experience of his own to draw on, Romney tends to regurgitate talking points from his neoconservative foreign policy team — which is stacked with veterans of the George W. Bush administration — then try to swiftly change the subject back to jobs.
There is a good reason for this strategy: When the Romney campaign shares extended thoughts on international affairs, it tends to highlight its disturbing lack of knowledge. Indeed, in the midst of Romney's disastrous overseas trip, even his fellow Republicans acknowledged that Romney's foreign policy is "strangely amateurish."
Unlike past presidential candidates like Bush and Barack Obama, who picked vice presidents who burnished their thin diplomatic resumes, Romney instead chose to double down on emptiness.
Despite having worked in Washington for virtually his entire adult life, Ryan has next to no experience in international relations. Ryan has largely avoided the topic throughout his seven terms in the House — preferring to focus his attention on budgetary issues instead — but he has taken a few notable stands.
Ryan's most high profile foreign policy moment came in a June, 2011 speech to the Alexander Hamilton Society. There he argued in favor of American exceptionalism — hardly drawing a controversial line in the sand — and addressed a few issues of the time in broad terms. With regards to the Middle East, he declared that "We have a responsibility to speak boldly for those whose voices are denied by the jackbooted thugs of the tired tyrants of Syria and Iran," but declined to elaborate on what should be done. He argued that "Now is the time to lock in the success that is within reach" in Afghanistan and Iraq, but did not explain how to do so.
The crux of Ryan's speech was his argument that America's debt problem is "catastrophic," and that "Our fiscal policy and our foreign policy are on a collision course."
"If we fail to put our budget on a sustainable path," he warned, "then we are choosing decline as a world power."
Of course, this argument is undercut by the fact that Ryan's budget is in no way sustainable, and would do nothing to reduce America's debt any time soon.
Ryan went on to argue that we "must renew our commitment to the idea that America is the greatest force for human freedom the world has ever seen," but his budget would make it exceedingly difficult to act on that force. The Ryan plan actually calls for slashing about $5 billion from the State Department and USAID, and it's clear that Republicans are on board with the plan to gut diplomacy. For example, Newt Gingrich defended Ryan yesterday by gushing that "I am for any candidate who distrusts the State Department over a candidate who trusts the State Department."
That Ryan doesn't recognize diplomacy and foreign aid as crucial elements of America's global leadership and national security speaks volumes about his poor grasp of foreign affairs.
It's unclear who exactly Vice President Ryan would trust on international issues, given that he's already managed to damage his relationship with the Department of Defense. In March, Ryan openly accused America's military leaders of lying about their support for President Obama's Pentagon budget.
"We don't think the generals are giving us their true advice," Ryan said at a policy summit hosted by the National Journal. "We don't think the generals believe that their budget is really the right budget."
Ryan quickly walked back the accusation, presumably after being told that accusing America's military leaders of lying is both absurd policy and awful politics. And Ryan's budget does offer an expensive olive branch to the military — if all of Ryan's budget cuts went into effect, defense spending would be just about the last remaining function of the federal government.
With all this in mind, it's hardly surprising that polls consistently show President Obama with a commanding lead over Romney on foreign affairs. Clearly, the Romney campaign is betting that it won't matter, and that voters will be so worried by the economy that they'll ignore the Republicans' glaring lack of knowledge when it comes to international affairs. So while the Romney-Ryan ticket may have debuted on a battleship, don't expect to see it book a return visit any time soon.