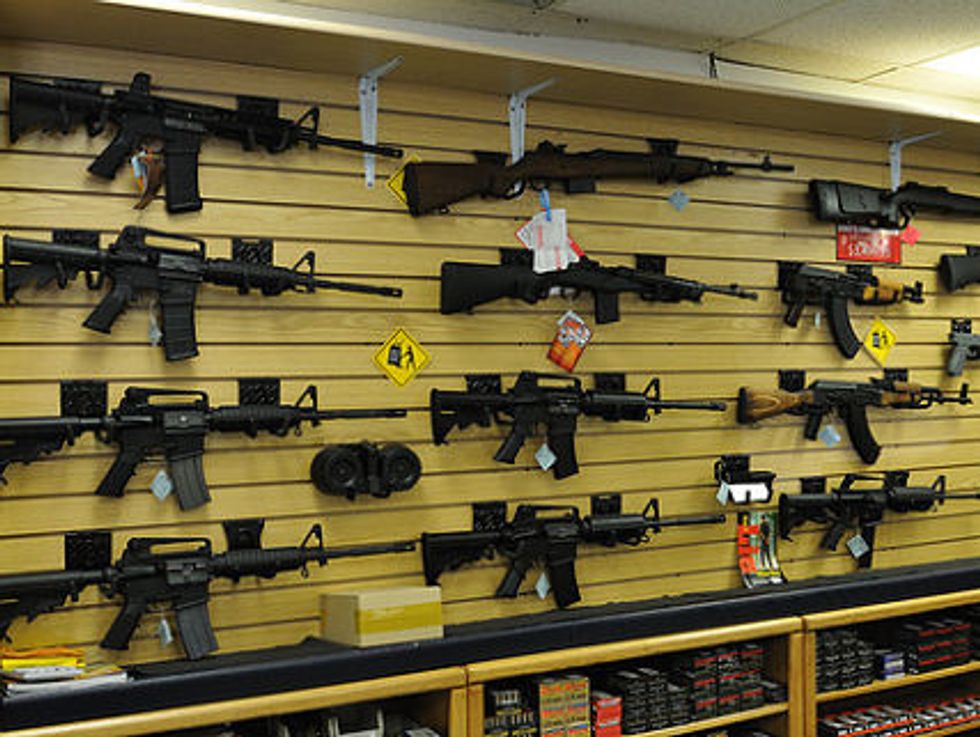 WASHINGTON — For all the dysfunction in our political system, a healthy pattern usually takes hold when a terrible tragedy seizes the nation's attention.
Normally, we engage in a searching conversation over what rational steps can be taken by individuals, communities and various levels of government to make the recurrence of a comparable tragedy less likely. Sometimes we act, sometimes we don't, but at least we explore sensible solutions.
Unless the tragedy involves guns. Then our whole public reasoning process goes haywire. Anyone who dares to say that an event such as the massacre at a Colorado movie theater early Friday morning demands that we rethink our approach to the regulation of firearms is accused of "exploiting" the deaths of innocent people.
This is part of the gun lobby's rote response, and the rest of us allow it to work every time. Their goal is to block any conversation about how our nation's gun laws, the most permissive in the industrialized world, increase the likelihood of mass killings of this sort.
First, the gun lobby goes straight to the exploitation argument — which is, of course, a big lie. You can see this because we never allow an assertion of this kind to stop conversation on other issues.
Nobody who points to the inadequacy of our flood-control policies or mistakes by the Army Corps of Engineers is accused of "exploiting" the victims of a deluge. Nobody who criticizes a botched response by the Federal Emergency Management Agency to a natural disaster is accused of "exploiting" the victims of a hurricane or a tornado. Nobody who lays part of the blame for an accident on insufficient regulation of, say, the airlines or coal mining is accused of "exploiting" the accident's victims.
No, it's only where a gun massacre is concerned that an absolute and total gag rule is imposed on any thinking beyond the immediate circumstances of the catastrophe. God forbid that we question even a single tenet of the theology of firearms.
The lobby then goes to its backup moves. The problem, it insists, lies in the failure to enforce existing laws — conveniently ignoring that the NRA's whole purpose is to weaken the gun statutes we already have.
The worshipers of weapons also lay heavy stress on the psychological disabilities of the killer in a particular incident to create a sense of futility and resignation. Crazy people, they say, will do crazy things, and there is nothing we can do about this. Never mind that more rational laws would help keep guns out of the hands of people with a history of mental illness. Never mind that it's harder to get a license to drive a car than it is to own a gun. Never mind that even a Supreme Court ruling that gave an expansive reading of the Second Amendment nonetheless acknowledged the right of the people through their legislatures and Congress to enact sensible gun regulations.
Oh, yes, and then there is their trump card: We'd all be safer, says the gun lobby, if every last one of us owned a gun.
Why is there so little pushback against assertions that are so transparently designed to prevent rather than promote dialogue? The answer lies in a profound timidity on the part of politicians in both parties. The Republicans are allied with the gun lobby and the Democrats are intimidated.
Sure, there are some dissenters. Many of the nation's mayors, led by Mike Bloomberg of New York and Tom Menino of Boston, have tried to organize a push for carefully tailored laws aimed at keeping guns out of the wrong hands. But they are the exceptions. President Obama has done little to challenge the NRA, and yet it attacks him anyway.
There are many reasons for this politics of timidity, not the least being a United States Senate that vastly overrepresents rural voters relative to suburban and urban voters. (The Electoral College overrepresents rural voters, too.) Add to this a Republican Party that will bow low before any anti-government argument that comes along, and a Democratic Party petrified of losing more rural support — and without any confidence that advocates of tougher gun laws will cast ballots on the basis of this issue.
So let's ask ourselves: Aren't we all in danger of being complicit in throwing up our hands and allowing the gun lobby to write our gun laws? Awful things happen, we mourn them, and then we shrug. And that's why they keep happening.
E.J. Dionne's email address is ejdionne@washpost.com.