The Hurting City: A House Divided
@JamieStiehm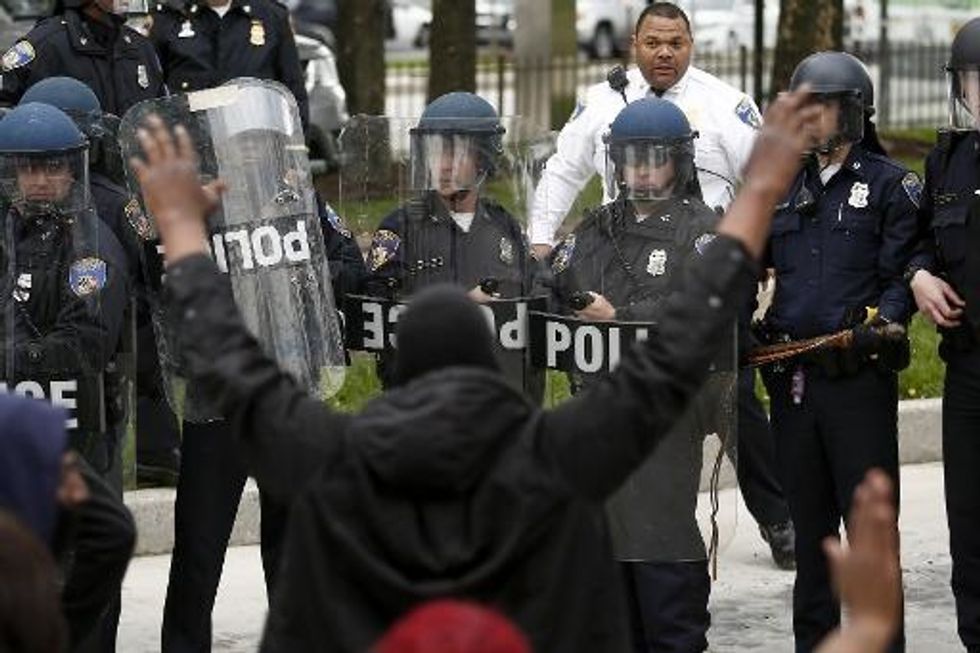 Unrest on the streets of Baltimore is a tale told over again in American history. The Civil War's first blood was spilled there in a scene that foreshadowed the racial reckoning the nation witnessed this week.
Freddie Gray wasn't planning to die that day in West Baltimore. Gray, 25, made eye contact with police officers, which became a fatal encounter in Sandtown, a place that time forgot, as a resident put it. Screaming in pain, the young black man got his spine crushed after getting arrested. He never made it home.
Gray's death in police custody unleashed a torrent of rage and riots that had simmered for years, just under the surface. The Baltimore police are one big reason why. The department's record of settling scores of brutality lawsuits and making up to 100,000 arrests a year is now becoming a conversation piece.
Back to 1861. Answering the call to arms, a Massachusetts regiment bound for Washington had the misfortune to march through Baltimore to change trains. The soldiers were ambushed by a mob throwing stones and glass. The harsh onslaught claimed casualties. Baltimore was crawling with Southern sympathizers, and President Abraham Lincoln held the city by Union garrison force. Baltimore earned a nickname, "Mobtown" in the 19th century.
Below the Mason-Dixon line, Baltimore is Southern at heart, with a line of African-American greats: Frederick Douglass escaped from slavery here. Thurgood Marshall grew up in West Baltimore and attended Frederick Douglass High School. Ragtime pianist Eubie Blake and singer Billie Holiday belong to its rich musical repertoire. Searing social critic W.E.B. Du Bois lived and taught there in the 1940s. But Jim Crow also lived there, not only in the Deep South. Marshall, the first black Supreme Court Justice, never forgot his hometown sting of segregation, calling Baltimore "Up South."
When I arrived as a reporter, I looked for clues to the city: first, hundreds of homicides a year. (That number has gone way down.) The majority of residents are black, in a population of 640,000. They are deeply rooted; Baltimore had the nation's largest community of free blacks before the Civil War.
Generations later, black families live in desperate conditions — concentrated in East or West Baltimore — with no way out of urban poverty. They have little to lose, a recipe for restless discontent — made worse if others feel they have nothing to gain by sharing resources. Even a new boys and girls club would be nice. Early in the 21st century, swaths of Baltimore feel more Mississippi Delta than a Northeastern city between Philadelphia and Washington.
Even without Jim Crow, Baltimore felt profoundly segregated, with a wealth of private schools, clubs, and recreation. When I went swimming in the city's nicest public pool in Druid Hill Park, I was the only white person. The "trophy" neighborhoods and neglected neighborhoods are utterly apart, each with no idea how the other half lives. I saw a holiday party crossing over class and color lines happen once. Yet, sad to say, the whole city is a house divided.
Affluent enclaves were caught unawares by the alienation that exploded, with flashes of 1968. When Martin Luther King Jr., was murdered that April, riots broke out in Baltimore, Washington, D.C., and Los Angeles, among other cities. But for Baltimore, race-related violence was nothing new.
It was my job to cover the checkerboard neighborhoods, to know activists and causes. The friendly small-town feel cut across as a common denominator. I saw stark contrasts in community meetings in fancy Roland Park, bare-boned Remington and school-spirited Charles Village. So close, yet so far.
All lived in a pocket, preoccupied with a patch of Baltimore — be it Bolton Hill, Federal Hill, Park Heights. The city is less than the sum of its parts, the wise editor John Carroll told me. People say, I live in Hampden or Homeland (or any other name) before they say, I live in Baltimore.
Major League Baseball played out the divide with a silly game in an empty Camden Yards ballpark. What is the city without the people? The Baltimore Orioles had a home-run chance to help heal a hurting city by opening the high-class gates by the harbor.
The Baltimore Symphony Orchestra did exactly the right thing in open air. Conducted by Marin Alsop, the orchestra gave a free noon concert on the front porch of Joseph Meyerhoff Symphony Hall. Yes, it's high noon in Baltimore.
That way lies a path to reconciliation, out in the open, in black and white.
To find out more about Jamie Stiehm and read features by other Creators writers and cartoonists, visit Creators.com.