The Koch Brothers Won't Support Trump, But The Republican Party Is Still Theirs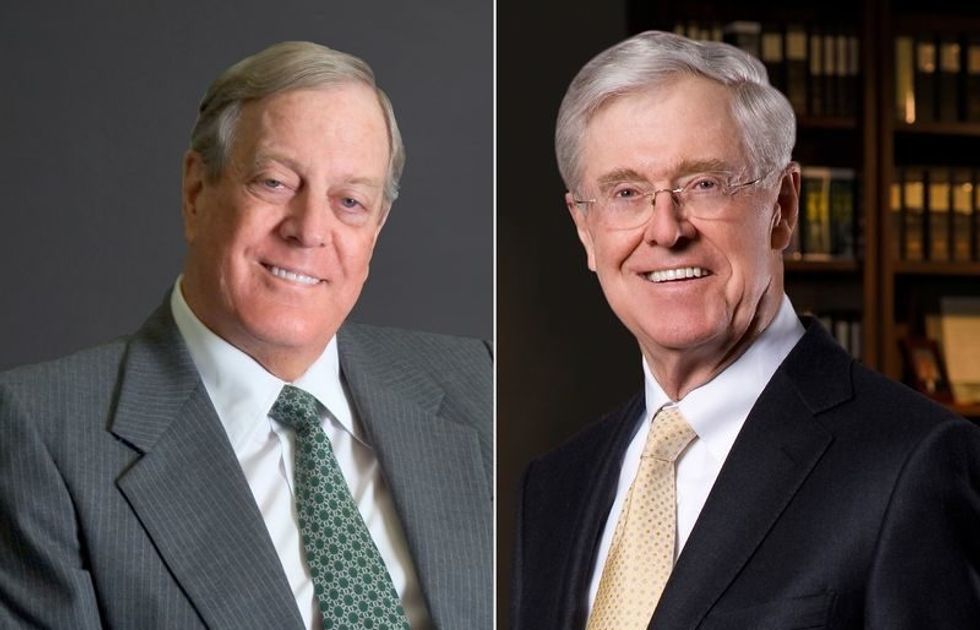 The Koch brothers held their bi-annual donor network gathering this past weekend in Colorado Springs and, although the infamous pair will not be supporting the Republican nominee for the presidency, they and their rich friends will invest heavily in Republican candidates down the ballot.
Charles Koch told an audience of about 400 conservative donors that at this point he cannot support Donald Trump, but he is "certainly not going to support Hillary" either. The 80-year old dismissed rumors that he would support Clinton as equivalent to "blood libel."
Although donor gatherings like this one are a feature of the Koch influence in American politics, they are usually kept private. This year, a few reporters were invited on the condition that they would not identify donors without their permission.
The duo's primary objective, according to Charles, are now "to preserve the country's financial future, and to eliminate corporate welfare." Those present at the meeting have promised to donate at least $100,000 each to the groups supported by the billionaire brothers' Freedom Partners network, which lobbies for a "smaller, less intrusive government."
"Since it appears that neither presidential candidate is likely to support us in these efforts," Charles Koch told donors on Sunday, "we're focused on maximizing the number of principled leaders in the House and Senate who will."
So, make no mistake: While the Koch brothers have an ideological difference with Trump which they cannot overlook – on free trade — the Republican Party is still theirs.
The Koch's Freedom Partners network has a budget of about $750 million, and they will spend it supporting Republican candidates, particularly those facing touch races across the nation.  Nearly $4 million of this money will be spent on three campaigns against Democrats in Nevada, Ohio and Pennsylvania.
The Associated Press reports:
Freedom Partners is spending $1.2 million in Nevada airwaves claiming Democrat Catherine Cortez Masto "drove Uber out of Nevada" while serving as state attorney general. In Ohio, another $1.4 million is going to attack former Gov. Ted Strickland's economic record while he led the state. And in Pennsylvania, Freedom Partners is spending $1.3 million charging that Democrat Katie McGinty will look out for "the favored few" if elected.
Florida Sen. Marco Rubio, Wisconsin Sen. Ron Johnson, and Rep. Todd Young of Indiana will also get some help from the Koch's.
The Kochs also funded an ad advocating against the candidacy of Wisconsin Senate hopeful Russ Feingold, a Democrat, which essentially accused him of murder for the bogus claim that he refused to respond to a whistleblower report about opioid abuse at a VA clinic. Many Wisconsin television stations refused to air the ad.
According to the Center for Responsive Politics, Republican House and Senate candidates have spent nearly $337 million this cycle not including outside money.
Photo: David and Charles Koch.    REUTERS/Courtesy Koch Industries