The Monday Polls: Trump Up With Fox Debate Umps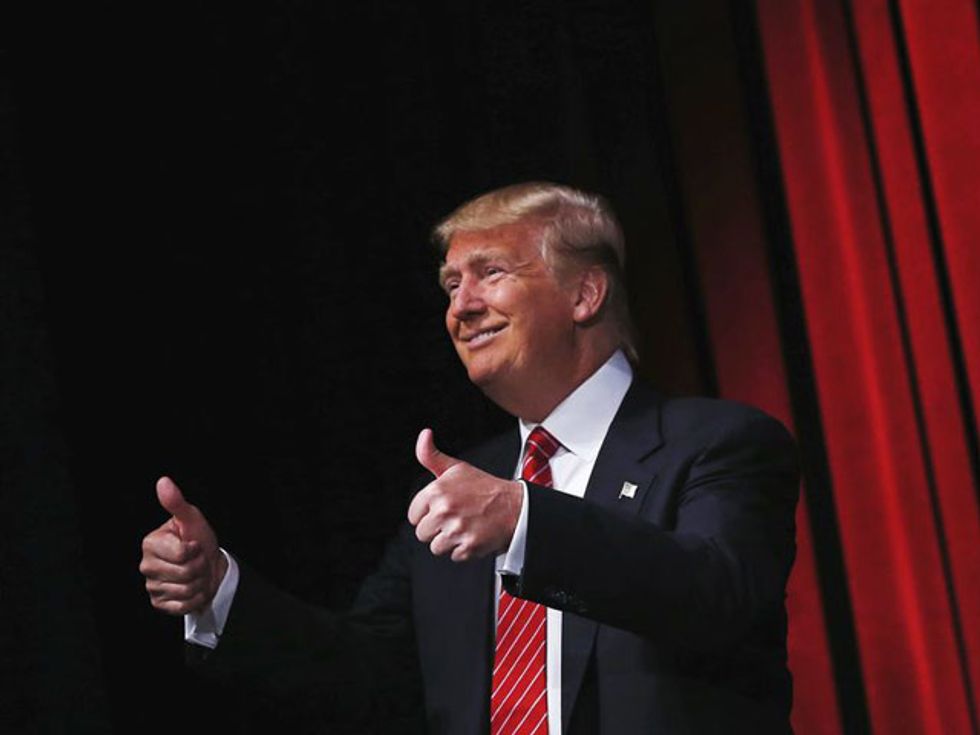 Two new national polls out Monday further confirm the likely lineup of Thursday night's Fox News primetime debate — and also confirm that Donald Trump is dominating the wide field.
In the new poll from Fox News itself, Trump has 26 percent, Jeb Bush 15 percent, Scott Walker 9 percent, Ben Carson 7 percent, and 6 percent apiece for Ted Cruz and Mike Huckabee.
In addition, the poll out Monday from Monmouth University was nearly identical: Trump 26 percent, Bush 12 percent, Walker 11 percent, 6 percent each for Cruz and Huckabee, and 5 percent for Carson.
Both polls also show the same list of the top 10 contenders: Trump, Bush, Walker, Cruz, Huckabee, Carson, Marco Rubio, Rand Paul, Chris Christie, and John Kasich.
If these trends hold up in any additional polls coming either later tonight or tomorrow morning, this leaves an additional seven GOP candidates who will be stuck with a seat at the warmup debate on Fox News at 5 p.m.: Rick Perry, Carly Fiorina, Bobby Jindal, Rick Santorum, Lindsey Graham, George Pataki, and Jim Gilmore.
Photo: U.S. Republican presidential candidate Donald Trump arrives to speak at the Family Leadership Summit in Ames, Iowa, United States, July 18, 2015. (REUTERS/Jim Young)