The 'Mooch' Dumps On Trump In Scorching Vanity Fair Interview
@alexvhenderson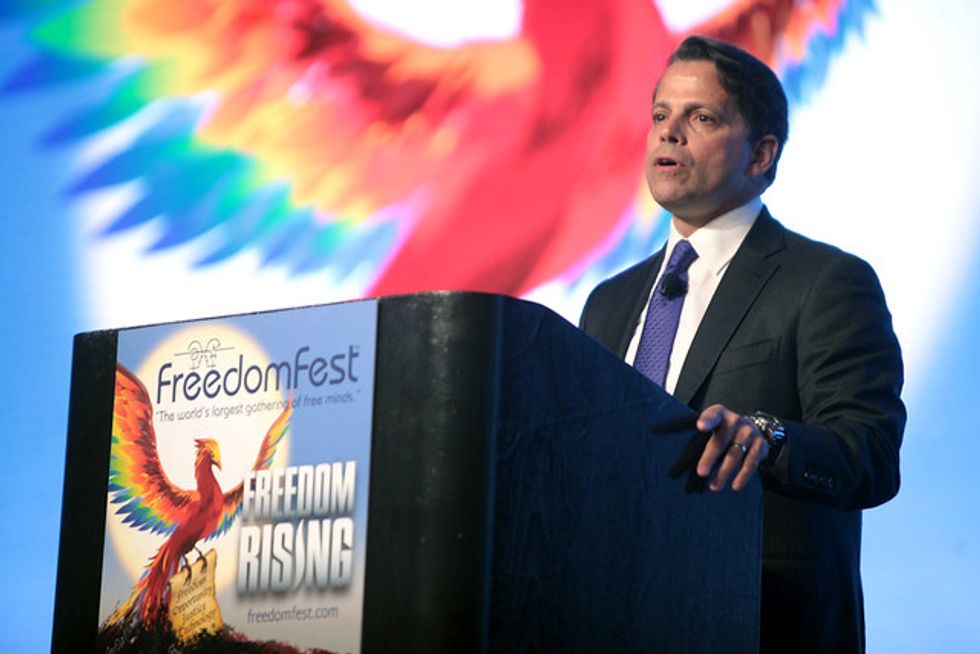 Reprinted with permission from Alternet
While President Donald Trump continues to have many cheerleaders on the right — from Attorney General William Barr to Sen. Lindsey Graham to Fox News' Sean Hannity — some former champions of Trump have turned into adversaries. One conservative who recently went from Trump defender to Trump foe is former White House Communications Chief Anthony Scaramucci, who doesn't hesitate to express his disdain for the president in a candid Q&A interview with Vanity Fair's William D. Cohan.
Asked why he finally turned against the president after being such a vehement defender in the past, Scaramucci told Vanity Fair that he grew fed up with the president's overwhelming narcissism.
"The red line was the racism — full-blown racism," Scaramucci asserts. "He can say that he's not a racist, and I agree with him, OK? And let me explain to you why he's not a racist, 'cause this is very important. He's actually worse than a racist. He is so narcissistic, he doesn't see people as people. He sees them as objects in his field of vision. And so therefore, that's why he has no empathy."
Scaramucci goes on to tell Vanity Fair that Trump, at this point, is devoid of self-discipline.
"I think the guy is losing it, mentally," Scaramucci insists. "He has declining mental faculties. He's becoming more petulant. He's becoming more impetuous. OK, you see just by the way he's sweating, his body's not doing well. It's obviously not a guy that takes care of himself, right? And he doesn't listen to anybody."
Many Republicans, Scaramucci contends, want to see Trump out of the White House but are afraid to openly criticize him.
"This is an observational objective thing: the guy's nuts," Scaramucci tells Vanity Fair. "We've gotta defeat him. Everybody in the Republican Party knows it. They don't want to lose their mantle of power and their mantle of leadership; so, let's primary the guy. And by the way, let's find somebody younger, charismatic, understands the issues, can reach into the population and say, 'Yeah, I got it.' But come on, this guy is gonna take us off the rails."
Scaramucci even goes so far as to predict that Trump will drop out of the 2020 presidential race because of his poll numbers.
"He'll likely drop out by March of 2020," Scaramucci predicts. "It's gonna become very clear that it's impossible for him to win. And is this the kind of guy that's gonna want to be that humiliated and lose as a sitting president?…. He's not gonna be able to handle that humiliation."
Some Trump critics would argue that he is too narcissistic to drop out of the race. Scaramucci, however, believes that because of his narcissism, Trump will drop out rather than risk having to give a concession speech to a Democrat in November 2020.
Although Scaramucci is hoping that Trump will receive a strong GOP primary challenge, he doesn't think former Massachusetts Gov. Bill Weld is the right one for that job.
"Not that Bill Weld isn't a great guy, but unfortunately, Bill Weld doesn't have the panache right at this moment," Scaramucci asserts. But whatever transpires in the 2020 election, Scaramucci is confident that Trump won't win a second term.
"We had the Wicked Witch of the West, but he is the Wicked Witch of the West Wing,"  Scaramucci tells Vanity Fair. "We gotta get some water thrown on him. He'll start melting."